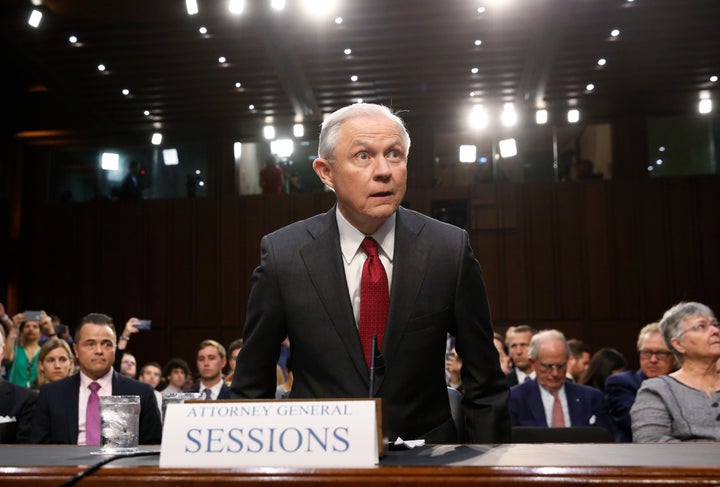 In his appearance before the Senate Select Intelligence Community, Attorney General Jeffrey Sessions refused to answer any questions about his conversations with President Trump, even though the president waived executive privilege with respect to communications about whether to fire FBI Director James Comey by publicly revealing that Sessions supported Comey's firing. The law of privilege does not permit selective disclosure. The Justice Department Inspector General should respond to Sessions's stonewalling by investigating Sessions's participation in firing Comey, and Sessions should resign if the Inspector General confirms a violation of the public trust or ethical norms.
Sessions made blatantly false statements to the Senate during his confirmation hearings. He said quite clearly, "I ... did not have communications with the Russians." But he later admitted that he had met with the Russian ambassador twice. Because Sessions had campaigned for candidate Trump, his staff recommended that he recuse himself from any matter having to do with the campaign. Accordingly, Sessions announced, his recusal "from... investigations of any matter relating in any way to the campaigns for president..." In a March 6 letter to the Senate Judiciary Committee, Session confirmed that his recusal covered investigations of Russian ties to the Trump campaign.
When Sessions recommended that President Trump fire Comey, he interfered with the FBI's investigation into Russian ties with the Trump campaign in the most forceful manner possible. Instead of staying away from the Russian investigation as he had pledged, he played a leading role in decapitating it.
Sessions could not ethically participate in any decision about terminating the FBI director, because firing the director would disrupt the FBI's investigation of the Trump campaign's ties with Russia.  Sessions stands to benefit personally from disrupting investigation of ties with Russia because, as a campaigner who met with the Russians, he is a potential target for such an investigation. He also has an interest in thwarting such an investigation because of loyalty toward Trump and other fellow campaigners.
The many conflict-of-interest rules that require his recusal from the firing decision generally prevent a lawyer from participating in a matter in which he has a personal interest. They are designed to make it impossible for government officials to benefit themselves or those with whom they have a "personal or political relationship" through their public decisions. These rules also generally require government officials to avoid even an appearance of a conflict, which can erode public trust. Whether or not the recusal letter itself or the rule motivating it required him to stay away from decisions about terminating Comey, these fundamental ethical norms prohibited his participation. The committee members' questions focused too narrowly on the recusal and did not challenge Sessions on fundamental appearance of fairness rules that apply to every lawyer.
Sessions's violation of appearance of fairness norms does not depend on his motives for participation and therefore their vindication does not require revelation of his conversations with President Trump. Because deciding to fire Comey benefitted Sessions and his fellow Trump campaigners, he should not have participated in any decision about Comey's fate. Conflict-of-interest and appearance-of-fairness rules aim to avoid making the public wonder about whether personal interests influence an important decision.             
These ethical norms form part of the foundation of the rule of law. In autocracies, government officials often make decisions designed to further their personal interests, rather than properly enforce the law. Our legal ethical norms prevent that sort of thing.
We do not know why Russia supported Donald Trump and whether his campaign helped subvert the elections. We need a thorough independent investigation of these ties and we need the American people to have faith in the results, Trump supporters and opponents alike. Comey's firing, which Sessions supported, makes achieving these goals harder, because future investigators will fear that if they pursue the facts wherever they lead, they too may lose their jobs. Even if they do their jobs properly, many Americans may not trust a vindication of Trump, because of the pressure that Trump and Sessions have put on the investigation.
Russia may have supported Trump to weaken the United States by subverting the rule of law. Sessions has undermined the rule of law by violating ethical norms vital to sustaining the public trust that grounds democracy. The Inspector General should investigate this extremely important apparent violation of fundamental norms sustaining the rule of law.
David M. Driesen teaches constitutional law at Syracuse University College of Law.
Calling all HuffPost superfans!
Sign up for membership to become a founding member and help shape HuffPost's next chapter
BEFORE YOU GO