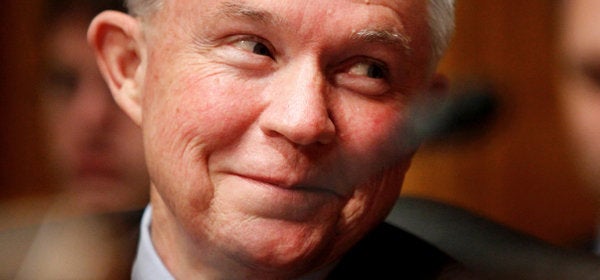 Since becoming the top ranking Republican on the Senate Judiciary Committee, Jeff Sessions' record has been almost solely analyzed for tealeaves on how he will approach Barack Obama's forthcoming Supreme Court nomination.
The Judiciary Committee, however, has a far broader purview than simply the consideration of judiciary picks, all of which Sessions will hold heavy influence over. On Thursday, the Alabama Republican's resume in regards to one of those other fields -- immigration reform -- was placed under the microscope by the immigration reform group America's Voice.
In a document provided to the Huffington Post, America's Voice doesn't hold back its punches, calling Sessions "one of the leading (and loudest) voices against comprehensive immigration reform in the United States Senate." They also tie the Senator to John Tanton, an anti-immigration activist described as a white nationalist by the Southern Poverty Law Center.
There is no evidence that Sessions holds some of the most extreme views of the individuals and groups he has associated with, and they have no large-scale financial links to the senator. But the report by America's Voice illuminates just where Sessions stands and who he associates with on one of the big political issues to confront Congress in the years ahead. And they build upon earlier reporting linking the senator to racially inflammatory views.
The America's Voice report documents how Sessions has regularly appeared with or joined political causes backed by groups founded by Tanton, including the Center for Immigration Studies (CIS), NumbersUSA -- which named Sessions its "2008 Defender of the Rule of Law" -- and the Federation for American Immigration Reform (FAIR.) The senator also received a $1,000 donation from the U.S Immigration Reform, a political action committee founded by Tanton's wife.
Sessions' office did not immediately return a request for comment.

According to a report by the Southern Poverty Law Center, these groups have served as vehicles for getting quasi-Nativist rhetoric inserted into the mainstream immigration debate. They are, indeed, an oft-quoted source for reporters writing about the topic. Tanton, meanwhile, was described by SPLC as the founder of "the racist Social Contract Press," and a correspondent "with Holocaust deniers, white nationalist intellectuals and Klan lawyers for decades." Interestingly enough, his work on conservation causes earlier in life was lauded by environmentalists.
For Sessions' critics, the ties to Tanton and his groups gain even more import now that the senator will be playing such an integral role in the immigration debate. But they are also a reflection of a political career that has been defined by anti-immigration rhetoric and legislation. Sessions has supported the construction of a fence along the Mexican border and opposed the establishment of a guest worker program. One of the fiercest opponents of the massive immigration reform effort that died in the Senate two years ago, he once dubbed the effort the "Terrorist Assistance and Facilitation Act of 2007."
Popular in the Community