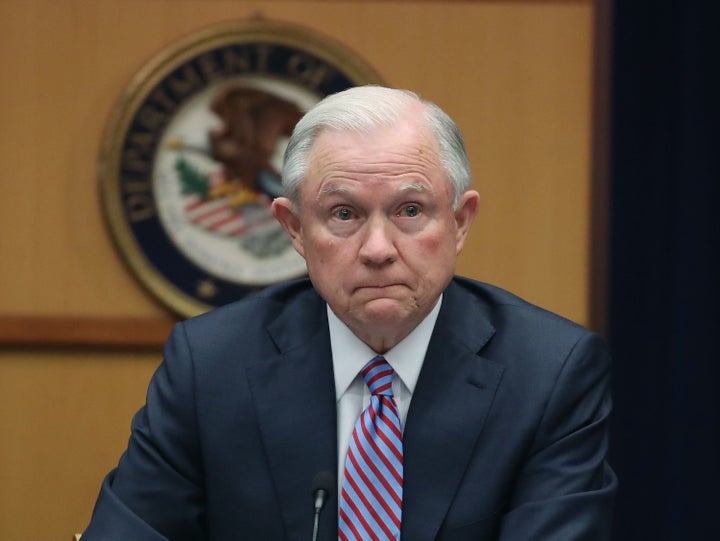 Attorney General Jeff Sessions didn't assuage journalists' fears Friday that prosecuting WikiLeaks could open the door to charging news organizations for publishing classified information, dismissing such questions in interviews as "speculative" and "hypothetical."
The Washington Post reported Thursday that the Justice Department is considering prosecuting members of WikiLeaks, including founder Julian Assange, in response to the massive leak of diplomatic cables and military documents in 2010 and the more recent disclosure of documents revealing CIA hacking techniques.
The Obama administration aggressively targeted leakers and used the Espionage Act in prosecutions more than all previous administrations combined. But while Obama's Justice Department prosecuted sources of classified documents such as Edward Snowden and Chelsea Manning, the government did not charge news organizations which were the recipients of such information.
Manning, a former Army private, was sentenced to 35 years for leaking documents to WikiLeaks detailing the wars in Afghanistan and Iraq and U.S. diplomacy. Her sentence was commuted by former President Barack Obama in January and she'll now be released next month after about seven years behind bars.
The Obama Justice Department opted against prosecuting WikiLeaks, which identifies itself as a publisher, because doing so could have set a precedent to similarly target more mainstream news organizations. However, the Obama administration never formerly closed the 2010 case involving WikiLeaks.
Sessions said Friday on CNN that he could not confirm or deny any ongoing investigation into WikiLeaks.
CNN's Kate Bolduan next asked Sessions if charging Assange could "open up news organizations like CNN or the New York Times to prosecution."
"That's speculative and I'm not able to comment on that," he responded.
During a later interview on MSNBC, host Ali Velshi mentioned to Sessions how the "traditional government view" was to prosecute "leakers of confidential information" and not the recipients of it. Velshi asked Sessions if he accepted the "idea that people who are recipients of confidential information, generally speaking, couldn't be subject to federal prosecution, as opposed to just those who leak it."
"That's hypothetical and facts are so important in those cases and I'd want to consult with my good lawyers before I gave you an opinion anyway," Sessions said. "So I'm just not going to comment on that."
A Justice Department spokesman did not immediately respond for comment.
Sessions responses in the CNN and MSNBC interviews are not reassuring for the press, especially considering the attorney general refused to commit to not prosecuting journalists during his Senate confirmation hearing, saying he was "not sure" if he would charge journalists in connection with leaks.
Sessions has lately been emphasizing the need to combat leaks, saying Thursday that the Justice Department had begun to "step up our efforts" to do. "Whenever a case can be made, we will seek to put some people in jail," he said. Sessions reiterated that view in interviews Friday across the major cable networks.
"I've said publicly and believe strongly we've had far too many leaks, we've had some very damaging leaks," Sessions said on Fox News. "I have part of the responsibility to try to identify any who violate our laws, and you'll be sure we'll do that. It's going to be a top priority and we'll fulfill our responsibility."
Though Trump's Justice Department is now considering prosecuting WikiLeaks, candidate Donald Trump frequently praised the group for publishing information damaging to Democratic challenger Hillary Clinton, including campaign chairman John Podesta's emails.
"Wikileaks, I love Wikileaks," he said, reiterating this on multiple occasions.
Trump has more recently downplayed the impact WikiLeaks' steady drip of Clinton campaign emails on the election. He suggested they were significant at the time. According to ThinkProgress, Trump mentioned WikiLeaks 164 times in the last month of the presidential race.
Related
Popular in the Community