WASHINGTON ― Attorney General Jeff Sessions repeatedly refused to answer questions before the Senate Intelligence Committee on Tuesday ― not because he or President Donald Trump were asserting executive privilege, but just in case the president might want to do so in the future, Sessions said.
"I am protecting the right of the president to assert it if he chooses," Sessions told the committee.
The attorney general, a longtime Trump ally, said he himself could not invoke executive privilege to refrain from discussing certain matters related to the executive branch and the president. He said that Trump could do so, if he chose, but that the president had not done so.
Still, Sessions repeatedly declined to talk about his past conversations with Trump and other top officials, even while claiming he wasn't invoking executive privilege.
Similar exchanges happened over and over again, as senators pressed Sessions on the firing of former FBI Director James Comey, an investigation into Russian meddling in the U.S. election and the attorney general's recusal from that investigation.
Democrats grew frustrated with Sessions' failure to answer their questions.
"You're impeding this investigation," Sen. Martin Heinrich (D-N.M.) said.
"I'm protecting the president's constitutional right by not giving it away before he has a chance to review it," Sessions replied.
At one point, Sen. Ron Wyden (D-Ore.) accused Sessions of stonewalling. Sessions did not take the remark well.
"I am not stonewalling," Sessions said. "I am following the historic policies of the Department of Justice. You don't walk into any hearing or committee meeting and reveal confidential communications with the president of the United States ― who is entitled to receive confidential communications ― in your best judgment about a host of issues and have to be accused of stonewalling for not answering on that."
Sen. Kamala Harris (D-Calif.) asked Sessions later what exact policy prevented him from answering questions.
The attorney general was unable to cite a specific written policy, although he did say he thinks there is written policy on the topic. He said his staff discussed the matter and principle behind it.
"The Constitution provides the head of the executive branch certain privileges, and one of them is confidentiality of communications," Sessions said. "And it is improper for agents of any departments in the executive branch to waive that privilege without a clear approval of the president."
Before You Go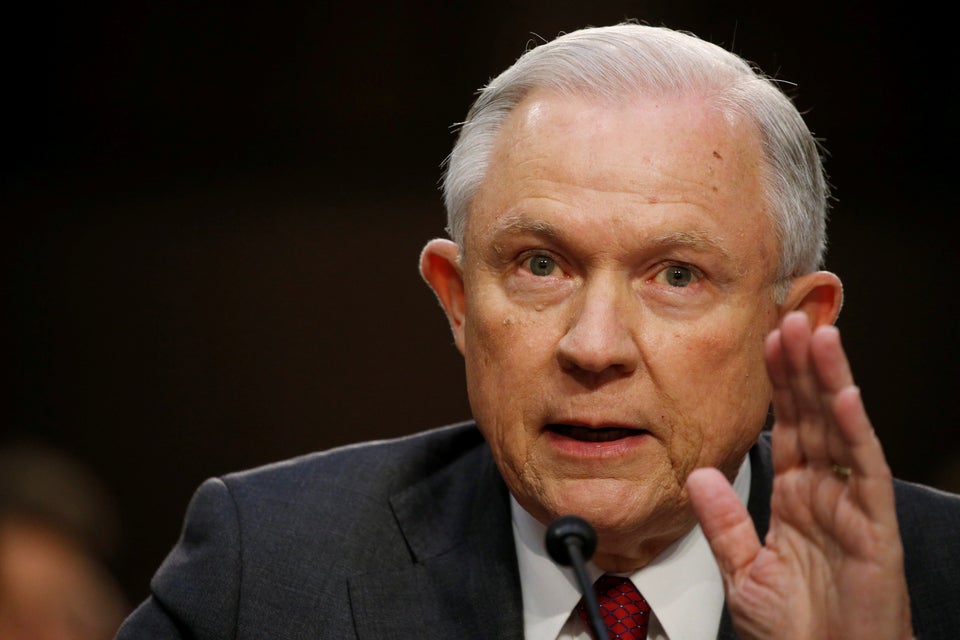 Jeff Sessions Speaks Before Senate Intelligence Committee
Popular in the Community