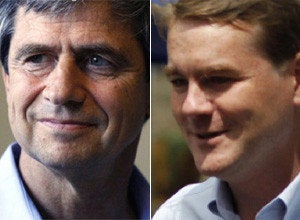 Democrats got a boost of good news yesterday in a batch of new tracking polls that show previously written-off Senate candidates in Pennsylvania, Colorado and Wisconsin running significantly closer to their Republican opponents. New polls yesterday also confirmed close margins in critical battlegrounds like Washington and West Virginia, but a Democratic comeback in either Pennsylvania, Colorado or Wisconsin would all but end Republican hopes to gain a majority in the U.S. Senate.
In Pennsylvania, two new surveys from the Muhlenberg College/Morning Call and from Democratic pollsters Public Policy Polling (PPP) confirm the significant tightening in the race first indicated by a set of internal Democratic party polls released last week. The PPP poll shows Democrat Joe Sestak edging Republican Pat Toomey's by a single percentage point (46% to 45%), while the smaller sample Muhlenberg tracking poll shows Sestak with a three-point advantage (44% to 41%). That result represents a ten-point net shift from Muhlenberg's last poll in early October. On the other hand, a Rasmussen poll conducted last week still showed Toomey leading by 10 points (49% to 39%).
Our standard trend estimate, which takes all of these surveys into account, now shows Toomey leading by less than four points (46.1% to 42.6%), just a whisker from toss-up status. Our more sensitive trend estimate, which puts greater weight on the four most recent polls, shows Sestak ahead by a toss-up 1.8 point margin (44.6% to 42.8%).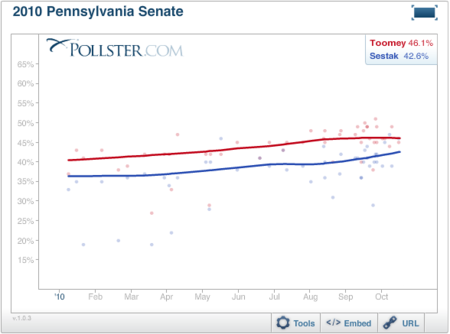 Three new polls in Colorado also show a similar narrowing of Republican Ken Buck's previous advantage over Democratic Senator Michael Bennet. A new Rasmussen Reports automated survey shows Buck's lead down to 2 percentage points (47% to 45%), while a survey by Rasmussen subsidiary Pulse Opinion Research for Fox News gives Buck a one point edge (46% to 45%). Meanwhile, a live interviewer survey by Reuters/Ipsos gave Buck a 3-point advantage (48% to 45%). Previous Rasmussen and Fox surveys conducted two and three weeks ago showed Buck leading by 5 and 4 points respectively; Ipsos showed Buck leading by 9 in late August.
The new polls narrow Buck's lead on our Colorado trend estimate to just 3.2 points (47.9% to 44.7%), enough to move Colorado into toss-up status. Our more sensitive trend estimate (shown below) reduces Buck's margin to less than two points (46.9% to 45.2%).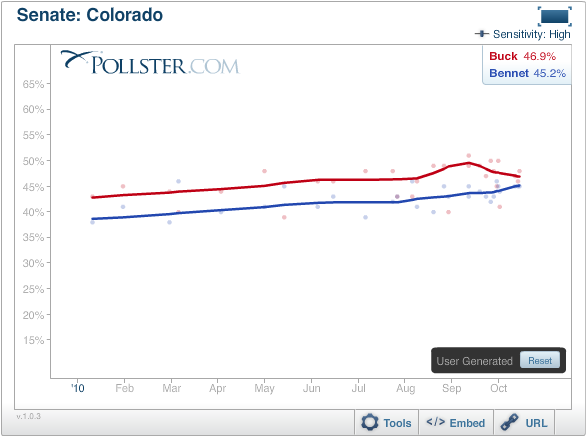 Our Wisconsin trend estimate continues to give Johnson a 6.2 point lead (50.8% to 44.6%), roughly three points narrower than in early October.
In Missouri, A new Fox News/Pulse survey conducted on Saturday but released yesterday shows Republican Roy Blunt leading Democrat Robin Carnahan by six points (49% to 43%). That result is similar to the five-point Blunt advantage on a Carnahan-sponsored PPP poll released on Monday. Previous independent polling, mostly by Rasmussen and Fox/Pulse, showed Blunt with leads of 8 or more points, though internal Democratic campaign polls released in September gave Blunt a four-point edge.
In Washington, a new PPP automated survey released yesterday gives Democratic Senator Patty Murray a two-point advantage (49% to 47%) over Republican challenger Dino Rossi. Meanwhile, a live-interviewer Marist/McClatchy News survey out just this morning gives Murray a one point edge (49% to 48%). Those margins are well within sampling error of the two automated polls conducted in the last week by Rasmussen and SurveyUSA, but closer than on two live-interviewer polls conducted a few days earlier by the University of Washington, CNN/Time and the Elway Poll. All six surveys show Murray leading, but an internal poll conducted last week by Moore Information for the Republican Senatorial Campaign Committee (RSCC) shows Rossi with one-point edge.
Our trend estimate now gives Murray a two-and-a-half point lead (48.6% to 46.1%).
In West Virginia, a new Fox/Pulse automated survey gives Republican John Raese a three-point edge over Democrat Joe Manchin (48% to 45%), a slightly narrower margin than on previous surveys by Fox/Pulse and Rasmussen (which use virtually identical methodologies). Three polls released last week showed margins ranging from a CNN/Time poll showing a dead-even race to a Marshall University/Orion survey showing Manchin leading by ten points. Our standard trend estimate gives Manchin a toss-up level 2.4 point advantage (46.9% to 44.5%).
Correction: The original version of this article incorrectly reported that Joe Sestak was a percentage point behind on the PPP Pennsylvania survey was rather than a point ahead.
Popular in the Community