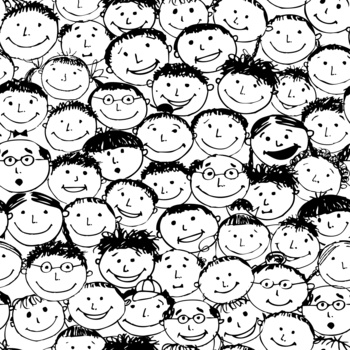 [Image Credit: Fotalia]

Last year, we held 21 Living Room Conversations (LRCs) in Sedona Arizona during October--and called it a "world record"! We invite you to surpass us.
Our endeavor sprang from exasperation at persistent televised hyper-partisan political combat. We decided to create, at least locally, a positive alternative--and we chose LRCs. We sensed that people here (a rural town of 10,000) would be drawn to this small group, in-home, warm-hearted process, which helps people to know their neighbors better and to talk with them respectfully about issues of common concern.
But first, we had to draw their attention to our project. We successfully petitioned Sedona's City Council to proclaim on October 17, Conflict Resolution Day (an international event sponsored by the Association for Conflict Resolution). We then enlisted several local dialogue-encouraging organizations to sign on as co-sponsors (e.g. the public library, the Osher Lifelong Learning Institute, the Great Decisions group).
But we were surprised, at first, when many individuals we approached demurred, saying that hosting (or even attending) an LRC seemed daunting, especially if their group were to discuss a "hot" topic. They recalled painful arguments igniting when controversial issues came up, even among friends and family.

They needed a confidence-booster. So we held several "try it to see if you like it" public workshops to introduce the LRC process, at which people could "test drive" the experience before signing on to participate in a home-based, private version.
I distributed handouts and fliers about the LRC project at meetings I attended, spoke to a few community groups, and submitted press releases to the local newspaper. I emailed invitations to everyone on my contact list, and asked them to forward my letter to their own networks.
The dubious people, at the public workshops, reported finding the experience surprisingly civil, enjoyable, and gratifying. Many then volunteered to co-host or participate in at-home LRCs.
Those were scheduled in living rooms (and backyards) across Sedona, during the last two weeks of October. Participants varied in background, beliefs, and age. They even included city officials: our incoming Mayor and three City Council members.
Ultimately, 21 conversations were held. Some I was asked to attend and facilitate (LRCs are designed to be self-facilitated), but most were conducted by the hosts. Every LRC was unique, of course, but each shared the usual basic ingredients: 6 group members, circle seating, a common purpose, dialogue guidelines focused on respectful listening, agenda questions, a rounds process, and affirmations at the end.
Participants' feedback was remarkably positive. Many spoke about enjoying "making new connections." They especially liked the groups' diversity. "It was fascinating to hear what different paths each person had followed and how they became the people that they are," one person wrote.
"The time together helped me to understand why some will take positions that are radically different than mine," said another.
A third expressed gratitude for "Meeting people of different backgrounds with the understanding that we would discuss issues, not superficial cocktail talk... revealing deeply held values and concerns."
At the end of the month, we invited all project participants to a "Celebration" of our achievement, which included sharing by participants from different groups about their LRC experience and a cake inscribed with our "record."
Click here to access a video summarizing the project, which provides footage of one of the conversations.
Our hope is to retain LRCs in our community's culture as a tool to employ when discord erupts. We also hope you will consider joining with a few friends in your community to surpass our "21-Living-Room-Conversations-in-a-month" record.
Interested? I would be happy to help you launch a similar project. I would be glad to email a booklet which includes copies of several letters, handouts, press releases, and forms I created to carry out this project.
We'd love our initiative to provide leverage for disseminating civil dialogue in other neighborhoods and communities. So we urge you to leave Sedona in the dust by charging forward to set your own LRC world record!
Paul Friedman is a retired professor (University of Kansas, Communication Studies Dept.) now stirring up a variety of dialogue action in Sedona, AZ. Feel free to connect with him via telephone (928-282-1541) or email (sedonapaul@gmail.com).
Calling all HuffPost superfans!
Sign up for membership to become a founding member and help shape HuffPost's next chapter