Earlier this year, New York City photographer Justin Bettman received a romantic email from a stranger named Jose, asking him to help plan and execute a surprise marriage proposal for his girlfriend on Valentine's Day.
Bettman is the man behind the #SetintheStreet photo project, in which he builds sets on city sidewalks with unwanted or thrown away materials and furniture. Afterwards, he leaves the sets up so pedestrians can take pictures with them and share them on social media.
For the proposal location, he and Jose decided on the edge of the water in Williamsburg, Brooklyn because that's where the couple had their first date. But how did they get Jose's unsuspecting girlfriend to play along?
"The story we came up with was that Jose submitted himself for a photo shoot casting and out of hundreds of people, he was picked," Bettman explained to The Huffington Post. "He told his girlfriend that we needed another model, so she was asked to fill in. I did a normal photo shoot of dining room scenes and then asked him if he had any poses he wanted to try. At that point, he got down on one knee, pulled out the ring, and popped the question."
"I had never witnessed a proposal before and seeing it happen in front of me was pretty surreal," Bettman said. "Shooting the proposal was interesting because I was pretty far from him but still felt all the emotions in the air on that cold winter morning."
It took the artist about six weeks to find all the furniture for the shoot and about two and a half hours to build the set that February morning. Bettman used materials found on Craigslist and the sidewalk, in addition to items from his friends' apartments.
Watch the sweet proposal video above. You can check out more of the artist's work here.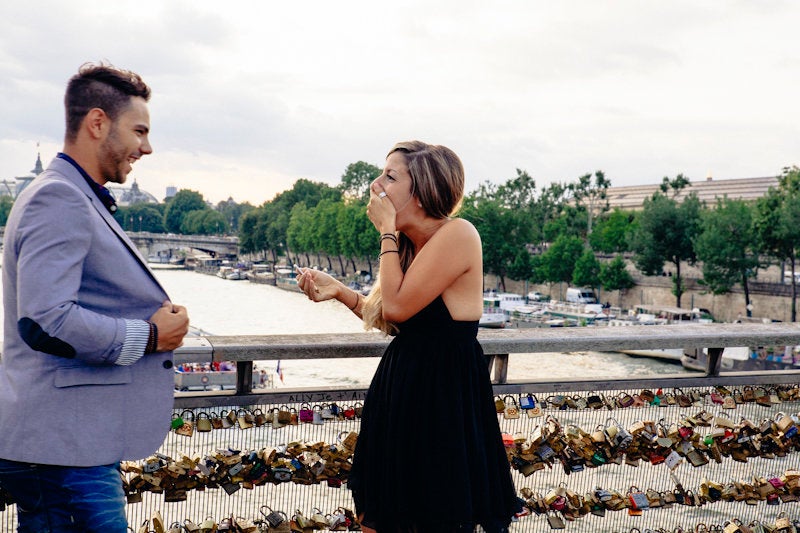 Surprised Proposal Reactions