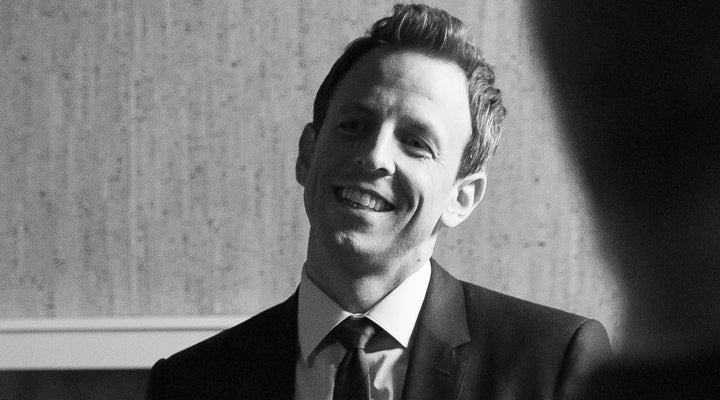 Seth Meyers and his "Late Night" team were a part of a panel discussion about their show on Tuesday night at the Paley Center for Media in New York City. Near the end of the talk, an audience member asked Meyers if he worries that his attacks on President Donald Trump will lead to a "sinister ramification" of his personal life. The question was framed to draw comparisons between Trump and former President Richard Nixon, as he kept a now famous "enemies list" of media members who crossed him. 
A moment passed before Meyers flippantly answered, "No," as laughter filled the theater. 
But after collecting his thoughts, Meyers went on to give a long statement about his role in critiquing Trump and why he strives to be the president's enemy.
"I will say, I definitely felt that cloud on election night to some degree," Meyers began, alluding to the fact that Trump has not been a fan of his for quite some time. In 2011, Meyers gave a speech at the White House Correspondents' Dinner, in which he made fun of a certain reality-TV star-turned-president. President Barack Obama then ridiculed Trump in his own speech, reportedly causing him to actually consider running.
At the Paley Center event, Meyers pivoted to say he doesn't feel like he's actually on the front lines of resisting Trump these days as there are others who, unfortunately, have more to fear.
"Look, I would love to say that I'm a man who every night exhibits courage, but I just think there are so many people that are actually being courageous right now," Meyers said. "And I think that the position of late-night talk show host is still one of the safer ones ― as far as the actual impact this president is having on people's lives. So it seems very strange to think of myself  as someone who might be a potential victim of this administration just because of how many are actual and real-life victims of this presidency."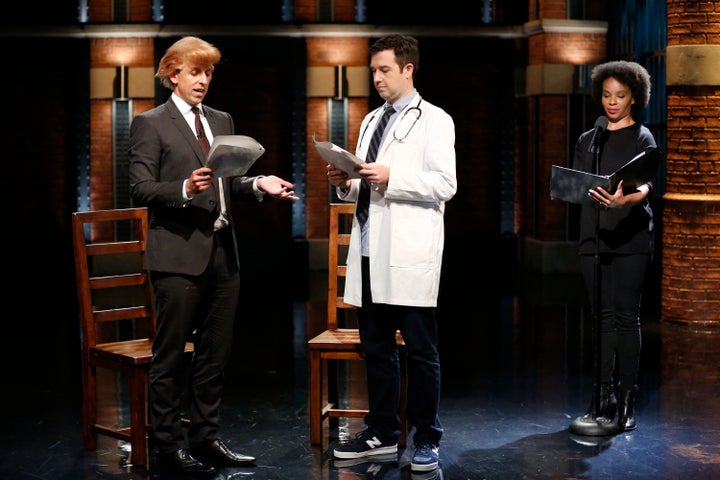 Still, Meyers knows he plays an important role in this current climate and he's not taking it lightly.
"I will also say, I've been lucky enough to meet Dick Cavett and he talks in length about being on Nixon's enemy list, and he's very proud of it," Meyers said of the former talk show host. "So I try to draw from him and realize that if you are an enemy to the right kind of people, that means you're doing something right."
Of course Meyers and his staff are comedians after all, which is why head writer Alex Baze added in one more joke after Meyers wrapped up: 
"This also feels like a president who would misplace his enemies list."
REAL LIFE. REAL NEWS. REAL VOICES.
Help us tell more of the stories that matter from voices that too often remain unheard.
BEFORE YOU GO