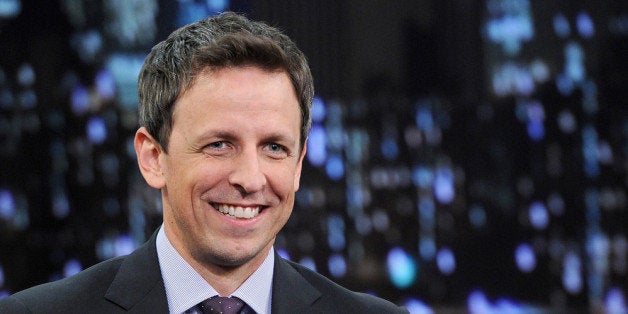 It's a little odd writing a "goodbye" essay about Seth Meyers when you take into account that we're all about to get a whole lot more Seth Meyers in our lives once he leaves "Saturday Night Live" after the Feb. 1 broadcast. Perhaps that's why we haven't seen an outpouring of Meyers farewells in the same way we did for recent departing "SNL" stars, such as Kristen Wiig or Bill Hader. With those two, we now have to pay money to see them perform; with Seth Meyers, he's going to be on television sets a lot in the near future as the host of "Late Night." He's becoming more a part of our cultural lives, not less. For "SNL," though, he's leaving a gaping hole -- an empty gap that you probably won't even notice until he's gone.
The most remarkable thing about Seth Meyers taking over "Late Night" after Jimmy Fallon departs for "The Tonight Show" is that Meyers has never demanded the spotlight. (Or, at the very least, he does a very good job at making it seem like he's not demanding the spotlight.) Even by the time he was hosting "Weekend Update," some of Meyers' best moments were in the way he set up other people's punchlines.
His legacy reads like a Six Degrees of Kevin Bacon game: Meyers is the guy who shared the stage with both Brooks Wheelan and Will Ferrell. Only Darrell Hammond has had a longer tenure, but for some reason we were all well aware that Hammond had been on the show forever. Somehow, Meyers has almost kept his longevity a secret.
Meyers started on "SNL" during the 2001-2002 season. As he often recounts in interviews, his first show was the first "SNL" after the Sept. 11, 2001 terrorist attacks on New York City and Washington, DC. Meyers didn't appear as co-host of "Weekend Update" until 2006, however, and it's almost bizarre watching re-runs of "SNL" when Meyers was part of the regular sketch-comedy troupe. If you do remember Meyers pre-"Update," it's most likely as one half of The Needlers or as the DJ in the back of Jarret's room in the Jimmy Fallon/Horatio Sans sketch of the same name. (Meyers has joked that, pre-"Update," he grew tired of playing the third male lead characters that Jimmy Fallon had passed on playing.)
Meyers' first sketch appearance was in the second show of that 2001 season as an office worker in the now-classic "Patriotic Shorts," sketch in which Ferrell shows up at the office wearing American flag bikini shorts. Meyers' role was to look disgusted, then join in on a group "U.S.A., U.S.A" chant. Sitting across from him, also not doing much, is Amy Poehler ... which is nice foreshadowing for what would come five years later.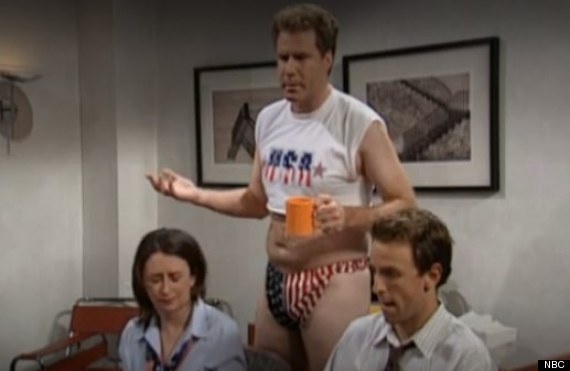 Eventually, Meyers would build a repertoire of recurring characters that we all have pretty much forgotten about –- not because they weren't memorable, but because Meyers' run on "Update" has pretty much negated the first part of his "SNL" career. (Though, I still have a soft spot for David Zinger: the scientist who would insult his co-workers with "zings.") In other words: Seth Meyers' most popular character on "SNL" is, by far, "Seth Meyers."
In 2006, Meyers replaced Tina Fey as head writer and as co-host of "Weekend Update" -– which had been hosted by two people since Tina Fey and Jimmy Fallon took over for Colin Quinn in 2000.
As head writer, Meyers set the tone. "When I had showed up at 'SNL,' I had read all of those stories about how competitive it was -- how people were cutthroat and everything," Bill Hader, who joined the cast in 2005, said. "Seth brought in the idea that this place is made to be competitive, but we do not have to be competitive with each other."
Will Forte, who joined the cast a year after Meyers in 2002, agreed. "Essentially, what it created was this atmosphere where you just wanted the best stuff to get on because that was the only thing that mattered," he said.
It's difficult to compare the hosting abilities of the different "Update" anchors over the years –- Dennis Miller's seething esoteric sarcasm is almost unmatched; we'll never see Norm Macdonald's irreverence ever again –- but the team of Meyers and Poehler brought more energy to the proceedings than anyone else had in previous eras. Where Fallon was almost Fey's cute, aw-shucks foil, and Fey and Poehler were more important as a duo, Meyers and Poehler were just better as a team. They clicked. It's almost as if Meyers was bred specifically in a test-tube to one day host "Weekend Update."
(To be fair, by the time Meyers joined "Update," Poehler was an old pro behind the desk –- as Fey was when Poehler replaced Fallon -- which has a lot to do with the chemistry. What we see when we watch Fey and Poehler host the Golden Globes is both women together at the top of their games.)
After Poehler left in 2008, Meyers hosted "Update" alone until this season (which seemed strangely odd at the time -- but, previously, "Update" had been hosted solo from 1985 to 2000), when Cecily Strong joined him at the "Update" desk.
"It is amazing how smart Seth is," Strong said. "He can read people so well and find the funniest things for everyone."
I've harped about that on a regular basis, too: One of Meyers' greatest talents is making others look good. He reminds me of my favorite editors: the ones who have everything to do with making a piece great, but relish in watching others get all of the accolades. I posed this hypothesis to Bobby Moynihan: "One-thousand percent," he said. "He's the guy you hand the script to and without even opening it, he's like, 'It's a little heavy' –- he's just been here so long, he can almost edit by weight."
Forte seems to agree. "Seth is as selfless as it gets," he said. "Any time he will tell a story about some stupid thing I've done, he makes me look so much funnier and better than I actually am."
Bill Hader, deservedly, gets a lot of accolades for his immensely popular character, Stefon –- but Stefon doesn't succeed without Meyers' deft ability to play the straight man to Stefon's eccentric recommendations. If Meyers deviates from this line, the joke is gone. The same can be said with how Meyers interacts with Bobby Moynihan's Drunk Uncle and Vanessa Bayer's Jacob the Bar Mitzvah Boy. Meyers is the host for all of these magical creatures and he provides the stability to make these people seem real.
"If you can make Seth laugh, none of the other stuff matters," Moynihan added. "If you go and watch the first Drunk Uncle as opposed to the last Drunk Uncle, you can tell I'm sitting there thinking, Does Seth think this is working? Once Seth decides that it is, then you feel comfortable and you start letting loose. You feel like, 'If Seth likes it, then I'm doing my job.'"
It's impossible to find someone who has worked with Meyers who will say an unkind thing about him. As far as I can tell, he's universally loved and respected. "He was a workhorse and never complained," Hader said. "He would do 'Update,' be head writer and come in and help me write Vincent Price."
Meyers would also just be there as person for the newer cast members. "I didn't know anybody. I felt like they made a mistake hiring me and I hadn't been doing this very long and I was freaking out," Hader recalled about his first day on "SNL." "Seth came in and goes, 'Hey, you're into comic books, right?' I go, 'Yeah.' He's like, 'Come to a comic book store with me.' He's like, 'Let's hang out; let's all be friends. We don't have to pick on each other and make this crazy.'"
"He is genuinely kind and welcomed me warmly right from the beginning," Strong said. "He has done a great job mentoring me without ever being preachy or teach-y."
"I remember doing ASSCAT at Upright Citizens Brigade with Seth and I got to do a scene with him way before I was on the show," Moynihan said. "Even as an improviser, I remember he set me up to make me look awesome."
Forte, for his part, remembers a much more auspicious story. "This has nothing to do with anything," he said with a laugh, "but my first year, we had decided we were going to go up to Boston to go see a Celtics-Wizards game. It was when Michael Jordan was playing with the Wizards. So, we stayed up all night after a show and went to the after-party. There was this final sketch and there was some just outrageously stupid outfit that I was wearing –- like a suit with a sleeveless vest. And so Seth said, 'You should talk the wardrobe people into wearing this to the after-party.' So I did. And then he talked me into wearing it on the train ride up to the Celtics game. And I was a couple of vodka sodas in, so I agreed that was a good idea. And then he talked me into wearing it to the game! And I wore this really dumb outfit to the game just because he kept assuring me that it was okay. I don't know why I trust this guy now!"
Even some people who don't know Meyers have a Meyers story. I'm one of them: I never met Meyers, but this past summer a package arrived at my apartment from Meyers containing a "Maine Justice" hat along with a handwritten note, just because he knew I adored that sketch from my weekly "SNL" Scorecard. (I promise, though, that this essay was coming regardless if that had happened or not.)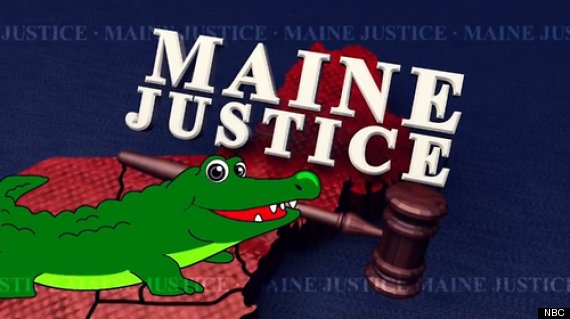 Obviously, it's yet to be seen if Meyers will succeed as a late-night talk-show host -- and from what I've heard, the format of Meyers' show is still being tinkered with -- but if they just let Seth be Seth, the show will succeed, because playing "Seth Meyers" is Seth Meyers' greatest asset. And it was, after this coming Saturday, the greatest asset "Saturday Night Live" had as well.
What's the legacy of Seth Myers on "SNL"? "The whole office keeps talking about how much we truly will miss him being around and being such an influential voice on the show," Strong said.
Added Forte: "His comedy brain is certainly something that will be missed, but his heart, also – there's this energy that he brings and a positivity that is such a wonderful thing to have. And there are a lot of the people at the show who have it, but it starts at the top ... it's a really amazing thing to have at a place that can be a very stressful place at times."
Echoed Hader: "When I did the very last Stefon, he gave me a hug -– and we're hugging when it ends and you can see we're kind of talking to each other. What he was saying to me was, 'Thanks for letting me be a part of that.' That's Seth Meyers. He could easily be, 'I'm the fucking guy here.'"
But that's the thing: Seth Meyers was "the fucking guy" there, even if we didn't always realize that ... which, I suppose, is exactly the way Seth Meyers wanted it to be.
Mike Ryan is senior writer for Huffington Post Entertainment. You can contact him directly on Twitter.
Click below for a special "SNL," Not Ready For Primetime Podcast featuring Mike Ryan and Hitfix's Ryan McGee as they discuss the legacy of Seth Meyers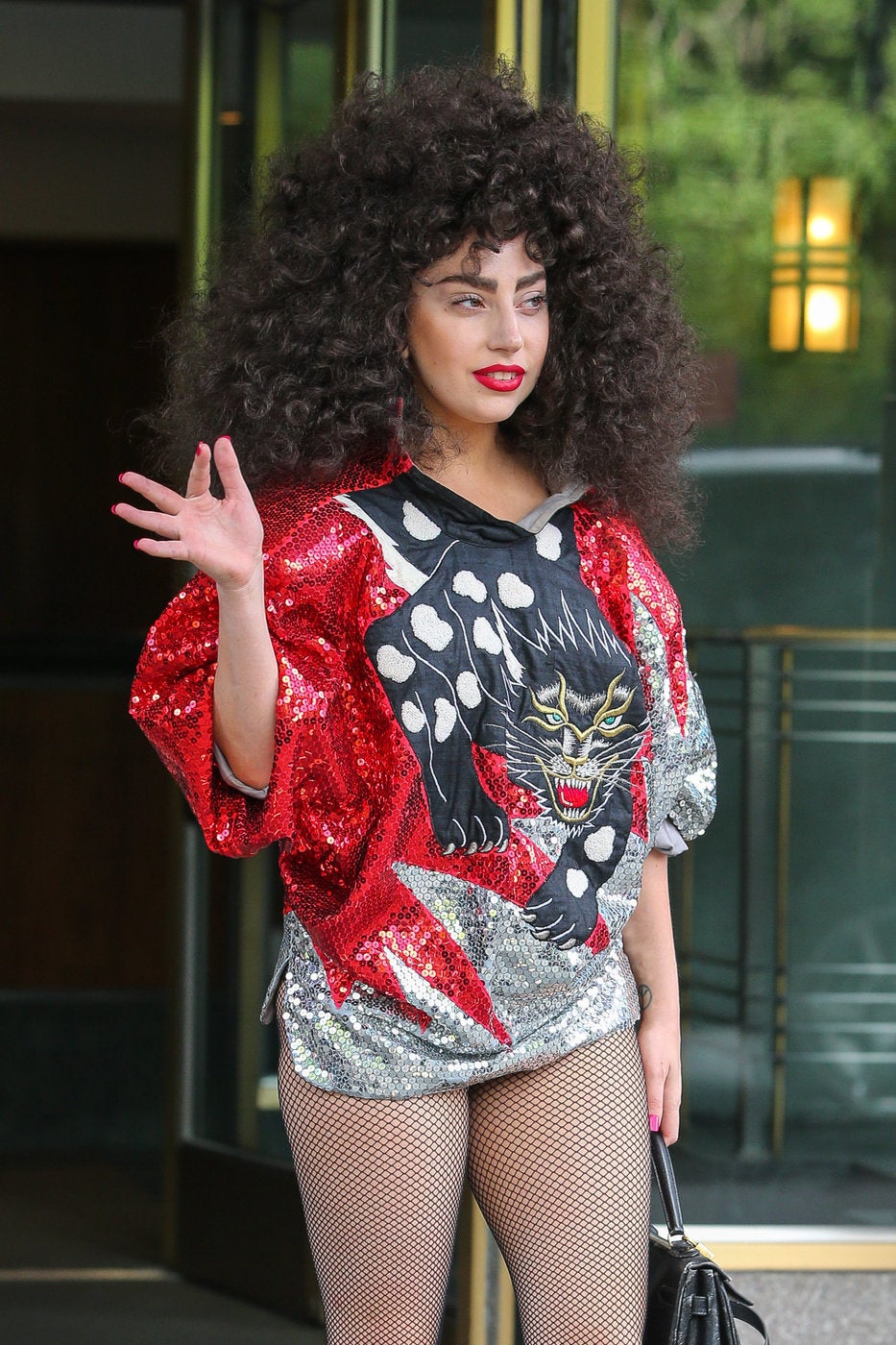 Celebrity News & Photos
Related
Popular in the Community