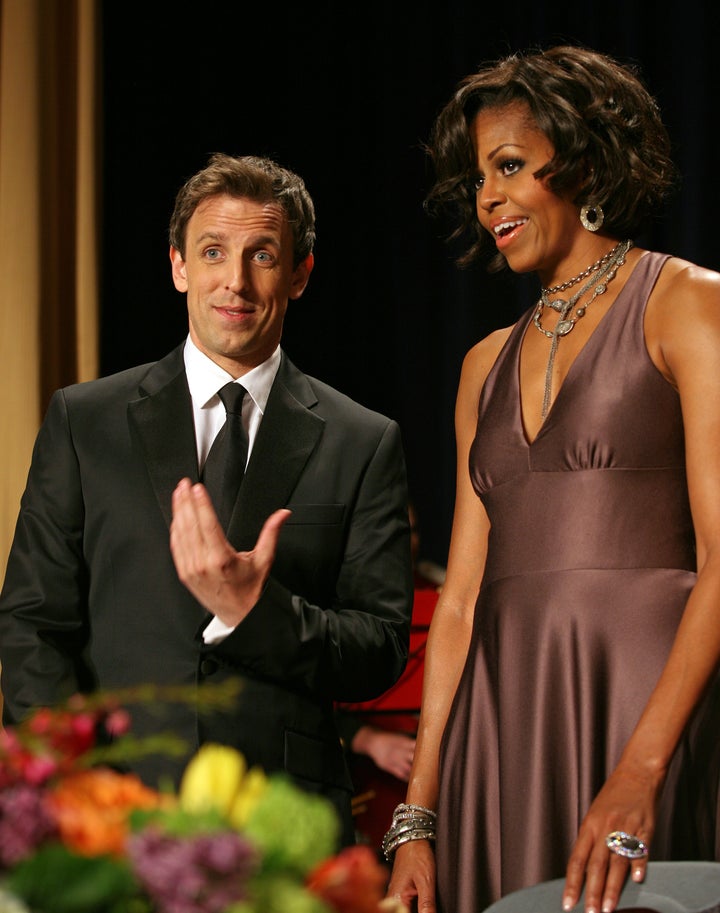 'Saturday Night Live' Weekend Update host Seth Meyers delivered a fiery speech Saturday at the White House Correspondents' dinner, ripping everyone from Washington players like President Barack Obama and members of Congress to media mavens like Katie Couric and Michael Bloomberg.
Donald Trump served as perhaps Meyers' biggest victim of the night. The comedian taunted him for his potential presidential candidacy, saying, "Donald Trump has said he's running for president as a Republican -- which is surprising because I thought he was running as a joke." He also teased Trump for his involvement with the Miss USA pageant, sneaking in a subtle jab at Sarah Palin: "Donald Trump owns the Miss USA pageant, which is great for Republicans because it will streamline their search for a vice president." Trump, needless to say, did not appear to crack a smile.
While complimenting the First Lady on her dashing looks, Meyers blasted the president for appearing to age quickly over the past two years. "If your hair gets any whiter, the Tea Party is going to endorse it," he quipped. Seizing on Obama's sinking approval ratings, Meyers added, "I'll tell you who could beat you: 2008 Barack Obama. You would have loved him."
For more Seth snark, check out the full video of his speech below (via Washington Post).
Related
Popular in the Community