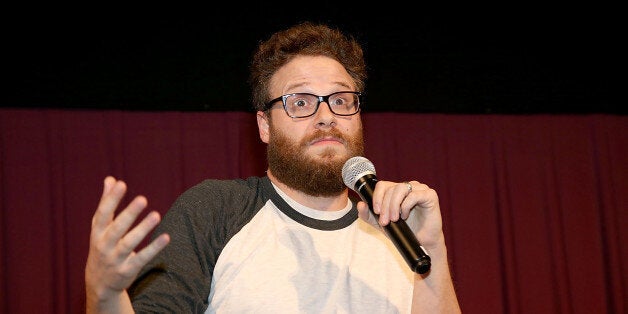 On Wednesday, The Hollywood reporter published a story with the following headline: "Sony's Amy Pascal Delays Office Move Due to Seth Rogen Pot Stench." The piece, written by reporter Tatiana Siegel, goes on to cite unnamed sources who claim Pascal, the former Sony Pictures co-chair, can't move into her new office on the studio's lot because previous occupants Rogen and Evan Goldberg left behind a "stench of marijuana" that "cannot be easily removed."
"I don't know what's more irresponsible: that they would print a story that is completely untrue, or that they would refer to how pot smells as a 'stench,'" Rogen wrote, before adding the hashtag: #myshitssmellsgood.
In an email to The Huffington Post, Rogen's publicist, Matthew Labov, also criticized The Hollywood Reporter for the story:
Glad to see that Janice Min is resorting to her old ways of Us Weekly. Between this story and her hard hitting cover story on actresses and their make-up artists', it's great to see that important stories like this make their way to the public.
When reached for comment, Siegel said she remained confident in her report. "I stand by my sources," she wrote in an email to HuffPost.