Seth Rogen is revising his stance on teen-centric movies of the past 16 years.
Earlier this month, the "Pineapple Express" and "Knocked Up" star drew online backlash after making a few eyebrow-raising comments on 2007's "Superbad." Directed by Greg Mottola, the comedy starred Michael Cera and Jonah Hill as teenage buddies who make a pact to lose their virginity before graduation.
Rogen, who has a supporting role in "Superbad" and wrote the screenplay with Evan Goldberg, said he'd observed a recent resurgence of interest in the movie. He also pointed to his "Fabelmans" co-star Gabriel LaBelle as an example of one of the film's younger fans.
"What's crazy is that Gabe LaBelle is like, 19 years old and his and his friends' favorite movie is 'Superbad,'" Rogen told People. "So it never changed for some reason. No one's made a good high school movie since then."
Not surprisingly, many on social media were quick to point out that there had, in fact, been plenty of well-received films about teenagers since "Superbad" was released.
Among those to receive significant praise were 2010's "Easy A," which put a 21st-century spin on "The Scarlet Letter," and 2019's "Booksmart," starring Hill's sister, Beanie Feldstein.
By last week, however, Rogen was ready to backpedal a bit, telling People that his comments on high school movies weren't intended to be taken literally.
"That was a joke. There's a lot. I've personally made a few," he said, alluding to 2018's "Blockers" and 2019's "Good Boys," two films he produced. "Obviously there have been many."
According to the publication, Rogen and his wife, Lauren Miller Rogen, went on to list "Easy A" and 2017's "Lady Bird" ― which, incidentally, also starred Feldstein ― as among their favorites in the high school genre.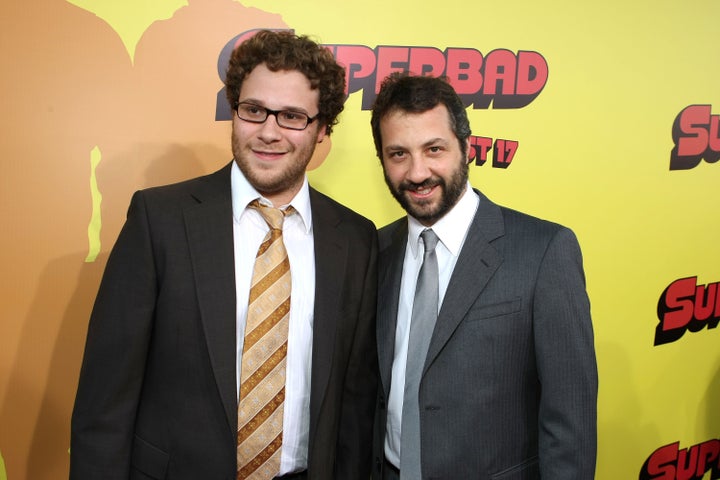 Currently, Rogen and Goldberg are co-producers on another film about adolescents — "Teenage Mutant Ninja Turtles: Mutant Mayhem," due for release this summer. Speaking to The A.V. Club last fall, he described the animated reboot of the "Teenage Mutant Ninja Turtles" franchise as a "deeply personal" project.
"It's a teenage movie, we're putting a lot of our own feelings—of awkwardness and insecurity and a desire to belong and be accepted and all that—into the movie," he said at the time. "And as I sit around with the other people working on it, I'm like, 'We found a way to care about this,' which is great."
Popular in the Community