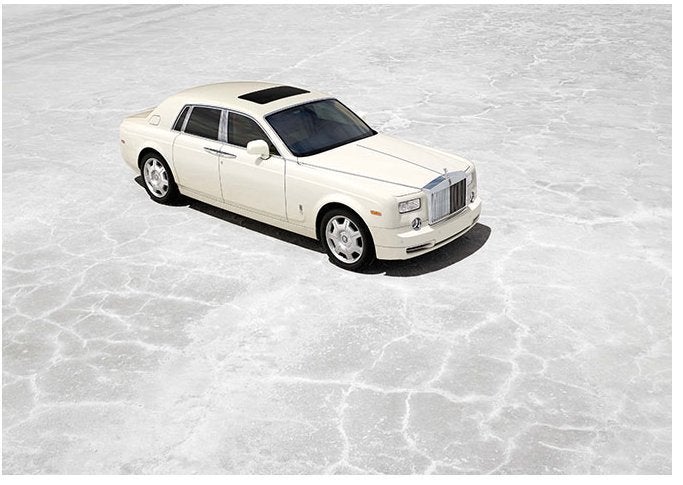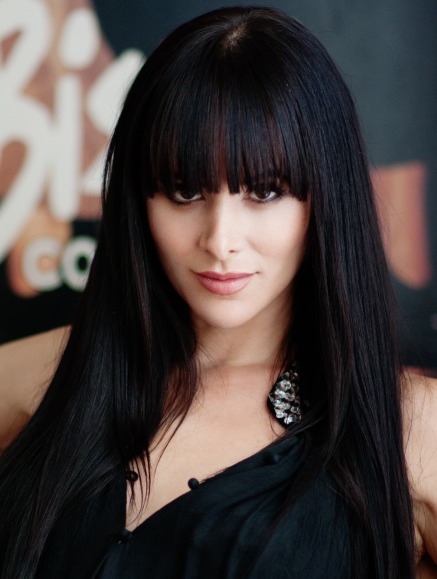 (Photo Credit: Setorii Pond)
When I was a little girl, I rarely played with Barbies. I was all about matchbox cars, playing with lizards and beating my brother at a game of football.
As I grew older, I found high heels and flowing dresses to speak to me over sports jerseys and basketball shorts, but my tomboy roots were never far away. To this day, I have a stylist to do my hair and makeup when on TV, and I cannot put together an outfit beyond jeans and a T-shirt to save my life. I've dreamt many times about being a fashion designer, but runway model was as close as I got. Let's just say I can sell a painting, but don't hand me the brushes and a canvas.
Over the years my passion for cars has awarded me with clients who have hired me to manage their car collections. I've been responsible for acquiring cars, and thinning down the herd. As with any collection, it's always interesting to see what caught the eye of another collector. Exotics, antiques, muscle cars... you name it. I've been involved in a little of it all. So when I learned about Setorii Pond and the Pond Collection, well... I think I squealed!
Setorii, as you know, is an amazing LA fashion designer. Setorii Couture has been seen on the cover of numerous magazines, fashion shows and on the backs of many celebrities. Let's just say she is doing her part at keeping America beautiful. Did I mention she is young and beautiful? As if those things weren't enough, she also happens to have one of the top car collections in California, if not the country!
Pretty girl + car fetish = Reyne's hero. All I know is after my hour long conversation talking about her collecting passions; I decided I wanted to be her when I grow up. Read on...
RH: I've interviewed a few car collectors at this point, all of them were men. As most of my readers know, I'm an avid car enthusiast and was so excited to talk to another female collector! My passion started with my mother. She loved cars and raced and showed them when I was younger. How did you get the collecting bug?
POND: I have loved cars and planes ever since I could crawl. I was raised by my grandparents since I was 2 years-old and my grandfather had a love for both aviation and cars. MygGrandfather was larger than life in my eyes and watching my grandparents as I grew up, I was constantly going to air shows, car auctions, car shows and learning to drive in each car I encountered. I love the beauty of the automobile, the history of each make and model, the details which made each so unique and the excitement of discovering then adding a new art piece to the collection was always thrilling. It has become an inimitable passion of mine. So many cars have an exquisite beauty and I found myself drawn to the quintessence of the automobile. Each car is its own work of art, each one is not only wondrous but uniquely special when you pay attention to the details and it is the details which continue to captivate me. The designs, the craftsmanship and the journey of the automobile's creation is sublimely fascinating.
RH: Cars AND planes. I'm thinking you need motorcycles too! Your first car was a Mustang... so was mine. Do you still have it? What was it that made you love that car?
POND: My first car was a 1964 1/2 Mustang. It was a great first car. I was living in Palm Springs and it was a convertible. Honestly it was not the most attractive color, it was a brick brown with an orange hue to it so the color threw me off a bit in the beginning and with no air conditioning made the car a bit difficult since the desert can reach about 123 in the summer and most of the year it is quite hot. One day I began noticing a quickly growing trend of appreciative attention forwards the car from boys and men, so I disregarded my hasty "girly" boxed thinking of the color being unattractive and saw things from a whole new perspective. Needless to say my growing desire of cars then took off into a whole new altitude. So I have the "men" of the world to thank for that. [*blushing and laughing*] Unfortunately as much as I loved the car, I do not have it anymore.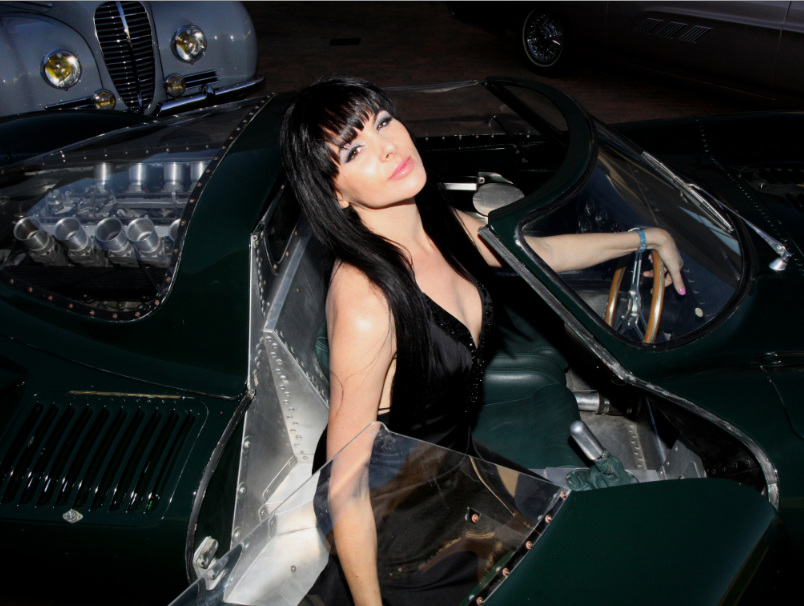 (Photo Credit: Setorii Pond)
RH: I no longer have my Mustang either. Then again, there are several cars I have had that I wished I still owned. How long have you been collecting and how many cars do you currently have in your collection?
POND: My grandparents and I collected the cars together, it was our hobby and one of our family past times we shared together. I feel I am a bit of a tyro collector but my continuous eagerness to learn about cars is an ongoing passion of mine. I am honored to follow in my grandfather's footsteps, there are currently 110 cars in the Pond Car Collection and the WWII Warbird Airplane Collection is at the Palm Springs Air museum.
RH: You have a collection of planes too? Exciting!!! I read somewhere you believe cars should be driven and not just owned. It must take a team of people to keep your collection in working order. I am constantly telling people that storage of collections is extremely important. Whether you have a passion for fine art, or 18th century furniture, each comes with their own issues. Tell me more about what it takes to keep your collection in tip top shape.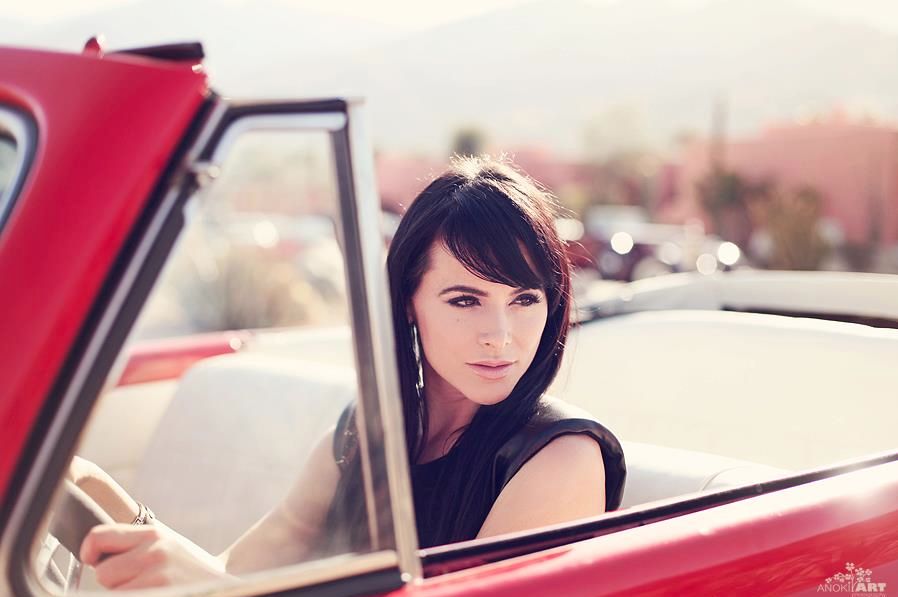 (Photo Credit: Setorii Pond)
POND: I am flummoxed by how people can buy a car and just let them sit in a garage or a museum. What could be more fun than hopping into a car and enjoying its own individual driving experience it offers you? Each car has its own panache, it's own driving style and its own story. That being said, maintenance is quite tiresome since there are so many different makes and models, it takes quite a skilled mechanic with extensive knowledge to keep the collection in tip top shape. The cars need to be consistently driven, which I love to do. As you can imagine having cars which are more historical or unique make it much harder to find parts to restore things which need to be work on. For example, it's not as easy to find a tire for a Vector when I have a flat tire. We have been fortunate through the years to have found some amazing mechanics which have helped keep the collection maintained well but even with the best you cannot always rely on others, sometimes you have to get your hands dirty too... that's part of the fun.
RH: If you need someone to come drive them for you, well... you have my number! With 110 cars in the collection, is there any one you covet but have yet to acquire?
POND: I certainly do not have it all... I feel my life is just beginning and my automobile diaries are just beginning to turn a new leaf. With so many options to choose from, how can I limit myself to one or a select few? I feel that it will be an ongoing life passion and love affair that I will share with cars, the memories of my upbringing and my new blossoming automotive adulation. Although there are a few cars in Ralph Lauren, Jay Leno and Seinfeld's garage which I wouldn't mind driving... I would love to learn to drift and I certainly have my eyes on a few cars I would love to try in the Gumball Rally.
RH: I knew Ralph Lauren collected antiques, but I was not aware of his car interests. Hmmm... another fashion designer with a penchant for cars. I'm seeing a trend. Tell me about your new book. It's a mix between fashion and cars. Elaborate!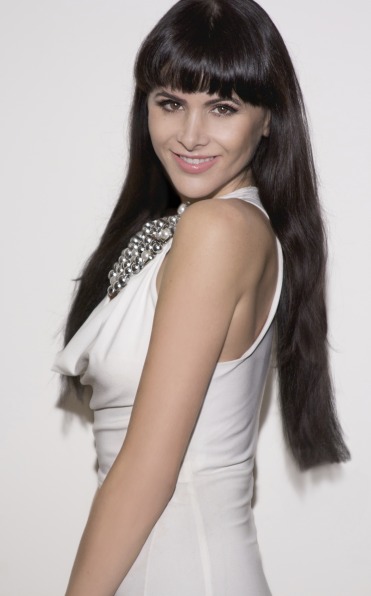 (Photo Credit: Jeff Linett)
POND: I wanted to create a book which encompassed two passions of mine: fashion and the car collection. Hoping to become more of a voice in: the automotive industry, in the luxury lifestyle platform and collector's space's since there are very few female voices in these industries, I designed a fashion collection inspired by the car collection. The folds in my fabrics, the simplistic beauty of the gowns and the array of colors were all created from my labor of love. I wanted to photograph the cars with elegant fashion models draped in the fabrics and designs to be a bit of eye candy to any car lover's coffee table, computer, iPad. I have more of what you could say is a romantic point of view and feel that there is already beauty, respect and adoration in the simplicity of the curvature, design aesthetic and purity of each car. That being said, I felt there was a bit of a void in the creativity space of photographing cars, so by intermixing: beautiful women, hand crafted fashion and my personal car collection together I hope to ignite a simply beautiful yet innocently suggestive new vision of how to look and admire cars, collections and more. My book is titled, The Art of Setorii and hope you will enjoy it as much as I loved creating it.
RH: Have you ever seen the beauty in the design of a car, and used it in your clothing line?
POND: Each car in the car collection inspired me. The Pond Collection has such panoply of different models, styles, shapes, colors and years of history. I felt it was important for me to try to capture the beauty of the automobile and the elegance of the ride transpired through my design ascetic, the grills inspired the folds in my fabric, the simplistic beauty and bold colors of the automobiles shine through my designs. You can see some of my work at: www.setorii.com and a few cars from the collection on: www.thepondcollection.com although Setorii.com will be housing all of the new content from the book and my future projects with cars, collections and more.
No doubt, we will be hearing a LOT more about Ms. Pond in the future!
Related
Popular in the Community