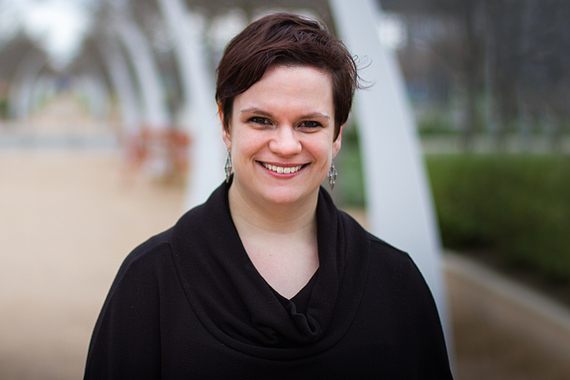 Thinking of International Women's Day on March 8, as I do each year at this time, I started reflecting on my own successes and challenges, both professionally and personally. During my eight years with Accenture, a global professional services company, I have attended the company's International Women's Day events regularly. I never regret taking the time to participate. The agenda is always excellent, and the speakers are motivating. I believe, in order to achieve gender parity, we need to keep celebrating the success of women. We need to keep striving for our own successes as individuals. The event always leads me to consider what most affects my success, which I'm going to share with you now.
The biggest challenge to my own success is avoiding the "Ideal Woman" trap. When I fall into that trap, the pressure to be an ideal wife, mother, and employee is overwhelming...my own standards become impossibly high. My ever-expanding to-do list is fueled by the anxiety of avoiding cracks in the ideals, like accidentally forgetting to bake cookies for my son's class party, or not proofreading a deliverable a fifth time, or missing some administrative household task. The trap is feeling the need to help all who interact with me and never complain--this is, of course, irrational. I only have 168 hours available per week available to me (fact check: all of us do!), and I logically understand that perfection is unrealistic, and no one expects me to single-handedly do it all. My greatest challenge is remembering emotionally that I don't have to live up to the ridiculous ideal standards that come at us from every imaginable angle, whether it's a magazine, a comment on social media, a judgment by a family member, or unsolicited looks we might get from total strangers. "Having it all" does not mean doing it all exhaustively and perfectly.
Letting technology give you flexibility
Technology presents us with unprecedented power to drive ourselves to achieve in nearly all aspects of our personal and professional lives. I can let go of a lot of "what if I forget" anxiety because thanks to my e-mail, task manager, calendar, and electronic note taking, I don't actually have to remember much. I have systems, supported by technology, that allow me to externalize my expectations of myself into the cloud for easy organization and ready reference wherever I am. Technology allows me to manage my work and home life all in one place. I can access my e-mail, calendar and reminders from my work laptop, home computer, and mobile phone with ease.
Mobile and public networks allow me to be productive nearly anywhere, even from 34,000 feet! With weekly business travel, flexibility in productivity is key to my life balance. I share a virtual breakfast with my 2-year-old son over FaceTime every morning while I'm away. I work from home effectively on Fridays because virtual meetings allow my team to seamlessly continue our work. When life inevitably hands me the unexpected, I have options about when and where I perform many tasks related to my job or home life.
The flexibility conundrum
The great paradox of this flexibility is that the barriers that technology removes are the same boundaries I find myself fighting to uphold. I have to keep myself from sending one more e-mail before dinner, or sneaking a quick peek at my inbox just before I go to sleep, or to knock out just one more work task on Sunday to get ahead of my week. The time I spend to flexibly work easily can be time I'm not spending with my husband and kids or on recharging myself.
With technology's support, I often mistakenly believe I can do more than is feasible. It's easy to add another task, or accept another appointment, or send one more e-mail. What technology won't do is say, "Whoa! Amanda! That is a lot to commit to...are you sure you want to sign up for that?"
I may be focused on one thing (whether it's an analysis for a client, or making dinner for my family), and people, or even un-manned applications, can interrupt me with another notification to draw my attention away from the activity at hand to focus on the priorities of that other person or program.
When I allow interruptions by tech, it doesn't just kill my productivity. It also dials up my emotional concern about being "ideal." I "should" have finished that report, or I "should" have spent more time with my husband this weekend. Rarely do the interruptions lead me to feel like I have accomplished much!
Knowing when boundaries are needed
Is technology making me more successful? Or is it costing me success because it enables unrealistic expectations and easily splits my focus? I believe that technology does, ultimately, make me more successful. But only when I remain in control of it, rather than allowing it to control me. Therefore, I have disabled all the notifications on my devices and only turned on those that I felt were "essential productivity boosters." I allow calls from my spouse, so we remain connected while I'm out of town. I use timers to fully focus until the time is up. I "digitally detox" every night by plugging my devices in to charge outside of my bedroom. Social media, e-mail, and any other apps have to wait until I access them intentionally to alert me to their latest updates.
I aim to check e-mail only when I plan on actually addressing most of the messages. I'm not perfect at battling the compulsion to check, but I do aspire to limit myself daily, and the intention makes a difference.
When it comes to considering my success while having a fulfilling home life, especially in the context of traveling frequently for work, it doesn't come easily. The thing is...I really love my work! It's exciting, it's stimulating, and it's engaging. I believe that staying engaged in my career actually helps me be a better partner at home and a better mom. So I'll keep using the tech to stay organized and stay flexible. But I'll still be the decision-maker for my time choices.
Calling all HuffPost superfans!
Sign up for membership to become a founding member and help shape HuffPost's next chapter