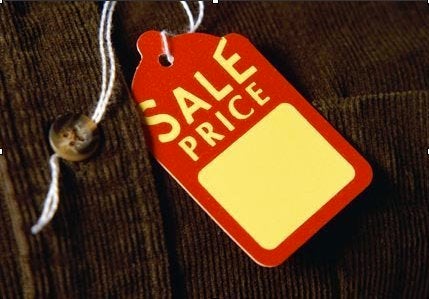 Setting the right price for your products or services can be one of the most challenging parts of the startup process. You need to set prices that will simultaneously make you competitive within your own market and grow your revenue. Achieving this delicate balance means knowing not only your costs, but also the state of your industry and overall economy. Most importantly, it means knowing yourself and your business as well as your customers and what will convince them to buy.
1. Have confidence in your products and services.Many entrepreneurs go through periods of doubt about themselves, their products or their services, especially in the beginning. They may have moments where they worry their expertise doesn't necessarily measure up to that of their competitors or that their interesting idea may not be so interesting after all. High confidence can be particularly difficult to maintain after pricing a product or service and facing negative feedback from potential customers -- even though these complainers may not be your ideal customers anyway. As an entrepreneur, you want to be objective, but you also need to have confidence about your offerings. You can't let negative feedback strong arm you into dropping your prices or selling products or services for less than they're worth. Own your expertise, stick to your guns and give marketing efforts a chance to attract customers who will see the value proposition you're offering and be willing to pay your prices. If you doubt yourself, everyone else will doubt you, too. You have to set yourself up as an authority in your industry and as a real specialist.
2. Don't go too low, don't go too high.You can't sell yourself short and set your prices too low in the beginning. For example, if you're a management consultant and quote a rate of $10 per hour, and your competitors command $200 to $300 per hour for the same services, you may think everyone will be chomping at the bit to snag you as the deal of the century. Instead, they'll be suspicious about the offer and think you're either too good to be true -- or not good at all. When you price too low in the beginning, raising prices down the line is difficult and can alienate and anger loyal clients. It can also cause faster burnout and eventual resentment of your clients for not providing you with a livable wage. According Michelle Goodman, author of The Anti 9-to-5 Guide, "Slashing your rates to get more work, or agreeing to a client's slashed rates in order to hang on to them, is not a viable business model. You'll just wind up working twice as many hours to pay your bills."
High-balling prices is also not ideal, because it can attract price-obsessed clients who base a company's quality on inflated (or deflated) rates -- although inflated rates are easier to offset without decreasing your value through special discounts that give clients the impression of a "deal." Gauge what the competition charges and set your price at about 80 to 90 percent of what they charge in the beginning. That way, you have wiggle room for flexible discounts or rate increases down the line.
3. Know your industry.Because the marketplace changes perpetually, you need to keep track of industry changes and economic fluctuations when pricing. Many entrepreneurs make the mistake of under-pricing their service offerings in hopes of selling large quantities. But particularly for a small business with just a handful of employees, this isn't reasonable or profitable. The market will always be clotted with people willing to throw it all away with bargain-basement prices and no monitoring of real profitability. Successful business owners survey the needs of the market and know how to inject their own profitable offerings. Experienced freelancer and Web entrepreneur Amber Weinberg suggests that business owners offering services at hourly rates instead package these services at a fixed project price. "Your prices should still be based on an hourly figure, with expenses and profits built in, but you should give your client a set price," she says. "Project rates often come out cheaper for the clients in the end but also leave you with more money, since you're not shorting yourself."
4. Create value.Every pricing decision needs a "win-win" outcome: Customers need to get a great value for their money and company owners need to make a profit. Business expert Tessa Stowe of career resource site Job Bank suggests asking a series of questions of both yourself and your clients to test whether your proposed price will be right:
If you were able to get as many clients as you wanted at your chosen price, would you be happy? Would the amount be a good value for the products or services your customers would receive? Would this price make you resent or be grateful for your clients? Would your chosen price make you want to go above and beyond to give your clients special deals or services? Would you attract clients that will be with you for the long haul and happily pay you for products and services at your chosen price?
You may have to keep adjusting the price until you get a "yes" answer to all these questions, but you shouldn't land on a price until you're confident you are providing a great value proposition to your potential clients.
5. Don't let price control your business.You need to focus on benefits, not features. Remember that price is a feature. You should never sell your products or services based on low price alone, because it won't distinguish you from your competitors. Yaro Starak, a blogger for Small Business Branding, says that building prices and a marketing strategy around your own opinions of your product or service, or how great its features are, is one of the biggest "newbie" mistakes an entrepreneur can make. Similarly, focusing on a product's "low, low price" is not really selling the value of the product to the potential client. If you focus on price, you're simply encouraging price hunters who aren't necessarily paying attention to what makes your company unique. According to Starak, the most important part of setting prices is to think about the real, tangible "solutions and benefits" your company provides and make sure these are center stage in all sales pitches.
The original version of this article appeared on AOL Small Business on 8/3/10.
Related
Popular in the Community