Perfection isn't always within reach. Nor are there any guarantees of success. Watch a professional golfer as he prepares to tee off. Or a pitcher as he prepares to throw a baseball toward the batter standing at home plate. They're concentrating very hard on executing a move they've been practicing for a long, long time.
When artists and athletes come close to perfection, the results are thrilling. In the following video, Osiel Gounes performs a variation from the Diana & Acteon pas de deux (having trained at the Cuban National Ballet School in Havana, the 24-year-old Gounes recently joined the Norwegian National Ballet).
It takes long hard years of planning, practicing, and discipline to make something appear effortless. In November 1999, a Los Angeles production of Putting It Together transferred to Broadway with a cast headed by Carol Burnett, Ruthie Henshall, George Hearn, Bronson Pinchot, and John Barrowman. This is what it looked like when things went smoothly as the show was being videotaped.
Then something unexpected happened to Burnett who, after years of doing comedy sketches on her television show, handled the situation like a pro.
Wardrobe malfunctions can be unsettling, hilarious, scary, or (in the case of Janet Jackson's 2004 half-time show at Superbowl XXXVIII), historic. However, when push comes to shove, if a comic element is involved, it helps to have the audience in on the joke.
Two new productions do a splendid job of achieving this goal. In one (a revival of a 420-year-old Shakespearean play), a simple hat trick clearly explains the plot's secret to the audience. In the other, a cheap shot delivers one of the funniest golden shower scenes ever filmed. As director Charlie Vaughan notes "First Period will probably offend a lot of people... with heart and emotion."
Indeed it will. Imagine a cross between Hairspray, Heathers, Carrie, and these winsome characters from Little Britain. If you're looking for the slightest hint of subtlety, abandon all hope.
Set in 1989 (hence the glaring lack of smartphones), "First Period" is only one of the many double entendres scattered throughout this film. For his first feature film script, Brandon Alexander III stars as Cassie Glenn, a teenage legend in her own mind, who has moved to a new suburban landscape.
On her first day at her new school, Cassie is determined to make new friends. At first, the only student even mildly interested in making her acquaintance is the school's social outcast, Maggie Miller (Dudley Beene), whose unfortunate nickname is "coat rack."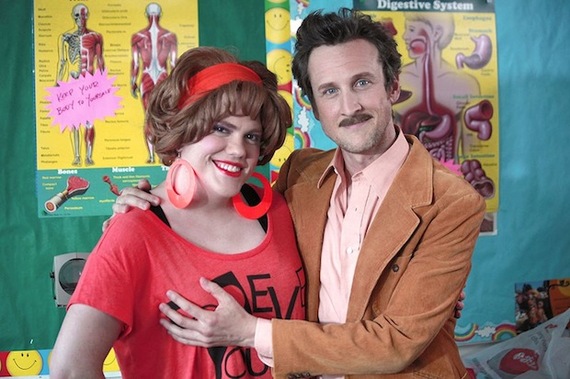 Cassie Glenn (Brandon Alexander III) makes friends with her new
science teacher, Mr. Klein (Jack Plotnick) in First Period
Cassie, whose mother is played by Cassandra Peterson (a/k/a Elvira: Mistress of the Dark), soon encounters such bizarre personalities as:
Ms. Wood (Tara Karsian), the closeted guidance counselor who doesn't pick up on Cassie's hint that she recently had her "cat" shaved.
Ms. Mallow (Diane Salinger), the deranged art teacher.
Madam Mulva (Judy Tenuta), a low-grade, no-talent psychic with a strong bullshit detector.
Mr. Klein (Jack Plotnick), the science teacher who likes to flirt with the girls in his class but is too grossed out by human anatomy to have a serious discussion about the female reproduction system.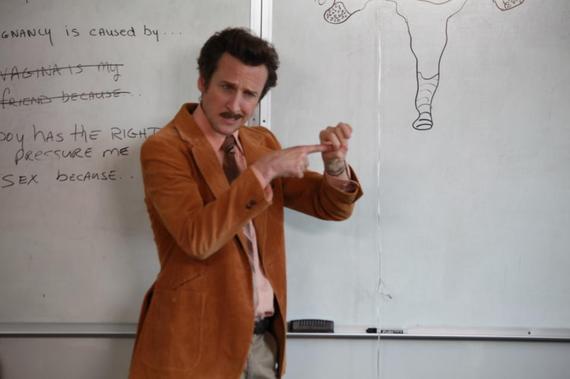 Jack Plotnick as Mr. Klein, the science teacher
Cassie's determination to enter and win the school talent show immediately pits her against the vapid evil of Heather (Lauren Rose Lewis) and Other Heather (Karli Kaiser), who have the school's top two closeted jocks wrapped around their manipulative little fingers. Needless to say, the two Heathers won't hesitate to use Dirk and Brett to make sure that Cassie and Maggie get humiliated in front of the entire student body.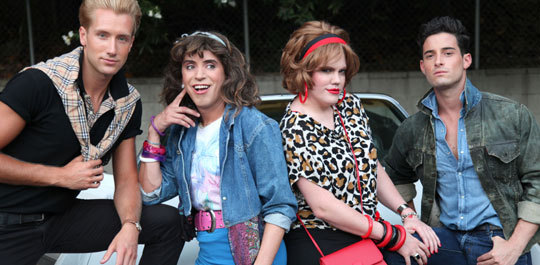 Brett (Leigh Wakeford), Maggie (Dudley Beene), Cassie (Brandon
Alexander III), and Dirk (Michael Turchin) in First Period
The students, of course, have their individual specialties. Maggie secretly desires to become a white, female rapper while Cassie can't wait to give her new friend a makeover. As the clueless Dirk, fashion model Michael Turchin (who will marry Lance Bass on December 20) provides plenty of eye candy with a wink and a nod to the audience that he's well aware of the stereotype he's spoofing.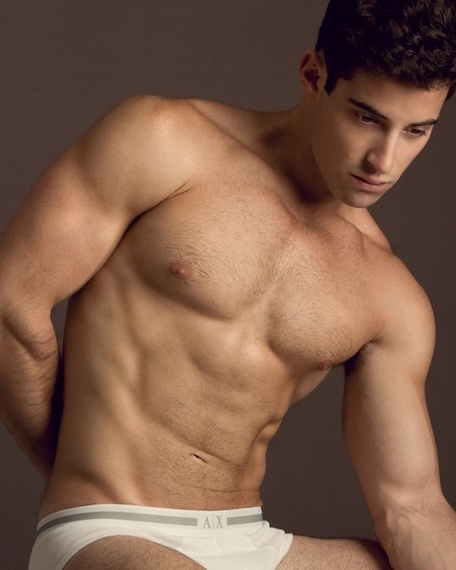 Michael Turchin is Dirk in First Period
It goes without saying that the creative team behind First Period knows this film genre upside down and inside out. Michael Mullen's costume designs are hilariously appropriate for the 1980s, while the overall production design by Dudley Beene (who plays Maggie) is stunning. As director Charlie Vaughan notes:
"My heroes have always been outcasts. From the first time I saw The Bride of Frankenstein in the second grade, I knew I wanted to make movies. Discovering John Waters's Hairspray in the sixth grade only solidified this desire. I wanted the characters that inhabited his films to be my friends, but also, like Waters, I wanted to make movies with my friends. First Period is my love letter to the culty films of John Waters, and the films of my youth. Ah, the '80s. So whether or not you knew people like Cassie or Maggie in high school (or, better yet, you were like Cassie and Maggie) we are sure you will be wrapped up in the infectious fun of First Period. After all, isn't it about time to let your freak flag fly?"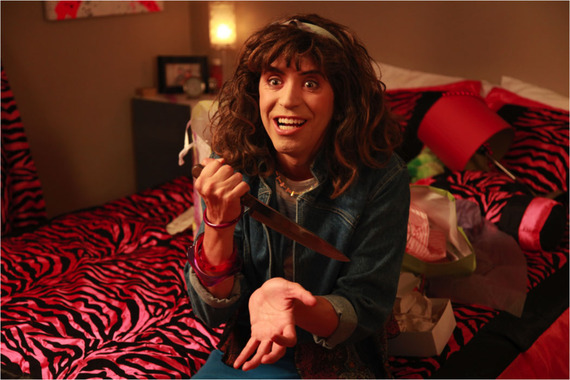 Maggie (Dudley Beene) always keeps a sharp kitchen
knife handy for special occasions in First Period
Some interesting pieces of trivia dawn from First Period's press kit:
Cassie's look was inspired by the fabulous '80s icon Molly Ringwald.
Maggie was inspired by Jamie Gertz from Square Pegs.
Maggie's rap battle is an homage to the movie Teen Witch where an unpopular girl suddenly and miraculously belts out a rap called "Top That."
The name of the high school, Florence Fisher High, is named after the real recovering addict that Jerri Blank from Strangers With Candy was based on.
After struggling to find a high school that would let First Period film at it, we lucked into two elementary church schools that welcomed us with open arms.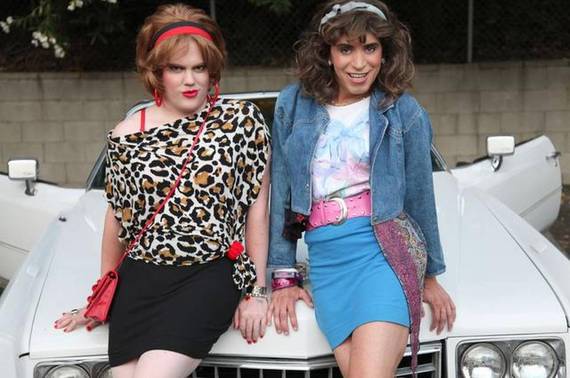 Brandon Alexander III (Cassie) and Dudley
Beene (Maggie) are the stars of First Period
How much viewers enjoy First Period will depend, to a great extent, on who they see it with. If you see it alone, its weak points will start to show. If you see it with a bunch of politically correct people who are in no mood for rape jokes, the film's tasteless humor will be lost on you and your friends.
If, however, you're surrounded by people with an appetite for bawdy humor, fashion violations, drag, beefcake, and the kind of double entendres that pepper the films from Q. Allan Brocka's popular Eating Out franchise, you'll have yourself a rollicking good time. Here's the trailer:
Identical twins have always been a perverse source of amusement. In 1956, The Wrigley Company began using images of identical twins in their ad campaigns for Doublemint Gum.
In 1988, Bette Midler and Lily Tomlin starred in a film farce entitled Big Business. The following two clips set up the initial premise and then show the joke exploding into full force.
In 1997, a musical based on the lives of Daisy and Violet Hilton (two conjoined twins who toured the vaudeville circuit) opened on Broadway. This year's reworking of the show is about to open at the St. James Theatre on Broadway.
To fully appreciate the dramatic and comedic power of using twins, one must look back to its early source, the Roman dramatist Plautus (254-184 BC). A master craftsman of stage farce, his play, Menaechmi, drew many of its laughs from the mistaken identities of a pair of twins.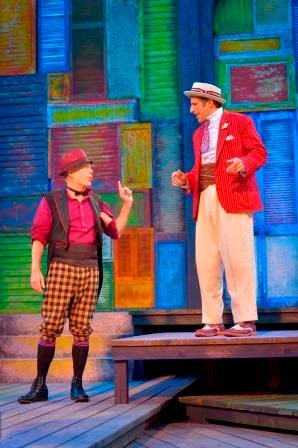 Danny Scheie and Adrian Danzig in Shakespeare's
The Comedy of Errors (Photo by: Kevin Berne)
The California Shakespeare Theater recently presented a new production of The Comedy of Errors (in which Shakespeare decided to double his comic opportunities by writing for two sets of twins instead of just one). Cleverly directed by Aaron Posner, the production relies on audiences paying careful attention to those cast members who are doubling up on characters.
Ron Campbell doubles as Egeon (the Syracusan merchant who fathered one set of twins) and Angelo the goldsmith.
Liam Vincent doubles as the Duke of Ephesus and Balthasar the merchant.
Patty Gallagher doubles as a courtesan as well as Egeon's lost wife (who has become the Lady Abbess of Ephesus).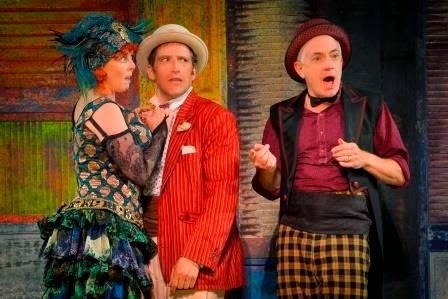 Patty Gallagher, Adrian Danzig and Danny Scheie
in The Comedy of Errors (Photo by: Kevin Berne)
In recent years, Posner has developed quite a reputation for his work staging plays such as Macbeth and The Tempest. In the following clip, he talks about how to make Shakespeare relevant to contemporary audiences.
As dramaturgy intern Aliya Charney explains with regard to the CalShakes production of The Comedy of Errors:
"Posner adds to the play's themes of doubling and confusion with a cast of seven. Both sets of twins (four characters total): Antipholus of Ephesus/Antipholus of Syracuse and Dromio of Ephesus/Dromio of Syracuse (played by Adrian Danzig and Danny Scheie, respectively) are performed by two actors, while other cast members play multiple personalities on stage as well. The actors, therefore, rely on quick changes (some of which take place on stage before the audience), accent shifts, and physical humor to tell the story of mistaken identity between two sets of brothers."
Working on Nina Ball's unit set (with some delicious costuming work by Beaver Bauer), Posner's inventiveness can be staggering. But when you have a performer like Danny Scheie (who portrays both Dromios) to work with, it's hard to go wrong. At times, it's best to let Scheie just run with a gimmick (like rotating his hat to indicate which Dromio he is portraying at any given moment). Whether interacting with his master (Antipholus of Syracuse), his master's twin (Antipholus of Ephesus), Adriana (the wife of Antipholus of Ephesus) or her sister, Luciana, Scheie never fails to delight.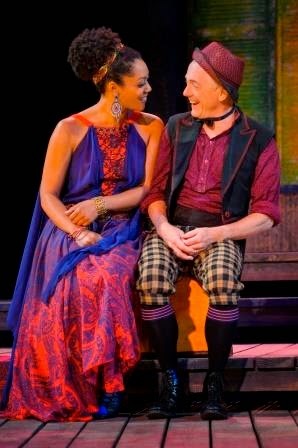 Nemuna Ceesav and Danny Scheie in a scene from
The Comedy of Errors (Photo by: Kevin Berne)
While Posner's staging offers Adrian Danzig and Danny Scheie a wealth of comedic opportunities, their work is enhanced by movement director Erika Chong Shuch and Dave Maier (the resident fight director at California Shakespeare Theater).
The radiant Nemuna Ceesay (Adriana) and Tristan Cunningham (as her sister, Luciana) enjoy some spirited interplay as the two most confused women in Shakespeare's comedy (which had its first recorded performance on December 28, 1594). Easily moving in and out of supporting characters are the gifted trio of Ron Gallagher, Liam Vincent, and Patty Gallagher.
REAL LIFE. REAL NEWS. REAL VOICES.
Help us tell more of the stories that matter from voices that too often remain unheard.