 Israeli Orthodox rabbi, settler, poet and peace activist, Rabbi Menachem Froman passed away in his home community of Tekoa in Gush Etzion on Monday evening, March 4. The 68-year-old father of 10 had long been battling cancer.
Rabbi Froman, with his white beard and white garb, was a beloved figure for people across the political spectrum in Israel. He was instrumental in the establishment of Eretz Shalom or Land of Peace movement, which seeks peaceful coexistence between Jewish settlers and Palestinians in Judea and Samaria, the Biblical name for the West Bank.
"Rabbi Froman always said that our mission was to make peace between settlers and Palestinians and that peace wasn't something exclusive to left-wingers," said Nachum Pachenik, 40, a founder of Land of Peace.
Pachenik, a settler and father of three, lives in a small outpost called Sde Boaz, near the urban settlement of Neve Daniel in the Judean hills. On his way to a meeting with Arab locals near Bethlehem, Pachenik, a poet who served in Israel's elite Sayeret Matkal commando unit, speaks of his peace movement proudly.
"Eretz Shalom is the only organization in the world that seeks to cement friendship between Palestinians and settlers," said Pachenik, born in Kiryat Arba near Hebron. "We are involved in the heart of the conflict," Pachenik told Tazpit News Agency. "I, like Rabbi Froman, believe that the heart of the conflict is the heart of the solution."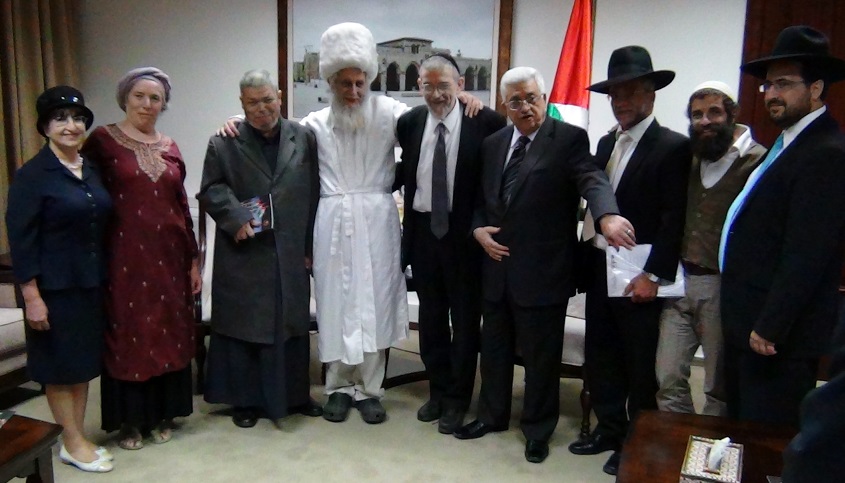 Photo: Courtesy of Nachum Pachenik / Description: Rabbi Froman and fellow settlers meet with Palestinian President Mahmoud Abbas in Ramallah in August 2012.
The Land of Peace movement, comprised of settlers from across Judea and Samaria, has conducted numerous joint activities and projects -- both social and economic -- with Palestinians from the region. The organization has recently initiated the kosher certification of a tehina factory near Nabulus. The Palestinian factory owner can now advertise and sell his products to kosher establishments in Israel, according to Pachenik.
In addition, Land of Peace organizes meetings between settler rabbis, sheikhs, and clergy and holds interfaith prayers for rain during droughts. With the inspiration of Rabbi Froman, the movement also organized a joint soccer match between Palestinians and settlers, and is currently working on establishing a cooperative organic farm.
Rabbi Froman also valued establishing ties with the Palestinian leadership and had personal connections with Yasser Arafat and Hamas spiritual leader, Sheikh Ahmad Yassin. Last summer, Rabbi Froman met Palestinian President Mahmoud Abbas, accompanied by his wife and other settlers including Pachenik.
"Only three months ago, Rabbi Froman hosted an Arab sheikh and a visiting priest at his home in Tekoa," continued Pachenik. "The three all prayed in Rabbi Froman's home -- this kind of multi-cultural gathering often took place in the rabbi's house," explained Pachenik.
For Ziad Sabatin, a 41-year-old Palestinian from Hussan, near Beitar Illit, who is also active with Land of Peace, Rabbi Froman was "a special and courageous man." "Rabbi Froman spoke the truth, he understood that we had to look to religion as the way to do things," Sabatin told Tazpit News Agency.
Sabatin met Rabbi Froman four years ago at a protest against the security barrier. He told Tazpit News Agency that he was surprised to meet the settlers and Rabbi Froman at the protest, which had been organized by him. "I founded a movement called Combatants for Peace, which also had Jewish activists alongside Palestinians. When I met this group of settlers, I was excited. But the Jewish activists from Tel Aviv were against any positive interaction with the settlers -- they refused to meet with them," said Sabatin. "They told me, for the sake of peace, we will never speak with settlers."
"That's when I decided it was time to part ways with this organization and try something new. The next day, I met with Rabbi Froman in his home in Tekoa," recalled Sabatin.
"Everyone says that the problem is with the settlers, but this is not the case," said Sabatin. "We are all human beings and I believe it is the religious leaders, from all sides, who are respected by their followers that can achieve the right way to make peace."
"These settlers want real peace, they want to be our neighbors -- to be good neighbors," Sabatin declared.
"Even Abu Mazen [Mahmoud Abbas] who met with our movement, and the governor of Bethlehem, said we must continue in this direction," Sabatin stated, using the Hebrew expression "Baruch Hashem," (thank God) in his conclusion.
Related
Popular in the Community