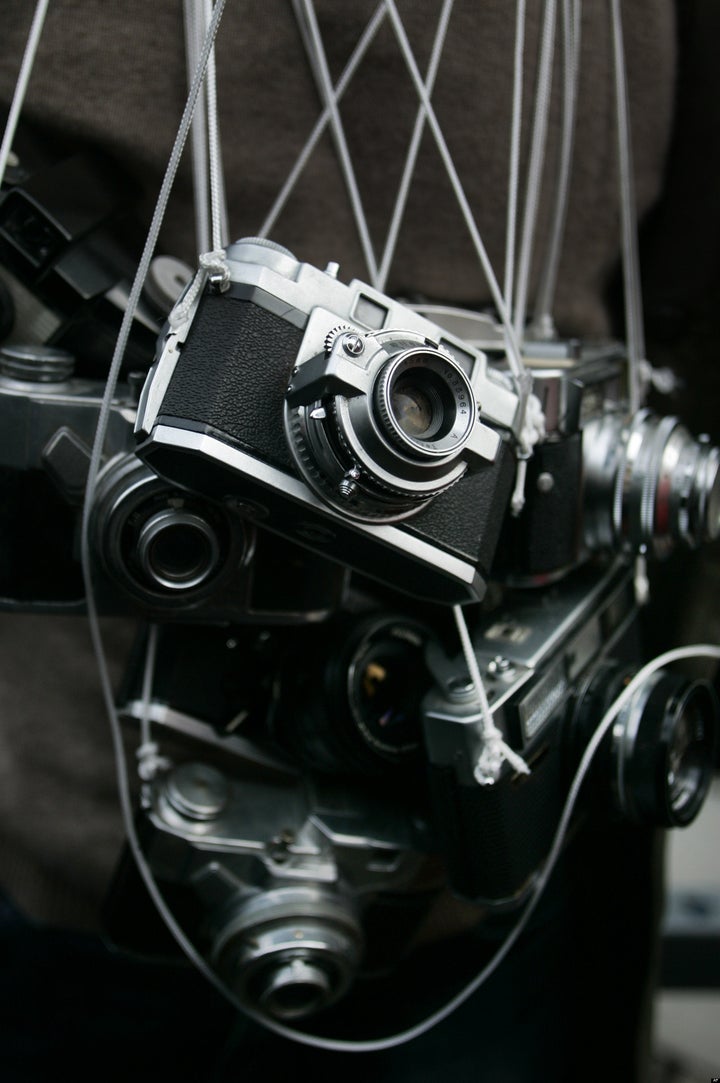 Narrative Magazine: Lynn Ahrens, whose lyrics for Seussical, Anastasia, School House Rock, and other famous musicals have won Tony and Emmy awards, is also an essayist with a gift for touching the heart of life. In "One-Man Show" Ahrens sorts through her photographer father's prints after his death and, in an act of love, brings to light his legacy.

One-Man Show
An Essay
By Lynn Ahrens
The basement of our little blue New Jersey ranch house had concrete block walls, a low acoustical-tiled ceiling, and an asphalt tile floor installed when the house was built in the '50s. There was a sour smell of mildew, dust, and photographic developer, and even when all the overhead lights were on, it had a shadowy feeling.
My mother had relinquished this area of our home to my father and for more than forty years it served as his workspace. It was chaotic, but it was his domain. When I drove to the shore for a visit, I never went downstairs.
Your browser may not support display of this image. My father, Carroll Siskind, was a photographer. There's a famous photographer with the same last name, but he's someone else, no relation. My father was never famous, he never got rich, never received the kind of recognition he craved and felt he deserved. Over the years, he designed darkrooms, made prints for other photographers, taught photo classes, shot everything from models in 1950s shirtwaist dresses to industrial smokestacks and steel mills--he supported his family any way he could, as long as it had to do with photography. He made a living. But his work was taking photographs. His work was making art.
"You'll have to organize my work when I'm gone," my father would say. "Hmm," I'd reply noncommittally, knowing he was only half joking.
Not long after he died, my mother decided to move and the house sold quickly. My husband and I focused on packing her belongings in a hurry and preparing her new apartment. Downstairs would be my mother's responsibility. By the time I realized how overwhelming this was for her, moving day was nearly upon us. "Don't worry," I told her. "We'll deal with it."
The basement was a monument to a passionate obsession. Mounded in corners, banked against walls, stuffed into closets, and crowded onto shelves were paper shopping bags and plastic bins filled with thousands of slides. Stacks of damp cardboard boxes spilled over with thousands of unlabeled negatives in sticky plastic sleeves and glassine envelopes; many of the subjects were unrecognizable. Hundreds of old black-and-white prints framed in cracked glass and stained mats were stacked precariously on top of one another. Musty portfolios, secondhand enlargers, jerry-built stands and tabletops, crusted chemical bottles, stiffened retouching brushes, scratched light boxes, filing cabinets filled with yellowed, tattered clippings, receipts and letters, broken and obsolete cameras--he had saved everything indiscriminately, repairing damage with rubber bands, gaffer's tape, and Elmer's Glue.
As we began opening bag after bag and box after box, I felt nauseous and then furious. How could he have done this? How could he have left this unlabeled mess for us to sort out? So many negatives were duplicates; so many prints were damaged. Some pictures were blurred and awful. Others seemed magnificent. I was familiar with some, but many I'd never seen before. I never realized how much my father shot, how much he must have spent on the paper alone, how huge his output was. In my hands was my father's only legacy--a body of photographs documenting New York in the '40s and '50s. I needed a year to absorb what was here. I had three days.
I was uncertain what to keep and what to throw away. We tried to be ruthless. We held up pictures for one another--"Keep?" "No." "Keep?" "Maybe." I tried to let each photo appeal to me on its own merit without letting panic, sentiment, or guilt get in the way. Again and again, out of this rubble rose striking images of a city in motion--preachers and radicals in Union Square, stevedores at the docks, modern dancers on a stage, Bowery bums lying on sidewalks, soldiers and their girls, boys skinny-dipping in Central Park, barkers at Coney Island, peddlers selling their wares from horse-drawn carts on the Lower East Side, those who built the city and those who were brought low by it.
Your browser may not support display of this image. Picture by picture, a portrait emerged of a man who was my father second and a photographer first. Seeing everything in such an intense rush brought home the warmth he had for his subjects, the wide-ranging topics he managed to document. You sense the wondering and romantic mind of the man with the camera. Here were New Yorkers living their lives. Here was New York itself--its skyscrapers, docks, and beaches. Here were studies in light and shadow, photographs of trees and rocks and water, parades of clowns, flea markets, children, folk dancers, and street musicians--all the work of an anonymous photographer with a body of work that spanned decades. And except for the occasional slanted horizon, you would never know he had a physical handicap because, clearly, he got around.
Carroll Siskind was born in New York City in 1917, the youngest of six children, to Russian immigrant parents, Sadie and Pincus. "Collie," as they called him, was the pampered baby of the family, loved and given the most attention--he was curly-headed and lively, but his body was crooked.
To this day I don't know whether he had a birth defect or whether he was dropped by one of his sisters. I've heard both. His right hip was somehow dislocated in infancy and never repaired, a condition that twisted his frame so that one foot barely touched the ground. The clumsy black lace-up boots he wore for most of his life, one of them with a four-inch sole, evened him out a bit, but his limp was pronounced as he swung his leg forward.
His mother, Sadie, was the one who gave him his first box camera, a Kodak Brownie. It was an act of insight on the part of an uneducated woman to give such an extravagant gift to a son who couldn't run as fast as his friends. From that moment, my father's identity was forged. Photography was the sport he was able to play.
As he grew up, he began to take the subways everywhere, prowling the five boroughs on foot and documenting whatever he saw. He graduated to a bulky Rollei twin-lens reflex and was never without it banging against his chest as he swung himself along.
We came across a number of photos of my father as a young man. Some were probably taken by friends or students; for some he may have used a timer and taken his own photograph. A few capture his cocky, ebullient spirit and sense of humor. In others he poses as the serious "artiste." These were probably taken when he was in his twenties and already teaching at the Photo League, a left-leaning organization of photographers whose pictures represented working people.
Your browser may not support display of this image. This is where he met my mother, Diana Heller. She was nineteen, skinny and beautiful, escaping to New York from her own immigrant family. She, too, was the youngest of six, but in contrast to my father, she was the ignored youngest child, not the adored one. She did badly in school and was afraid of most teachers.
She says the first time she saw my father, he was hooting his crazy laugh, standing in the center of a circle of admiring students. She discovered in him a teacher who thought she was brilliant; he was a brash, self-confident clown who drew her out and made her laugh. For many years, he was the center of her universe. And judging by the number of portraits he took of her (including several in which she's nude, lying on a bed of chains) he was utterly smitten.
They moved to a five-flight walk-up in Hell's Kitchen that used to stand where the entrance to the Lincoln Tunnel is now. I pushed my wicker doll carriage up and down Ninth Avenue, past vegetable stands, pasta shops, and open storefronts displaying racks of hanging beef and the long, limp carcasses of rabbits. My parents and their friends often gathered on the rooftop of my parents' tenement to drink wine, play music, and argue. Everyone was ambitious, on the move, young, and ready to devour New York--a circle of photographers, writers, socialists and filmmakers that included the sculptor Hugo Robus and the photographers Harold Corsini and Weegee.
I recall dancing in a crepe paper duck costume for Weegee and being carried in his arms. His cigar stank. When I looked into his ear, I thought a pigeon must have pooped in there--it was filthy and encrusted.
I was too young to know what their friendship was about. Photography was obviously the bond. Weegee's photographs are intense and graphic. He had no qualms about turning his camera on people in their darkest moments of grief or panic. They reveal him as a man with a cynical detachment, someone who smacked his lips over a good disaster.
My father's pictures are softer, more lyrical, and less immediate. He caught people sidelong, in motion, when they weren't looking. Often they're joyous, dancing, lounging on a beach or in the park. Weegee's work is more powerful. My father's is more compassionate.
My father couldn't understand how his loud-mouthed friend was managing to achieve such recognition. He was convinced it was due to Weegee's knack for self-promotion and the gimmick of the round stamp on the back of his photos, "Weegee the Famous." His admiration for Weegee was always tinged with jealousy.
"His photos are posed. He'll move a dead man's hat to make a better picture," he'd complain. "There are fingerprints all over his negatives. There are cigar ashes in the chemicals. He's a slob."
Weegee's longtime companion, Wilma Wilcox, was a close family friend. If Weegee was a trail of cigar ash, Wilma was the broom--a tall, bespectacled Quaker who worked part of every year as a missionary in Africa. I called her Auntie Wilma.
In the early '50s, before my brothers were born, we often went to visit Wilma in the tilting little seafarer's house she kept then on City Island. I put marbles on the wooden floor and watched them roll to the corners or caught fireflies in her expansive tangle of garden. Sometimes we went to Orchard Beach, sidestepping the perfectly round jellyfish we called "jelly doughnuts" and snapping seaweed pods. I still have a photograph of my father posing with a seaweed mustache and can hear his admonition as I ran to him, wet and sandy: "Don't put your fingers on the lens!"
The beach was a recurring motif in his pictures. Many of his photos were taken from the boardwalk, rather than down on the beach. It was probably easier for him to walk there. In his Coney Island photos, he captured the strolling crowds, sideshow barkers, fleshy bathers, and perspiring lovers, many of them as seen from above.
Your browser may not support display of this image. Weegee, of course, trumped my father with the most famous Coney Island picture of all--the one with multitudes of people on the beach, all smiling up at the camera. But there's a short film in the archives of the Museum of Modern Art--a jazzy, freewheeling paean to a day in the life of that salty carny town. My father was the cinematographer.
"Coney Island" has a cool jazz score by Albert Hague and a deadpan voice-over by Henry Morgan. The director was a suave, pencil-mustached man named Valentine Sherry, who actually wore a velvet smoking jacket. Because my father was a friend, Val hired him for the film, even though my father had never used a movie camera before.
Dad gave the film a topsy-turvy, spinning, and fragmented style, not with tricks of postproduction, but "in the camera." Frenetic day leads into lyrical night, as the ghostly parachute ride rises and falls against a cobalt sky. My father may have been a novice cinematographer, but the film was ahead of its time. It won a prize at the Edinburgh Film Festival, and the lovely framed certificate hung on our living room wall, the first thing anyone saw when they entered our house.
In 1995 our friend Larry Kardish, a senior curator of film at MOMA who knew of my father's involvement in the film, invited him and his family to a screening that was being held to honor the passing of its noted editor, Ralph Rosenblum. We brought some friends and relatives because there were so few chances for anyone to see it. At the end, there was polite applause from the audience, but our contingent stood up, whooping and cheering, not for the editor but for my father. Suddenly the event belonged to Carroll Siskind--it became his glorious moment in the spotlight; he stood and graciously accepted the applause of the entire crowd as if it were only for him.
At heart, my father always remained the curly-headed moppet, eager for attention. When he came to see my musical Ragtime on Broadway, of the many characters in the show, he identified most with "the Little Boy," through whose precocious eyes the audience sees the early twentieth century unfold.
"You know, I saw Harry Houdini," my father said. "I saw Emma Goldman." He placed himself squarely at center stage and made my show his story.
It was this childlike, jubilant nature, so selfish and yet so endearing, that colored everything he did. He gravitated to music and yearned to dance. I still recall looking down at his black-booted feet and my own little patent-leather shoes trying to follow, one-two-three, one-two three, as he taught me to waltz. He collected musical instruments--African drums and pipes and wooden gongs--and encouraged us all to make noise, laughing that laugh of his, somewhere between a shriek and a hoot. Play with me! Attention must be paid!
Over the years, his work did gain some attention. In 1996 he had a retrospective show entitled Mostly People at the Soho Gallery in New York City. And his lovely New Jersey Wetlands series won a grant and toured the state on exhibition. During World War II, he had been a volunteer photographer at the Stage Door Canteen. His prints--of soldiers, volunteer hostesses, and celebrities--are now in the archives of the League of American Theatre Producers in New York.
He also amassed a group of students who kept in touch for many years. There's a wonderful picture of him with a class--he's apparently teaching flash photography, because the students are frozen in mid-leap. My father is leaping as well, mouth open in a shriek of laughter, arms flung wide. But his feet are the only ones still on the ground, almost, but not quite, levitating.
He was becoming less and less the center of a circle. His students dwindled away, his business had ended, and his family was spinning off into other orbits--I had a theatrical career in New York, my brothers moved to the Southwest, my mother began writing and taking classes.
Every time I came home for a visit, Dad would appear, his cane bearing his slight, tilted weight, his finger beckoning. Before I put down my bag or said hello to my mother, I had to see his latest work. It might be only a cockeyed snapshot of a flowering weed in the backyard, but to him it was a masterwork and I was expected to react to it as such.
Now every conversation had to revolve around him in some way. If it didn't, he'd soon become bored and sulky. My mother grew weary of his childish need for attention. I was hurt by his competitiveness and the way he turned my achievements back to himself.
"Dad, I got a new camera. Look, pretty good shot, huh?"
"I was taking sunset shots when I was fifteen."
"Dad, I just got nominated for the Tony!"
"Someone on my side of the family wrote 'Ting-a-Ling-a-Ling on the Telephone.' You got the musical gene from me."
"Hi, Daddy. Guess what just happened?"
"Let me put your mother on. She tells me everything."
I found it hard to commiserate, laugh sincerely, or praise his every effort. I rarely told him anything new about myself.
When Wilma Wilcox died, she left Weegee's collection of negatives and prints, which she had organized and curated for years, to the International Center for Photography. In the basement of the dilapidated Manhattan brownstone where she'd lived for many years, several boxes remained.
Knowing my father was a close friend, Wilma's brother gave these boxes to him. They contained a number of Weegee prints. A few were very good, but most were damaged or not particularly noteworthy. Even so, many bore the famous Weegee stamp, which would make them desirable to collectors.
These pictures became my father's focus toward the end of his life. As we plowed through the contents of the basement, we discovered file folders stuffed with clippings--Weegee interviews, Weegee articles--and copious notes in my father's handwriting, cataloging the photographs in his possession.
There were also endless letters to curators, collectors, museums, and galleries inquiring about the value of the pictures or offering them for sale. Clearly, he wanted to make money, to be back in business. His eyes were no longer good enough to take his own pictures. He had nothing to do. The Weegee pictures were his only remaining connection to his past. And maybe he was hoping some of the glory of his famous friend would rub off on him. Ultimately, he sold the best of the prints to a dealer for far less than they were worth.
The last time I saw my father, he told me he was seeing angels. It was probably the floaters in his almost blind eyes, or maybe it was the lack of oxygen to his brain, signaling the onset of heart failure in the next few days. He asked me to turn his chair around so he could look out at "his trees" in the late afternoon light. I'd spent the day listening to the same stories. I had theater tickets and was in a hurry to get on the road and back to New York. My mother had just come home and could take over now.
When I left, he was sitting very still, staring through the window at the straggling sassafras trees in the backyard catching the late afternoon sun.
At my father's memorial service, we displayed only one picture of him. The rest were his black-and-white art photographs. The many old friends and relatives who came to remember my father were enthralled by them. The song we played was his favorite--"What a Wonderful World," sung by Louis Armstrong. It was exactly the kind of one-man show he'd always wanted.
My father had given me the task of preserving everything he left behind, but in the end, I helped fill dozens of huge black plastic contractor's bags and let them be taken away to a dump. In doing so, I felt I'd erased a part of him from the world.
What remains in our keeping is a small collection of nearly perfect photographs. One of my favorites is a willow tree in Central Park. I've gone around and around the park looking for it, but I can't tell which one it might be, or if it's even still there. Maybe it was cut down long ago.
It's a beautiful picture. It reminds me of my father, roots deep in the city, twisted limbs reaching to catch the light.
Related
Popular in the Community