 Thing One: Another Year, Another Hundred-Year Storm: "I'm never gonna use the phrase hundred-year storm again," New Jersey Governor Chris Christie said in a press conference yesterday, "because we've had three of those, three hundred-year storms, in the past three years."
Christie delivered those remarks after showing President Obama the devastation that the latest disaster, Sandy, had visited on the Jersey Shore. At the time, natural-gas fires still raged in Brick, where my wife grew up, just blocks from Normandy Beach, where my family spent a week this summer and two summers before that. New York's NBC station reported last night that the peninsula including Brick, Normandy Beach and Seaside Heights (the kinda-awful, but kinda-fun, place where "Jersey Shore" was filmed) had been carved off from the mainland by Sandy's surge. A new island has been created on the shore, in other words.
The region -- not just New Jersey, but still-darkened New York City, and Long Island, and Connecticut, and snow-buried West Virginia, and on and on -- continues to deal with the many devastating aftershocks of the storm:
These things happen. Fifty years ago, another massive storm swallowed up New Jersey's Long Beach Island, leading to decades of beach replenishment, all of which was swallowed up again by Sandy. We'll rebuild again. Little by little, things are improving everywhere, even if it's going to be a painfully long slog. That six million without power is down from 8.5 million at the worst. Some of the subways are going to start running again in New York today. Home builders are going to flourish, and the rebuilding and re-stocking of the region could mean billions of dollars in business.
But maybe this time we can also spare some cash to better brace our infrastructure -- our power grid, our transportation systems, our communications, and more -- for the next big one. Christie and Obama showed partisan differences can be put aside in the aftermath of a disaster. They'll need to be put aside to prepare for the next one. Especially if this is going to be a yearly thing.
Thing Two: Barclays Threatened With Massive Penalty Stick: Things went from bad to worse for Barclays yesterday, as the Federal Energy Regulatory Commission gave the British bank one month to talk its way out of paying $470 million to settle charges that it manipulated California electricity markets. This comes just months after the bank paid $450 million in penalties over manipulating Libor. Just as traders in the Libor case openly confessed to their misdeeds, apparently traders in this case did the same thing, with one talking about how he or she would "crap" on an energy market. As with Libor, Barclays is not alone -- other banks are under investigation for similar shenanigans. Why, it is almost as if traders at any bank will manipulate any market they can get their hands on!
Thing Three: Thar She Sues: Aye, my hearties all round; it was the London Whale that dismasted JPMorgan Chase; that brought the bank to this dead stump it stands on now. And aye, aye! JPMorgan will chase the London Whale round Good Hope, and round the Horn, and round the Norway Maelstrom, and round perdition's flames before it gives him up. It will start in court in London, where yesterday JPMorgan sued Javier Martin-Artajo, the lubber who was the London Whale's boss, Bloomberg reports. And this is what ye have shipped for, men!
Thing Four: Days Without Stock-Market Disaster: One: U.S. stock trading finally managed to get going again yesterday, almost entirely without incident -- a relief, considering how much could possibly have gone wrong. Shares of home builders and generator-sellers rose, shares of insurance companies fell, and for some odd reason shares of Northeastern utilities rose. The only hiccup was when Knight Capital, the star-crossed high-frequency trading firm, had to route customers away due to a power-backup failure. Despite the smooth open, questions remain about why it was necessary to shut trading down at all.
Thing Six: Skilled Workers Flee China: All you ever hear about is how China is taking everybody's jobs, but China has a bit of a labor problem of its own: Its skilled workers are fleeing the country, worried about a polluted environment and a poisoned culture "that makes China feel like a chillier place than when they were growing up," the New York Times writes.
Now Arriving By Email: If you'd like this newsletter delivered daily to your email inbox, then please just feed your email address to the thin box over on the right side of this page, wedged narrowly between the ad and all the social-media buttons. OR, if you are logged into a HuffPost account, you could simply click on this link and tick the box labeled "7.5 Things" (and any other kind of news alert you'd like to get). Nothing bad will happen to you if you do, unless you consider getting this newsletter delivered daily to your email inbox a bad thing.
Calendar Du Jour (Weather Permitting):
8:15 a.m. ET: ADP Employment Report for October
8:30 a.m. ET: Initial Jobless Claims for the week of Oct. 27
8:30 a.m. ET: Productivity for the third quarter
10:00 a.m. ET: ISM Manufacturing Index for October
10:00 a.m. ET: Construction Spending for September
10:00 a.m. ET: Consumer Confidence for October
All Day: Auto and Truck Sales for October
Yesterday Disney bought Star Wars. Today Chris Christie moved Halloween. Tomorrow may be the end of the world. Party accordingly.

— Stay Puft (@StayPuft) October 31, 2012
-- Tweets and calendar items compiled by Alexis Kleinman
Related
Before You Go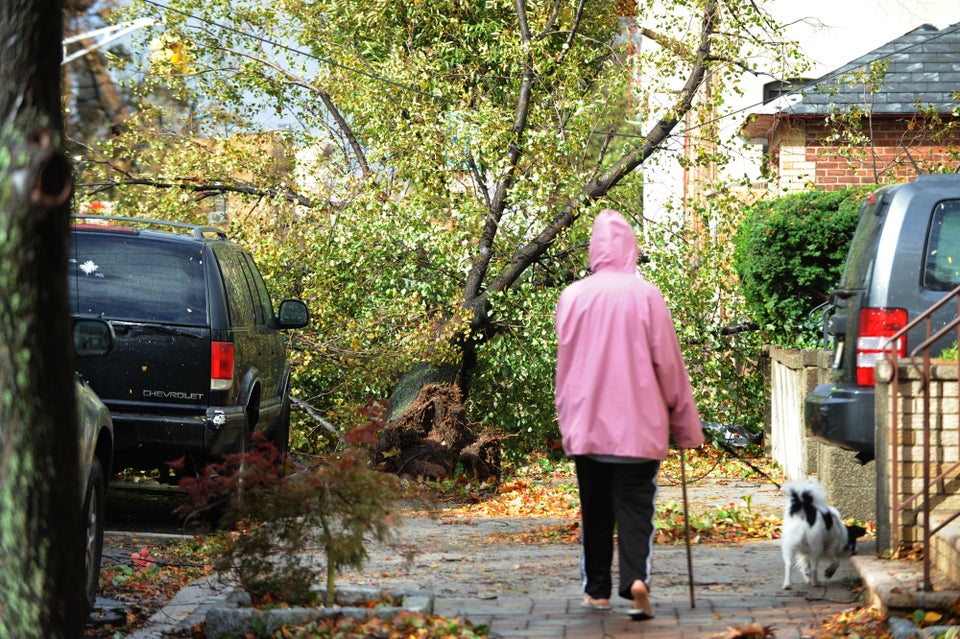 New York City Gets Hammered By Superstorm Sandy
Popular in the Community