 Science has determined that people need to know 7.5 things per day, on average, about the world of business. You can't argue with science. Lucky for you, the Huffington Post has an email newsletter, delivered first thing every weekday morning, boiling down the day's biggest business news into the 7.5 things you absolutely need to know. And we're giving it away free, because we love you, and also science. Here you go:
Thing One: Fox, We Can Trust You With This Henhouse, Right? Great news, America: Big banks are finally putting their mortgage woes behind them. Homeowners, not so much, But, as Rick Santelli yellsplained to us years ago, they're losers anyway.
In what has become an almost daily, sometimes twice-daily, ritual in this country, large banks yesterday announced multi-billion-dollar settlements with regulators over bad stuff they've done. First, Bank of America agreed to pay more than $10 billion to settle a dispute with Fannie Mae over toxic mortgages that Countrywide Financial, now a unit of BofA, sold to the government-backed mortgage giant before the crisis. The busy BofA was also a party to the second big settlement of the day, along with 9 other banks, including JPMorgan Chase, Citigroup and Wells Fargo. They agreed to cough up $8.5 billion to the Federal Reserve and the Office of the Comptroller of the Currency to settle charges that they handle mortgage foreclosures with all the care that woodchipper handled Steve Buscemi in "Fargo."
The banks also scored a big win in getting the Fed and the OCC to abandon any pretense of trying to sort out which homeowners were hurt by robosigning and other sketchy bank foreclosure practices, write The Huffington Post's Ben Hallman and Eleazar David Melendez (just joining us from the International Business Times, welcome!). As part of the deal, the Fed and the OCC will simply hand over the job of figuring that out to the banks themselves, leading a homeowners' advocate to not only use the obvious fox-henhouse metaphor, but to throw a wolf in there for good measure. Most of the $8.5 billion the banks have to pay will come in the form of relief for struggling homeowners, but the Fed and OCC offered no details on how banks are going to be held accountable for complying.
In fact, the whole settlement was unusually thin on details, which has been the M.O. of bank regulators for years now, going back to Hank Paulson's infamous three-page demand for TARP money. Why, it's almost as if regulators don't have the skill or time or resources to adequately oversee the banks. The banks, meanwhile, have all the skill, time and resources in the world. The homeowners, as usual, are the losers.
Thing Two: Thanks For Saving Us, We'll See You In Court: Maybe we should have just let AIG die. The insurance giant that required a $182 billion bailout from the federal government during the financial crisis is now considering suing the federal government. Over the bailout. The New York Times has the infuriating story of how the bank is actually giving serious thought to joining forces with its former CEO, the grifter king Maurice "Hank" Greenberg, who is suing the government, accusing it of violating AIG shareholders' constitutional rights by keeping AIG from going bankrupt. You can't make this stuff up.
To be fair to AIG, and I'm not clear on why you'd want to do that, the company is worried about getting sued by shareholders if the unfathomably sleazy Greenberg should win his lawsuit. Greenberg, for those who don't know, was run out of the company on a rail in 2005 amid questions about its accounting. It was also on his watch that the financial-products unit that ran AIG into the ground was created. Greenberg's $25 billion suit claims the government bailout deprived AIG shareholders of billions of dollars, which is somehow worse than a bankruptcy that would have cost them all of their dollars, apparently. It has already racked up significant legal costs for the government, the NYT writes, and AIG joining it could lead to a settlement and a big payday for both Greenberg and AIG.
Thing Four: Americans Not Rushing To Doctor Or Anything: Health-care spending in the U.S. grew a paltry 3.9 percent last year, writes the Huffington Post's Jeffrey Young, matching its sluggish growth pace of the prior two years. So much for worries about runaway health-care spending driving the country into insolvency, right? Maybe not so much -- the slowdown has been the result of the recession and sluggish recovery. There's every sign it will pick right back up soon, writes the Wall Street Journal.
Thing Six: Bad News For Sushi Fans: China is suddenly and unexpectedly a massive importer of rice, writes the Wall Street Journal, which could mean one of two things: Either Chinese distributors are importing rice cheaply to sell it at artificially inflated domestic prices, or China is no longer able to produce enough rice to feed its people. The first case is no big deal, meaning prices will eventually fall. The second case is big, big trouble, meaning permanently higher prices for the staple food for half the world.
Thing Seven: Crappy Retailer Gets New Chief: Eddie Lampert, the hedge-fund manager who owns the world's most depressing retail franchise, Sears Holdings, is now going to be running the thing, the Wall Street Journal writes. The previous CEO, Lou D'Ambrosio, is stepping down for family reasons. For some reason Sears just can't stop bleeding money, perhaps because shopping at Sears, and even moreso its subsidiary Kmart, is like spending an afternoon trapped in a Russian prison colony while wolverines gnaw on your fingertips.
Thing Seven And One Half: Football Dominance, In Two Flavors: There are not words for the embarrassment Alabama delivered unto Notre Dame last night in the alleged national championship game of NCAA football. Alabama destroyed Notre Dame by a score of 42-14 to win the official BCS crown, although it actually won the national championship more than a month ago, when it edged Georgia 32-28 in the Southeast Conference title game. It was Alabama's third national title in the past four years. Speaking of prolonged football dominance, Barcelona's sublime Lionel Messi yesterday won his record fourth straight Ballon D'Or, awarded to the world's best soccer player, after scoring a record-smashing 91 goals in 69 games last year.
Now Arriving By Email: If you'd like this newsletter delivered daily to your email inbox, then please just feed your email address to the thin box over on the right side of this page, wedged narrowly between the ad and all the social-media buttons. OR, if you are logged into a HuffPost account, you could simply click on this link and tick the box labeled "7.5 Things" (and any other kind of news alert you'd like to get). Nothing bad will happen to you if you do, unless you consider getting this newsletter delivered daily to your email inbox a bad thing.
3:00 p.m. ET: Consumer Credit for November
-- Calendar and tweets rounded up by Alexis Kleinman.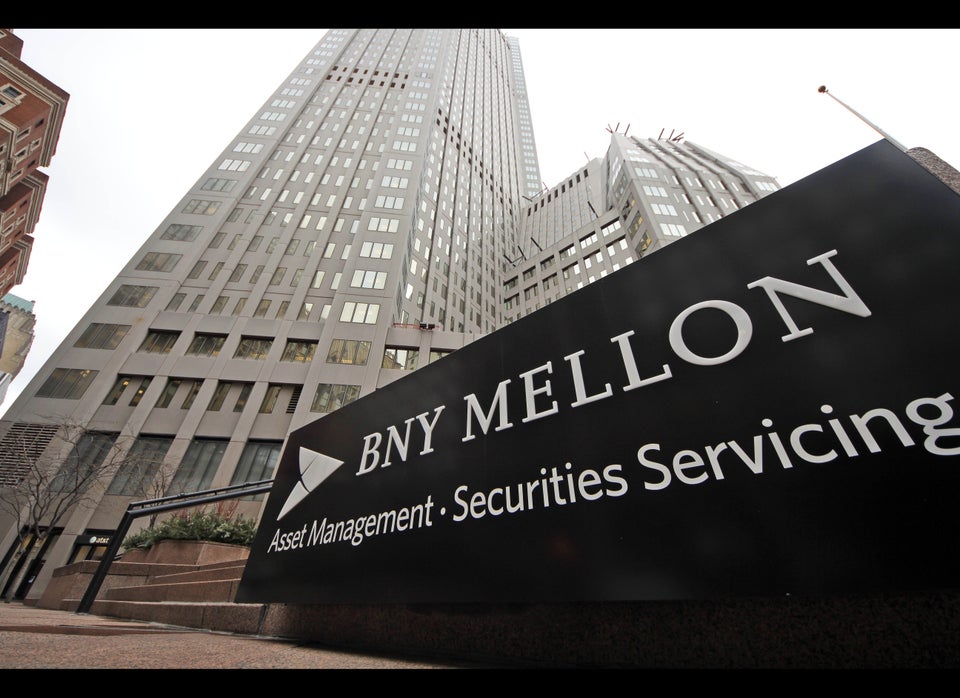 The 10 Biggest Banks In The U.S.