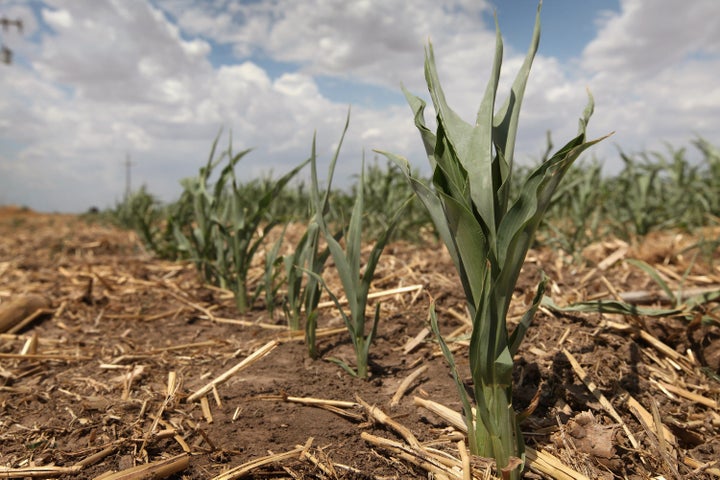 A little baby born in India earlier this week was welcomed to the world as our planet's seven billionth citizen. Not only is it a staggering statistic to realize earth's inhabitants have increased two-fold in the past fifty years, but in light of "World Food Week" last month and in thinking about the ongoing famine, I wondered, "How is the earth going to feed all these people?" and "What can Americans do to stop hunger here at home and worldwide?"
As an advocate for fighting hunger and poverty, I decided to canvas a panel of colleagues and experts for thoughts on how corporations and governments (and the rest of us) can make a difference to ensure a sustainable future. Below, our thoughts:
Support Women in Agriculture
"Women farmers are the pillars of agriculture," says Cherae Robinson of CIMMYT, the International Maize and Wheat Improvement Center. "According to the FAO (Food and Agriculture Organization of the United Nations), women produce nearly 90 percent of food on the African continent. Support efforts to encourage inclusion of gender into food security policy through organizations like Women Thrive Worldwide."
"Empowering female farmers to take charge of food production in developing countries is a large and growing part of our
," says Justin Smith of the
. "Through the "
" program, WFP buys food from small farmers to distribute as aid to hungry people in the same country, rather than spending U.S. dollars to ship food across the world."
"Most of the food produced in the world is grown by small and medium-sized farmers, not the big corporate farms," says Bill Ayres, Executive Director and co-Founder of WhyHunger, a leader in the fight against hunger and poverty that was co-founded by late singer Harry Chapin (and holds an annual Hungerthon auction in November featuring rock 'n' roll memorabilia). "Small farmers need low-interest loans and credit, title to their land, grain reserves, safe storage, roads and other infrastructure. We need to wake up and partner with them to feed the world."
Hold Brands Accountable For Making Changes in the Food-Supply Chain
"The private sector has a lot to offer when it comes to the fight against hunger," says Smith. "That's why we're working with companies like Pepsico, in addition to USAID, to tackle child malnutrition. An innovative project just launched a few weeks ago aims to help Ethiopian farmers to grow more and higher quality chickpeas, which will then be purchased and transformed into a special paste that we provide to malnourished children. People in the U.S. can help by writing their favorite brands and telling them to get onboard with the fight against hunger. When customers talk, companies listen, so this is a real opportunity for people to make a real impact without spending a dime."
"After 10,000 years -- it's time to throw away the plow! There are new ways to farm that use less water, fertilizer, and energy than traditional plows," Robinson says. "This method of 'Conservation Agriculture' actually produces more crops and increases the income of farming families. Plus, developing new storage methods can help countries such as Ethiopia and Somalia better prepare for drought. Farmers in developing countries typically lose 20-30 percent of their crop due to poor storage options for their most important staple foods (corn, wheat, and rice). A small metal storage silo costs $75USD while a large silo costs $300USD. Those are good investments."
Plant the Seeds of Good Nutrition
"Both in the U.S. and around the world, one of the longest-term solutions to hunger is providing people with the right food," says Smith. "Calories aren't enough, people need the right vitamins and nutrients to be healthy. School meals are one of our oldest and most successful programs. In addition to protecting kids from malnutrition, in the developing world, it gives their parents an added incentive to send them in school. In various countries, we've seen that school meals help to raise enrollment rates among girls, which is so important."
In the U.S., more than 16 million children are at risk of hunger because their families can't afford to keep food on their tables. Actor Jeff Bridges, who founded the End Hunger Network in 1983, also supports organizations such as Share Our Strength, which is activating campaigns like "No Kid Hungry." The campaign, which kicked off a "Bag Hunger" fundraiser this week, works to provide kids with a healthy breakfast, improve access to after-school meal programs, encourage healthy food choices, and more.
"Call your legislator, send an email, and speak up about the 2012 Farm Bill," Robinson urges. "Let's make sure that we balance security for American farmers with support for initiatives like Feed The Future that help developing countries institute their own solutions to food insecurity."
Advocacy groups such as Bread for the World, whose president David Beckmann was a co-winner of the 2010 World Food Prize, are advocating to defend the funding the U.S. government devotes to programs that alleviate poverty and hunger in developing countries.
"People need to understand that we actually do have solutions to hunger that are working," says Smith. "Social media affords the best means of doing that, but the World Food Programme can't do it alone. We, like every organization working to fight hunger, need people to help us spread the word. Twitter and Facebook are good places to do that."
"There are some two billion people who are on the edge of hunger living on less than $2 a day," adds Ayres. "Food is not primarily a commodity. It is, above all, a human right. All food and agriculture policies must start there."
For more information about the World Food Programme, click here.
For more information about WhyHunger's November Hungerthon, click here.
To learn more about CIMMYT's work in agriculture innovations for development click here.
REAL LIFE. REAL NEWS. REAL VOICES.
Help us tell more of the stories that matter from voices that too often remain unheard.