FERGUSON, Mo. -- Six months after unarmed teenager Michael Brown was killed by Ferguson Police Officer Darren Wilson, the tensions between police and demonstrators have not eased, as seven protesters (including one 14-year-old) were arrested Monday night.
"They tried to say I hit them with my cell phone holder. I am a pacifist. I have never hit anyone in my whole life," said Heather De Mian, 44, who was livestreaming the demonstration and was arrested and charged with third-degree assault and failure to obey.
After a candlelight vigil on Canfield Drive to mark six months since the shooting, several activists moved toward the nearby police station to demonstrate. The majority of the protesters, including those arrested, were across the street from the station, in the parking lot of Andy Wurm's Tire & Wheel and on the adjoining sidewalk. The parking lot has served as a designated site for protests since the owners gave permission for demonstrators to congregate there.
In a cell phone video that observer Keith Rose showed The Huffington Post, De Mian is out of her wheelchair and sitting on the ground as police officers arrest her. "Please keep filming this, Keith," she says in the film.
Some protesters said police dragged De Mian out of her wheelchair, but De Mian does not recall the exact moment.
"I don't even know how I got out of my wheelchair. I don't know if I fell or if I was pulled, but I was on the ground when he hit me with my cell phone and knocked my glasses off," De Mian told HuffPost.
For the majority of her three-hour stint in jail, she was unaware of the charges against her, De Mian said. "I demanded at least 20 different times to know what my charges were when I was in there," she said, noting she feels she was targeted because she was filming the scene.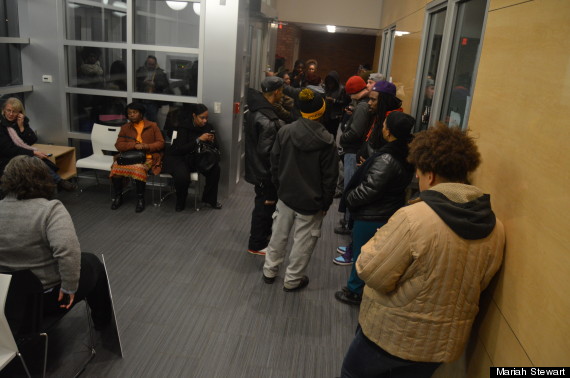 Ferguson Police Chief Thomas Jackson assisted in De Mian's early release. Bishop Derrick Robinson, a protest organizer, said he called Jackson on Monday night and the chief promised he could get De Mian and another protester released on their own recognizance, though he could not promise anything for the remaining detainees. In the end, all seven protesters, including a 14-year-old boy, who were arrested Monday were released on their own recognizance.
The night's list of detainees also included another person with a camera, 34-year-old Christopher Phillips, who was charged with disorderly conduct. He says he was on the sidewalk filming multiple arrests on Andy Wurm's Tire & Wheel parking lot when he was arrested.
"They didn't tell me anything. I wasn't breaking the law. I didn't commit a crime. They didn't give me a name. They didn't read my rights," Phillips told HuffPost.
Phillips says his head was slammed down on the hood of a police SUV, and his $20,000 camera was treated carelessly during his arrest. "They were trying to throw me in the car so quick and I had to yell to them that my belt clip is hooked to the camera," he said.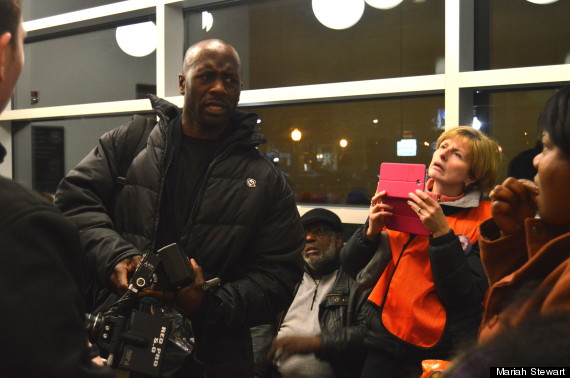 Phillips was having problems getting his camera monitor to work after his release. "Of the eight months I've had this camera, I never had this issue," Phillips told HuffPost.
He tweeted that he suspected police had tampered with his camera.
The Ferguson Police Department did not immediately return a request for comment on its treatment of Phillips' equipment.
Phillips, who's also a resident of Canfield Drive, said the arrests illustrated the need for reform within the Ferguson Police Department. "Change hasn't come. There was only 15 to 20 people out there, if those numbers were larger, I don't think the arrests would have happened," he said.
"I'm tired of going to community meetings. People want to talk about how this makes them feel and they've had six months to do that, the action needs to come now. What happened tonight shouldn't have happened," he continued.
Lala Moore, 34, was in the police department waiting room late Monday, along with almost 50 protesters, as she waited for her brother and sister to be released.
"I'm pissed off. When is this going to stop?" Moore asked. "They pulled a Taser out on my brother and told him if he moves, he was going to get tased."
This story was published as part of a partnership between The Huffington Post and The St. Louis American, which covers the St. Louis region's African-American community.
Before You Go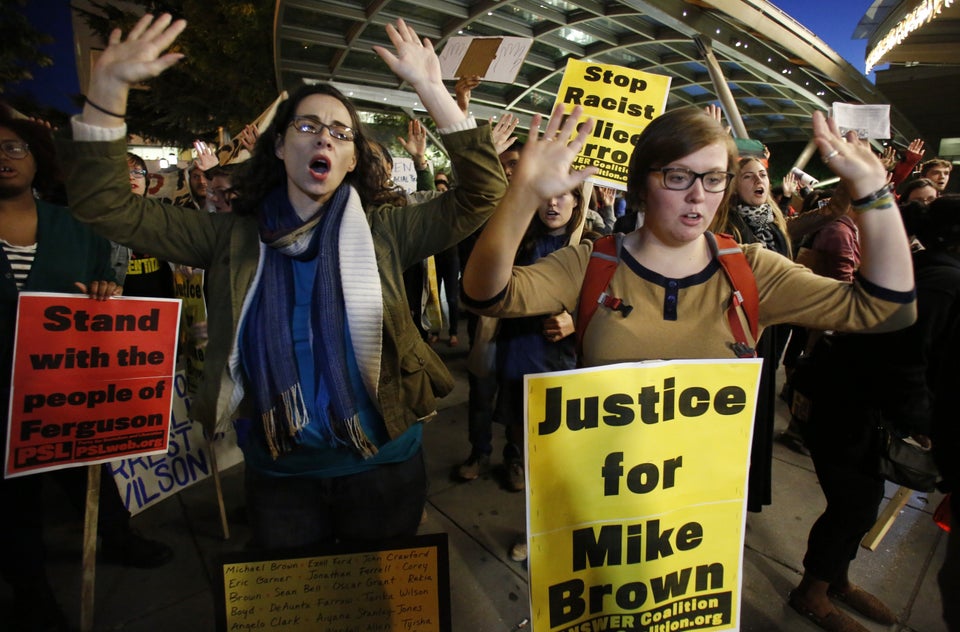 Ferguson
Popular in the Community