Fall is the mellower season, perhaps the finest time to travel, for what we lose in flowers we more than gain in fruits. All those golden autumn days the sky is full of wings, yet there are fewer flights packed to the seat. The season burns brightly, a running flame through the mountains, a torch flung to the trees, blossoms bright with cyclic dew. Fall is the artist spell, the interval to immerse in color and crisp air. It is the time to explore, without the crowds, so that vistas appear at Earth's first morning. It is the gentle tiger, all orange and black and purr.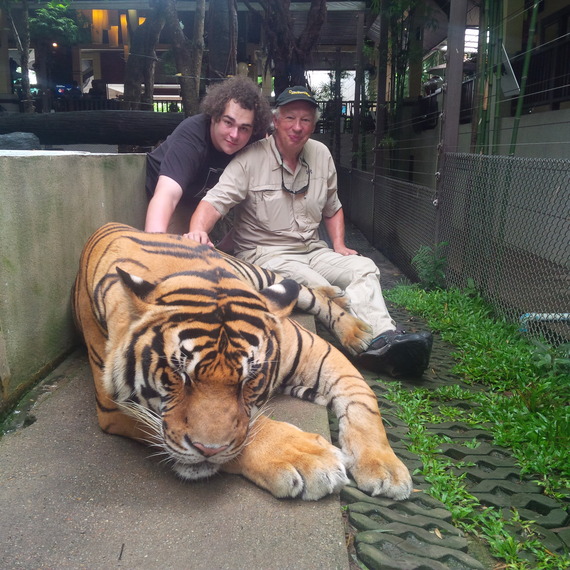 As with any autumnal travel, the smile of light can have its pit-falls, if the traveler is not rightly attuned to or aware of warning signs. Many, and I include myself, celebrate uncertainty, mystery, and well-planned trips gone wrong. But it is just to a point, as nobody wants to flutter off the orchard tree.
For many years I've tested the parameters of travel, and have made discoveries, and mistakes. I've learned equally from both. And so, to guide those desirous of good travel this fall, passages without dread or detours, I've put together my list of the top seven travel tips for this autumn, gleaned from delirious misadventures all over the world:
1) Essentials Items for your Day Pack//Ravenous in Africa
Three weeks into the first descent of the Omo River in Africa, we knew that the only exit was up a tributary to a remote airstrip. But which one? We had no GPS, and only crude maps. So, we picked a stream that looked promising, and starting hiking, carrying a day-pack with our last two cans of tuna.
Two days later, sun-fried, out of food and utterly exhausted, we were still looking. We had no compass, no guidebook, no idea where we were. Finally, we climbed a hill and saw a glint in the distance. An hour later we summited a small rise, and there in front of us was a thing of phantasmal beauty...a small mud shed that seemed to have grown from the earth, festooned with an aluminum roof. Next to it was a hand-painted sign: "Mui International Airport," and beyond, a rough airstrip cleared from the elephant grass.
a) Always bring navigation aids, including a GPS, a compass, and map, and know how to use them.
b) Always bring sun protection, including sunglasses, sunscreen, and wide-brimmed hat.
c) Always bring first-aid supplies, and any medications you might need.
d) Always bring extra food and water.
2) How to Prepare for the Unexpected//Capsizing on a Cold River
On an afternoon canoe trip down the upper Shenandoah River in May, I took only the bare essentials: suntan lotion, hat, shorts, knife, kneepads, lifejacket, some snacks. But, half-way through the trip we capsized and destroyed the canoe, and had to spend the night on the wet river bank. A cold snap came in, and we huddled under the bow of the broken boat, shivering all night, until we could hike out with morning light.
a) If in the wilderness on a trip of any length, prepare for an overnight. If you have a sat phone, bring it.
b) Bring fire...waterproof matches, lighter, candles
c) Bring insulation, and extra clothing.
d) Bring Illumination...a headlamp or flashlight
3) Don't Get Lost in Translation//Disoriented in China
I was leading the first American group into China since the Revolution, and we were well-minded throughout. But during a museum tour in Shanghai I was feeling a bit off, so snuck out to make my way back to the hotel. But, I couldn't read any street signs, nor could I communicate with anyone, and I promptly got lost. Finally, I showed my hotel key to an elderly pre-revolution gentleman who took pity, and he recognized the logo, and walked me home.
a) Never head out of your hotel in a foreign-speaking country without something that identifies the name and address of the hotel.
b) Carry a dictionary that translates from your language to the host country's.
c) Use one of the many translator apps for smart phones and devices.
4) What to Bring on Every Trip//From the Tropics to the Freezer
It was January. I was in Sulawesi, Indonesia, on the Equator, sweating up a storm, when I got the call that the Chinese authorities would finally meet with me about a permit I was seeking to run the Yangtze. But the meeting was scheduled for the next day, and it was snowing in Beijing. I didn't have time to shop, so I landed in my shorts and shivered all the way to the government offices. They must have taken pity on me, because they gave me the permit, though at a cost of $200,000, plus accommodations and transport.
a) Be prepared for all types of weather. Remember global climate change.
b) Always have a long pair of pants, and business wear, in case of an unexpected meeting.
c) Always have layers. Bring a raincoat, and a light overcoat, wherever you go.
d) Bring an extra month's supply of any critical medicine, just in case, and more cash than you expect to use.
5) How to Thwart Thieves on the Road//The Stolen Berlin Case
I was at LAX, in the check-in line for a trip to Berlin. I had just finished a first draft of a book I was writing about exploration in Africa, and had it in my new leather briefcase for review on the plane. The wait was interminable, so I pulled out a book, set the briefcase by my side, and re-entered the novel. When it was time to move forward, I looked down, and the briefcase was gone. I spent the next three months reconstructing my book, which ultimately won the National Book Award for Outdoor Literature.
a) When traveling, always keep copies of important documents at home, including passport, business plans, and the great American novel you're working on.
b) Keep your eye on your possessions, especially in public places.
c) Look modest and avoid flaunting expensive jewelry, clothing, credit cards, or briefcases.
6) Beware of Thieves You Can't Even See//Managing RFID risks at Airports
Connecting home from the Congo, I had a six hour layover in Heathrow, and walked the crowded corridors for exercise, window shopping and people watching. A few days later, back home in Los Angeles, I received a call from Visa, asking about my recent purchases in Harold's in London, including Sophia Webster shoes, a Valentino purse, and a Stella McCartney Ellie Leaping Camisole.
a) Radio frequency ID chips are imbedded in newer credit cards and passports, allowing transactions without touch. Thieves can also read these, just by getting close to you in a crowd, and then they can imprint your information on a blank credit card and go on a shopping spree.
b) First step is simply to know if you are carrying an RFID-enabled credit card. Find out by calling your credit card company, reading the card agreement, or checking your cards for the presence of an RFID chip or RFID logo, which looks like a series of expanding ripples or waves.
c) If you have RFID cards, leave them at home and use other cards, or alternative payment systems, such as Square or Goggle Wallet.

d) If you have to bring RFID cards, you can block random readings using protective card holders, wallets, or by wrapping the cards in aluminum foil or metal.
7) How to Get the Right Exchange Rate//Miscalculations in Mozambique
At the Costa do Sol restaurant, in Maputo, Mozambique, I bet my friend Paul he couldn't eat a full plate of the famous piri-piri prawns. He boasted that of course he could. After chomping through half of the huge crustaceans he slumped over and gave up. But being a sporting winner, I offered to pay for the meal, and in my head tried to calculate the dollar amount when presented the bill in the local currency (metical; plural: meticais). When I got back to the hotel I checked the bill and found I miscalculated and overpaid by 300%. If only I had brought the right app.
a) There are several currency converter apps available free for most any smart phone or device.
b) Most of the major online travel agencies, such as Orbitz.com, also provide currency converters.
c) Poynt is a free travel app that uses your GPS to quickly find nearby businesses, including banks, hotels and currency exchanges. It's a mobile version of the yellow pages.