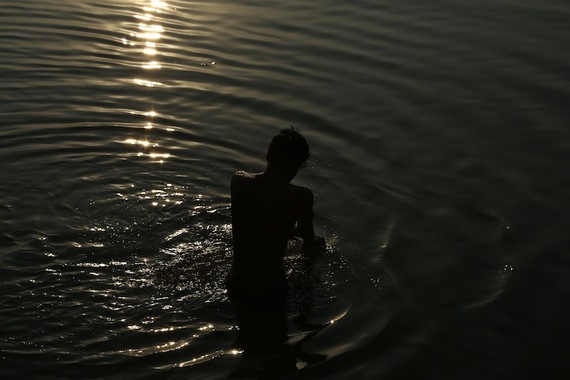 Seven years have flown by since I moved to India. It has been a fantastic journey reconnecting with my roots. Growing up in India, I did not have the luxury of travel, but thanks to the support of my family I have had the opportunity to make up for all the lost time. I have had a wonderful time exploring India and in the process getting in touch with myself. I have been humbled by a motorcycle trip across the Himalayas crossing Khardung La - the world's highest motorable road. Discovered the rich heritage and culture of Rajasthan via its palaces and forts during the week-long Palace on Wheel's train ride. My spiritual quest to understand God and myself led me to Mount Kailash/Mansarovar, in Tibet, Maha Kumbh Mela in Allahabad and Sabarimala in Kerala.
Needless to say, India has been a great experience, one that has not only awakened my senses but also provided food for my soul. The time on the road has given me the time to introspect and formulate my own "Seven Laws of Happiness" that have been inspired by the rich tradition of Indian wisdom.
1. The Law of Fearlessness
"Fear is man's greatest enemy, and it manifests itself as diverse as shame, jealousy, anger, insolence, arrogance... What causes fear? Lack of confidence in oneself." -- Swami Prajnanpad
Over the course of time I have come to believe that fear is the root cause of all the unhappiness and turmoil that surrounds us personally and in the societies that we live in. If we are able to conquer our fears, we will be able to not only transform ourselves but also lead to peace in our communities. We are born "fearless", society and conditioning makes us fearful. The philosopher Krishnamurti had said, "The only religion that ought to be taught is the religion of fearlessness".
"First of all, accept yourself. When you do not accept yourself and imagine yourself to be someone different, a conflict arises between what you believe you are and what you really are." --Swami Prajnanpad
We spend a majority of our life not knowing who we are or comparing ourselves with who we are not. Both these actions get us nowhere and the first step is for us to learn to appreciate the simplicity in accepting ourselves. Accept the simplicity of who we are without judging. Thrive in accepting who you are and live in an inwardly simple way.
3. The Law of Reflexivity
"It is through you that the sun shines and the stars shed their lustre, and the earth becomes beautiful. It is through your blessedness that you all love and are attracted to each other. You are in all, and you are all. "-- Swami Vivekananda
You see the world as you see yourself. Once you accept yourself without judging, then the universe unveils itself. Our inward awareness reveals the secrets that we have overlooked due to our biases and judgment. "If you see the soul in every living being, you see truly. If you see immortality in the heart of every mortal being, you see truly." - The Bhagavad Gita.
"The universe is like an ocean in perfect equilibrium. A wave cannot rise in one place, without creating a hollow elsewhere. The sum total of the energy of the universe remains identical from one end to the other. If you take from one place, you must give elsewhere." - Swami Vivekananda
As a technologist, this is a no brainer for me to understand. Newton's third law of motion states that for every action there is an equal and opposite reaction. Similarly, there is, without doubt, a consequence for all our actions, albeit not always immediately apparent. I believe that the universe has a way of settling things. Therefore, in life, we have to learn to strike a balance in everything we do, fully understanding that water will find its own level.
5. The Law of Materiality "The spiritual can never be attained, until the material has been extinguished." - Swami Vivekananda
Can we ever satisfy our thirst for material acquisition (physical/emotional)? How can we move beyond acquiring to "being"? I have realised that as long as we are in the vicious cycle of acquisition and satisfaction, there is no happiness. Therefore the start of happiness is to lose the desire to acquire, to lose our sense of entitlement.
6. The Law of Contentment We are always comparing what we are with what we should be. This measuring ourselves all the time against something or someone is one of the primary causes of conflict. Now why is there any comparison at all? If you do not compare yourself with another, you will be what you are." - Krishnamurti
Contentment comes with existing in the chaos without judging or comparing ourselves to others. Contentment is accepting that we all have our place in this world and have our own paths to traverse. No two people have the same fingerprint, so why bother trying to compare each other? All humanity shares the sunlight; that sunlight is neither yours nor mine. If we are all reaping the benefits from the life-giving energy, why can we also not be contented with our lives and also celebrate those around us?
7. The Law of Willpower "Strength does not come from physical capacity. It comes from an indomitable will." - Mahatma Gandhi
We cannot change that which will happen. But we so have the willpower to change how we act in the face of it. William Shakespeare had said, "Tis in ourselves that we are thus or thus. Our bodies are our gardens to which our wills are gardeners."
Applying these seven laws have taught me to be happy with my journey through life and embrace love. My journey in this world started with love and one day it will also end with love. In the words of Rabindranath Tagore, "The connection of love is total. In love, differences disappear and the human soul accomplishes its object in perfection, exceeding its own boundaries and traversing the threshold of infinity."
Calling all HuffPost superfans!
Sign up for membership to become a founding member and help shape HuffPost's next chapter