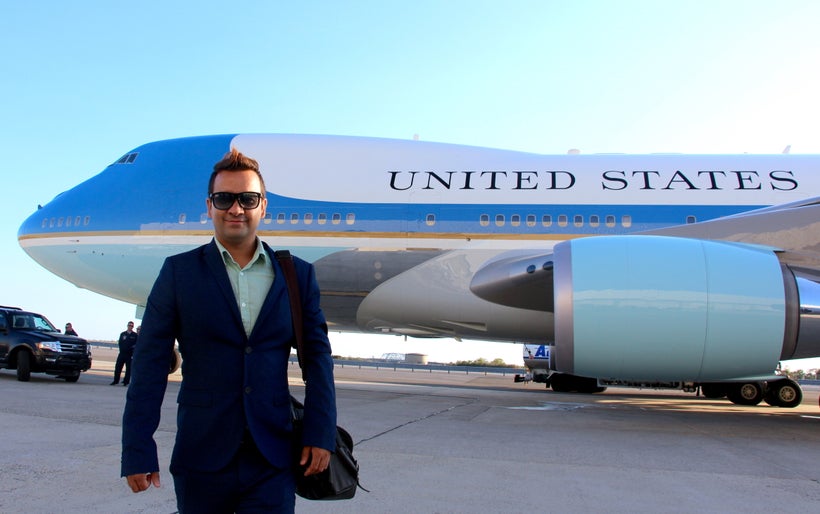 Journalism is a very demanding profession especially in todays fast pace life. From reputable and prominent journalists to lesser-known journalists, whenever there is a mention of note-worthy journalist, name of Mr. Kishor Panthi is well known as one of today's influential investigative journalists. His special focus is on immigrant and immigration matters.
He has been successful in impressing people around the globe and has been successful in being recognized among a very big mass owing to his unique and creating writing style. Panthi also hosts a popular TV show by the name "Talk of the Town" which is broadcasted on ABC television, has been involved in journalism since a very long time. He currently operates as a full time journalist in the USA. He is an intellectual, wise person guided by morals, laws and ethics of journalism.
Everyone has a secret that is sealed behind the closed doors of one's hearts. Today, we are about to dig into the untold, unheard secrets of the very talented Mr. Kishor Panthi. Let's get to know the lesser-known facts about him.
1) Mr. Kishor was disqualified in the position of a dishwasher
In the initial days, everything is always tough especially if you are coming to a city like New York where your previous university degree and technical skills from Nepal matter so less. Hiring managers won't settle for less than "The" New York experience. After resting for a few days upon his arrival, Mr. Kishor went to one of the popular restaurants on Queen's blvd where the manager questioned him if he had any previous experience in the position of dishwasher. Very promptly, he confirmed that he had previous experience that wasn't true at all. Very shortly, the manager dismissed him citing him unfit for the mere position of a dishwasher. He never applied for the same position following that incident.
Language barrier is no wonder such a big issue! No matter how much people claim of equality, equal opportunity, in reality language issues can be a major factor to the decisions employers make while recruiting employees. Sadly with Mr. Kishor, not having Hindi linguistic skill turned out to be the reason of rejection to him in many of the position he applied for. That was his what we call rough past. Who doesn't have them anyway, right? As for now, he is a full time journalist working for his own newspaper in the USA. He is his own master, his own boss. There's no time constraint for him and under such low pressure, he's been able to spread his wings freely and work with his full heart in the field of work that he enjoys doing. And when work is something you enjoy doing, that work no longer remains work. It becomes worship; it becomes enjoyable not dull and boring. He believes that people should be free from circumstances to enjoy what they are doing.
2) He once wrote 150 pages of poems to his beloved
Everyone has a little story of love safely hidden inside his or her heart. If anyone tells me that they do not have a single such story of love to share, I would be really surprised because love is a basic human emotion and no one standing under the sun has ever been able to escape from it and so shall that remains for centuries to come. If you have a love story to warm someone's heart, or even a sad story of heart, I insist you to share it with others. There's so much of power in sharing. It's relieving and you'll experience a sense of freedom and pleasure by sharing your stories of love, hope, pain and heartaches.
Mr. Kishor has a very interesting story of love. Back in school, he had a beloved whom he loved a lot. And it must be the purity and innocence of love that made him write 150 pages of poetry to her. Her beloved was obviously on cloud nine and beyond to see such a heartwarming gesture of love from her beloved. Isn't that such a romantic thing to do? I'm sure you all will agree with me on this.
He always longed to be a writer as a kid. Even today, he writes occasionally when he has the right emotion flowing to contribute to his creative writing. He is comfortable writing when it's about subjects he feels deeply connected with and can feel the core of the subject. He still recalls his fondness towards her. That indeed makes such a good love story, isn't it? My dear friends, if anyone of you has anything similar to what Mr. Kishor experienced, please share it with us and our readers on the comment section below. I assure that you will feel a tremendous amount of relief just like Kishor did by sharing with us.
3) He spent his three years around the Himalayas.
Imagine spending time in the Himalayas! No, I am not talking about those luxury vacation or getaways with friends for a couple of weeks or a month! I'm sure those few days would be amazing fun but can you tell me how you'd feel if that vacation in the chilly mountain and Himalayas had to last for three years? Yes, I know! That's pretty crazy and scary, right? Mr.Kishor whose career started from the Himalayas spent three long years in the Himalayan for journalism and he no wonder has reached to the apex of his career now. He was a Nepali/English newsreader as well as translator in Radio.
What a talented young man he is! The ruthless, nerve-chilling cold winds that blew over the mountains could do little to set him off track from his passion for journalism. When you are driven by passion, there's almost nothing that can get in between you and success. So, you should never give up on hope, your passion and dreams. Things that look gloomy and impossible now will bear delicious fruits very soon if you are strong enough to pursue your passion and brave enough to start living the dreams you have. If you dream big, there's nothing that cannot be done. You can climb the tallest mountain, swim through the deepest ocean, fight the toughest battle, and walk the toughest mile. Things are only difficult and impossible if you let your mind believe that it can't be done. You can achieve anything if you are brave enough to dream it. Good luck to everyone for your dreams!
4) He was a high-school; teacher
As talented as he is, he also has an experience as an English instructor to high school students, which is again the outcome of his passion to teach the kids and his love for teaching. He gets along well with kids and very happily admits the time he spends with them. He believes children are pure and free of deceit and it's the innocence in the children that makes me so fond of them. He thinks adults have so much to learn from children and every moment spent with the kids can be enjoyable like it is to him. After his teaching career, he later joined journalism, which is again something he is so passionate about and feels so deeply for. With a gentle smile, he admits to being nostalgic at times and how he misses his students.
5) He is in his third relationship
Albert Einstein rightly quoted, "The world we have created, it is a process of our thinking. It cannot be changed without changing our thinking." Time is ever changing and with time, everything changes. Change is inevitable and very necessary for the human growth. And so is our relationship. Relationships especially romantic ones happen when two people feel that special connection where there is no room for discomfort and uneasiness in sharing things you have not shared with many people. Relationship cannot flourish when either of the partners feels uncomfortable.
Mr. Panthi is not comfortable with people continuously asking him about his marriage dates or his relationship status. He feels it is strictly a personal matter and choice to which I could not agree more. Therefore, if you know him personally, we would suggest you to avoid asking him questions on this matter. If you consider yourself his well-wisher and a friend, he would be appreciative if you show him your support in his profession instead of asking him vain questions and that is exactly the kind of support and affection he is looking in his partner.
6) Till date, he has changed his political preferences four times
Yes, you heard that right! There is a perception among people that people involved in journalism should not be actively involved in politics or should have particular political preference. Kishor has been bold enough not just to prove that is a wrong concept but he is also very actively involved in a political party. That is most perfectly reflected by his choice of changing his political preferences four times. He believes that like any other normal citizen, he also has the freedom to speech, political franchise, getting involved in what one's heart desires be it a social reform or political crisis. He stands by his faith that politics is a great medium to change the society that we live in and in turn the country.
Great legendary people like Winston Churchill, Ruth Davidson, Nigel Lawson, Jim Hackers, and Edd Ball were all politicians who were equally inclined towards journalism. So, journalism and politics can go hand in hand. It is just a matter of personal opinion and choices. Everyone is entitled to their opinion and views and everyone has the right to live the life their way, in a way that makes them happy and content. One should always listen to their inner calling, their passion, and their heart's true desire. In the end, that's all that matters. You should be able to create your own story and make you and your loved ones proud.
7) He has served as editor in many media houses
Whether it is Radio, Newspaper or Television, he has always served as an Editor in all of them. He worked in a popular media houses like Sagarmatha Television (first Nepali News Television) and ABC TV (Nepali News TV) as a news editor for a long time. When he first arrived in the US, he worked as a newspaper editor in one of Nepalese community newspapers in voluntary basis.
Currently, he is hosting "Talk of the town", first Nepalese TV show from the USA. He also serves as chief editor of Khasokhas Weekly, first Nepali weekly magazine in the USA. You will notice a lot of deviation from traditional writings in his work and his writing mainly revolves around immigrants. He is an avid reader and devotes up to four hours of his time to reading in order to expand his vision, knowledge and better his personality. If you have any queries regarding journalism or have passion for the same, Mr. Panthi is for sure the best person you would like to seek advice from.
Who could be a better person to take advice from than the man himself who has been in the field of journalism since seventeen years?
This post was published on the now-closed HuffPost Contributor platform. Contributors control their own work and posted freely to our site. If you need to flag this entry as abusive,
send us an email
.