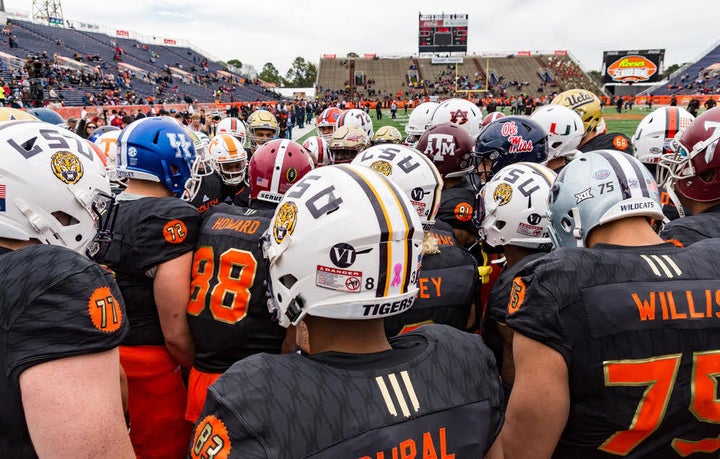 A client and top executive from a Fortune 500 Company once told me, "I would not hire a single member of your team individually but, as a group, their work is incredible."
Building a team with the right mix of talent and passion is the single most important key to sustaining a winning brand culture. When I reflect on the many inspirations that have shaped my steadfast belief in team building, the New England Patriots are near the top of the list.
My Patriots lessons in team culture building began in earnest in 2001.
At the start of the 2001 season, the 9/11 tragedy shook America to its core. A team aptly named the Patriots began its rise from decades of futility on the vision of owner Robert Kraft and the brilliance of head coach Bill Belichick.
With a lot of hard work and a sprinkle of good karma (thanks to a little-known starting guard from Staten Island, Joe Andruzzi, whose brothers happened to be first responders at the World Trade Center) the Patriots were destined for a historic run.
At first, it looked like another disappointing season when star quarterback Drew Bledsoe, a former top draft pick, got seriously injured against the team's most hated rivals, the NY Jets.
His replacement was an unheralded sixth round draft choice named Tom Brady. Thanks to his accurate arm and smart game management, along with a resilient defense and clutch kicks of Adam Vinatieri, the Patriots marched all the way to Super Bowl XXXVI in New Orleans.
There, the Patriots would face the St. Louis Rams, a juggernaut heavily favored to repeat as Super Bowl champions. The Rams, nicknamed "The Greatest Show on Turf" for their strong offensive line, were a talent-laden and dynamic opponent.
The Patriots had a much more humble persona. They emerged onto the field choosing to be announced simply and selflessly as a team. It was more than symbolic. It was the power of an authentic brand culture on display for the world to see.
With physicality, toughness and teamwork, the Patriots pounded the Rams into the Superdome turf. The Patriots won their first Super Bowl with a drive that was as meticulous as it was miraculous, a clinching victory with no time left on the clock.
What I did not realize at the time was how many business and human resource (HR) lessons I was about to learn from the Kraft family, Coach Belichick and the entire New England Patriots organization.
Here are seven lessons inspired by the seven-round NFL draft process that every HR leader should know.
Round 1: Don't just collect talent, build a team.
Bill Belichick is always pragmatic. While others worry about public perception and filling stadium seats, his roster maneuvering and complex game planning are driven by a simple goal: to build a winning team.
Round 2: Hire people with a passion for your profession.
They work harder and longer at their craft. If a player doesn't love and live football, the Patriots will not draft him.
Round 3: Be fearless when hiring talent.
Don't be afraid to hire talent better than you. They will raise your game and elevate your team. Coaches and general managers who fear losing their jobs eventually panic. They settle for quick fixes based on positional needs over best available talent.
Round 4: Intelligence matters.
Bill Belichick won't suffer fools gladly, and neither should you. The Patriots prize intelligence as much as athleticism in their players. Doing so enables the coaching staff to play chess while less intelligent teams play checkers.
Round 5: Value depth and flexibility.
The Patriots have a "Next Man Up" mentality and thrive on positional depth and scheme versatility. Knowing the NFL is a game of attrition, they prefer the value of four good players per position versus the expense and risk of a single great one.
Round 6: Leadership skills are essential.
The Patriots prioritize drafting college team captains and other self-motivated locker room leaders. No team has proven more resilient in staging improbable comebacks and overcoming adversity.
Round 7: Every hire is relevant.
The last college player selected in every NFL draft since its birth in 1936 is given the moniker Mr. Irrelevant. Regardless of whether the player is a top draft pick or an undrafted free agent, he's selected for the team if he outperforms a player on the current roster. Pedigree, reputation and history are all secondary to current performance and potential.
Learn from the Patriots. Never stop looking for ways to improve your team and brand culture. By the time the Patriots made their 2017 draft picks, Nick Caserio, director of player personnel, and his staff were already a month into scouting for the 2018 draft.
Don't just collect talent. Champions build a team and a winning brand culture.
Related
Popular in the Community