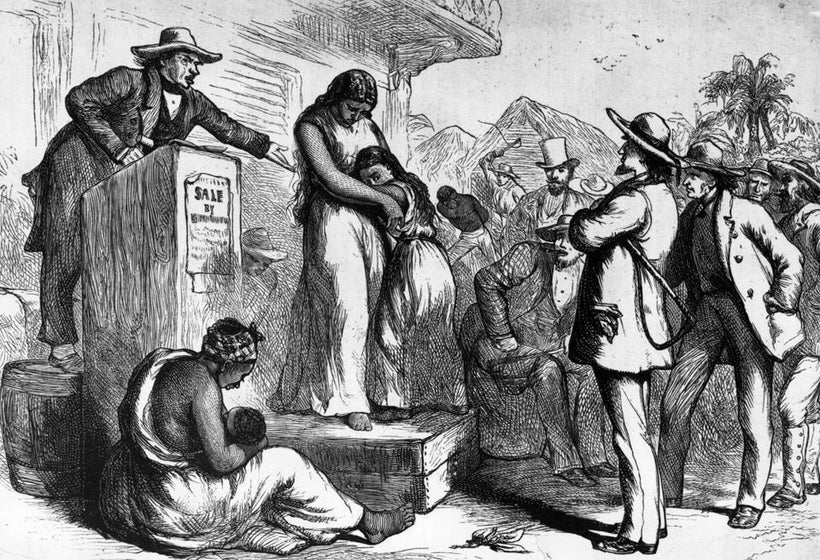 Over the past few years, several films have been released in the United States, including Twelve Years a Slave, The Birth of a Nation, and the remake of Roots, exploring various aspects of the lives of enslaved men and women. Although these films offer valuable insights into the history of slavery, they certainly do not tell the entire story. Here is a list of seven new notable books on slavery, which were published in the last six months or will soon be published. They explore the complexity of the slave experience and reveal how slavery was vital to the economic development of the nation and the New World. They highlight a range of topics including gender, family, and resistance. Be sure to include them in your reading list for 2017.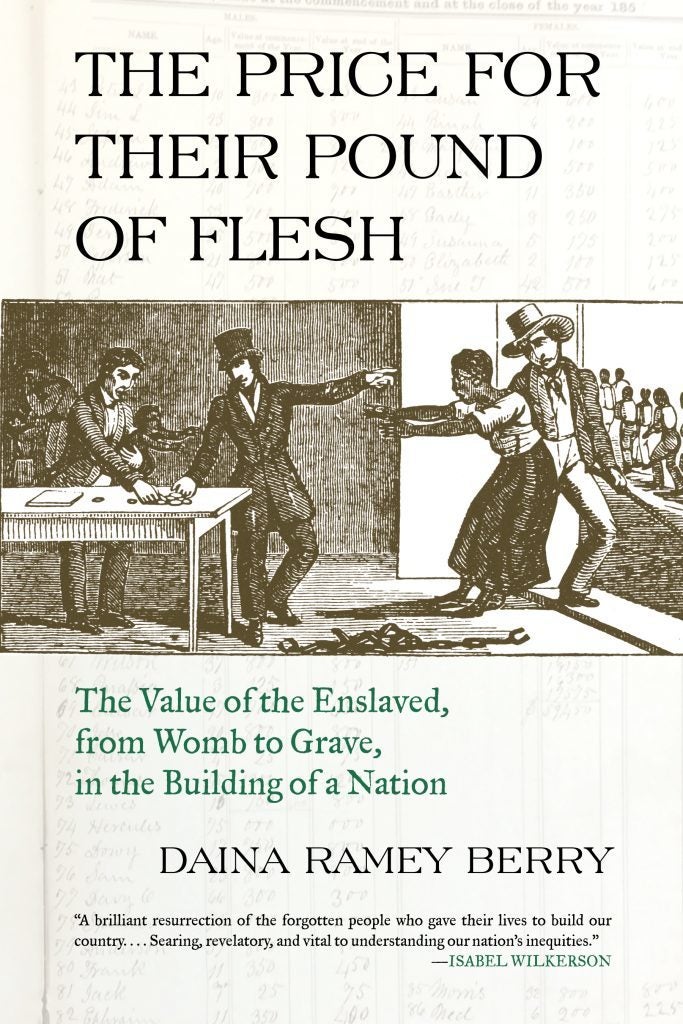 "In life and in death, slaves were commodities, their monetary value assigned based on their age, gender, health, and the demands of the market. The Price for Their Pound of Flesh is the first book to explore the economic value of enslaved people through every phase of their lives—including preconception, infancy, childhood, adolescence, adulthood, the senior years, and death—in the early American domestic slave trade. Covering the full "life cycle," historian Daina Ramey Berry shows the lengths to which enslavers would go to maximize profits and protect their investments. Illuminating "ghost values" or the prices placed on dead enslaved people, Berry explores the little-known domestic cadaver trade and traces the illicit sales of dead bodies to medical schools. This book is the culmination of more than ten years of Berry's exhaustive research on enslaved values, drawing on data unearthed from sources such as slave-trading records, insurance policies, cemetery records, and life insurance policies. Writing with sensitivity and depth, she resurrects the voices of the enslaved and provides a rare window into enslaved peoples' experiences and thoughts, revealing how enslaved people recalled and responded to being appraised, bartered, and sold throughout the course of their lives. Reaching out from these pages, they compel the reader to bear witness to their stories, to see them as human beings, not merely commodities."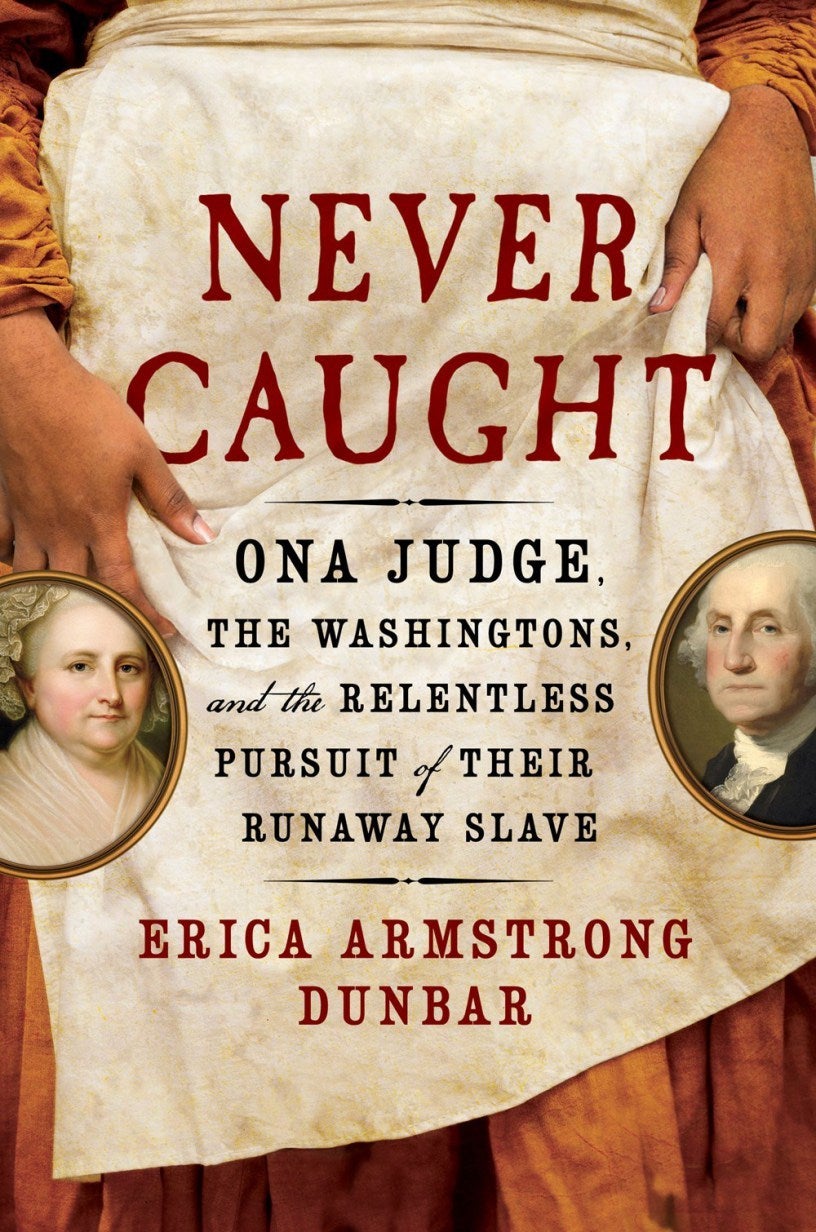 "A startling and eye-opening look into America's First Family, Never Caught is the powerful narrative of Ona Judge, George and Martha Washington's runaway slave who risked it all to escape the nation's capital and reach freedom. When George Washington was elected president, he reluctantly left behind his beloved Mount Vernon to serve in Philadelphia, the temporary seat of the nation's capital, after a brief stay in New York. In setting up his household he took Tobias Lear, his celebrated secretary, and nine slaves, including Ona Judge, about which little has been written. As he grew accustomed to Northern ways, there was one change he couldn't get his arms around: Pennsylvania law required enslaved people be set free after six months of residency in the state. Rather than comply, Washington decided to circumvent the law. Every six months he sent the slaves back down south just as the clock was about to expire. Though Ona Judge lived a life of relative comfort, the few pleasantries she was afforded were nothing compared to freedom, a glimpse of which she encountered first-hand in Philadelphia. So, when the opportunity presented itself one clear and pleasant spring day in Philadelphia, Judge left everything she knew to escape to New England. Yet freedom would not come without its costs. At just twenty-two-years-old, Ona became the subject of an intense manhunt led by George Washington, who used his political and personal contacts to recapture his property. Impeccably researched, historian Erica Armstrong Dunbar weaves a powerful tale and offers fascinating new scholarship on how one young woman risked it all to gain freedom from the famous founding father."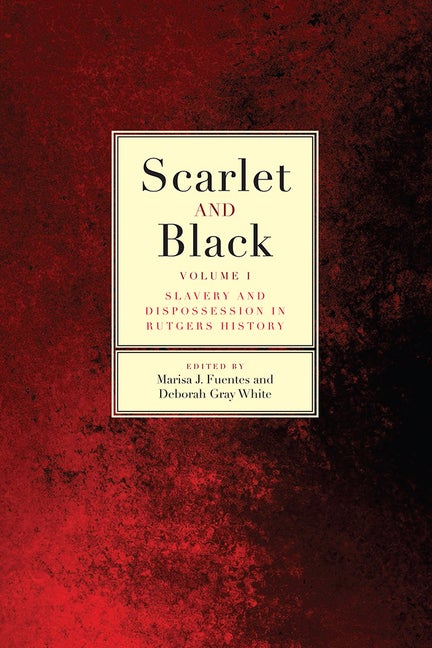 "Scarlet and Black, Volume 1: Slavery and Dispossession in Rutgers History, brings out of the shadows the story of Will, a slave who laid the foundation of Old Queens [the oldest extant building at Rutgers University]. The research also reveals that abolitionist and women's rights activist Sojourner Truth and her parents were owned by the family of Rutgers' first president Jacob Hardenbergh. Rutgers joins other colonial-era colleges in confronting this history, including Georgetown, Yale, Brown, and Harvard. The Committee on Enslaved and Disenfranchised Populations in Rutgers History worked to create a fuller picture of Rutgers' history as the university celebrated its 250th anniversary and reflected on a familiar story: the founding by leaders of the Dutch Reformed Church, the role of benefactor Colonel Henry Rutgers and the university's identity as a land-grant institution. But Scarlet and Black puts that history in a new context by bringing into the light the founders' connections to slavery and the story of the Native Americans whose displacement was key in helping the university thrive."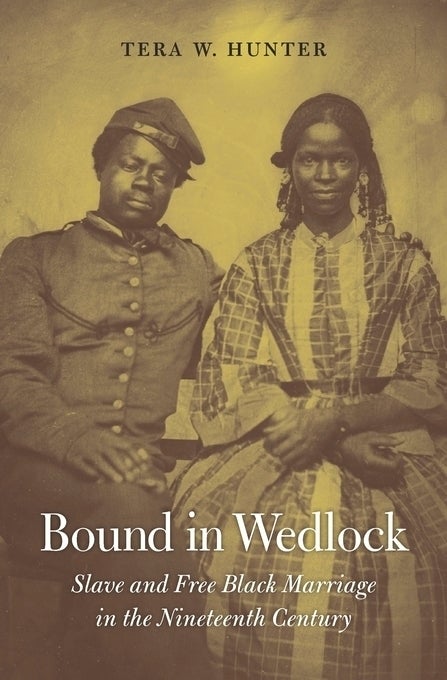 "Americans have long viewed marriage between a white man and a white woman as a sacred union. But marriages between African Americans have seldom been treated with the same reverence. This discriminatory legacy traces back to centuries of slavery, when the overwhelming majority of black married couples were bound in servitude as well as wedlock. Though their unions were not legally recognized, slaves commonly married, fully aware that their marital bonds would be sustained or nullified according to the whims of white masters. Bound in Wedlock is the first comprehensive history of African American marriage in the nineteenth century. Uncovering the experiences of African American spouses in plantation records, legal and court documents, and pension files, Tera W. Hunter reveals the myriad ways couples adopted, adapted, revised, and rejected white Christian ideas of marriage. Setting their own standards for conjugal relationships, enslaved husbands and wives were creative and, of necessity, practical in starting and supporting families under conditions of uncertainty and cruelty."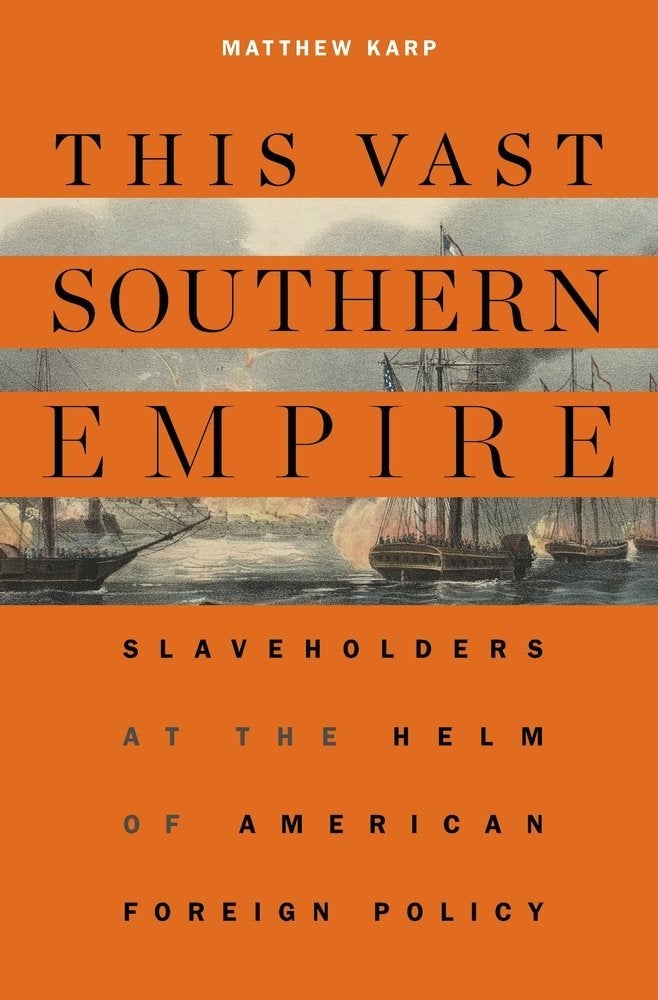 "When the United States emerged as a world power in the years before the Civil War, the men who presided over the nation's triumphant territorial and economic expansion were largely southern slaveholders. As presidents, cabinet officers, and diplomats, slaveholding leaders controlled the main levers of foreign policy inside an increasingly powerful American state. This Vast Southern Empire explores the international vision and strategic operations of these southerners at the commanding heights of American politics. For proslavery leaders like John C. Calhoun and Jefferson Davis, the nineteenth-century world was torn between two hostile forces: a rising movement against bondage, and an Atlantic plantation system that was larger and more productive than ever before. In this great struggle, southern statesmen saw the United States as slavery's most powerful champion. Overcoming traditional qualms about a strong central government, slaveholding leaders harnessed the power of the state to defend slavery abroad. During the antebellum years, they worked energetically to modernize the U.S. military, while steering American diplomacy to protect slavery in Brazil, Cuba, and the Republic of Texas. As Matthew Karp demonstrates, these leaders were nationalists, not separatists. Their "vast southern empire" was not an independent South but the entire United States, and only the election of Abraham Lincoln broke their grip on national power. Fortified by years at the helm of U.S. foreign affairs, slaveholding elites formed their own Confederacy―not only as a desperate effort to preserve their property but as a confident bid to shape the future of the Atlantic world."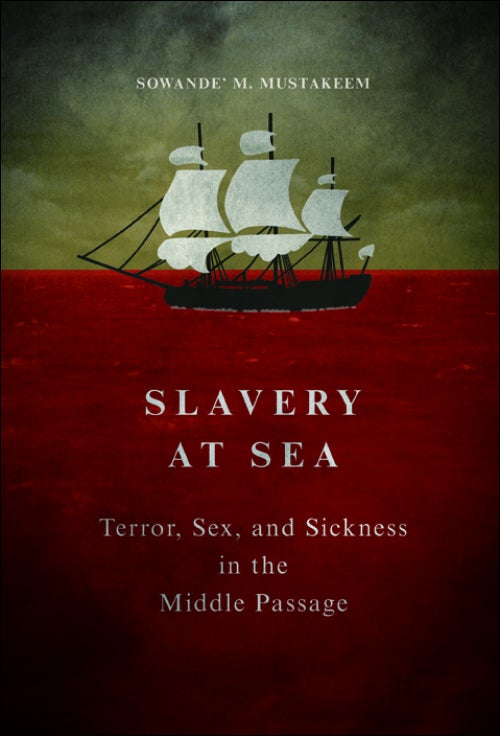 "Most times left solely within the confine of plantation narratives, slavery was far from a land-based phenomenon. This book reveals for the first time how it took critical shape at sea. Expanding the gaze even more deeply, the book centers how the oceanic transport of human cargoes--infamously known as the Middle Passage--comprised a violently regulated process foundational to the institution of bondage. Sowande' Mustakeem's groundbreaking study goes inside the Atlantic slave trade to explore the social conditions and human costs embedded in the world of maritime slavery. Mining ship logs, records and personal documents, Mustakeem teases out the social histories produced between those on traveling ships: slaves, captains, sailors, and surgeons. As she shows, crewmen manufactured captives through enforced dependency, relentless cycles of physical, psychological terror, and pain that led to the the making--and unmaking--of enslaved Africans held and transported onboard slave ships. Mustakeem relates how this process, and related power struggles, played out not just for adult men, but also for women, children, teens, infants, nursing mothers, the elderly, diseased, ailing, and dying. Mustakeem offers provocative new insights into how gender, health, age, illness, and medical treatment intersected with trauma and violence transformed human beings into the world's most commercially sought commodity for over four centuries."
"Margaret Garner was the runaway slave who, when confronted with capture just outside of Cincinnati, slit the throat of her toddler daughter rather than have her face a life in slavery. Her story has inspired Toni Morrison's Beloved, a film based on the novel starring Oprah Winfrey, and an opera. Yet, her life has defied solid historical treatment. In Driven toward Madness, Nikki M. Taylor brilliantly captures her circumstances and her transformation from a murdering mother to an icon of tragedy and resistance. Taylor, the first African American woman to write a history of Garner, grounds her approach in black feminist theory. She melds history with trauma studies to account for shortcomings in the written record. In so doing, she rejects distortions and fictionalized images; probes slavery's legacies of sexual and physical violence and psychic trauma in new ways; and finally fleshes out a figure who had been rendered an apparition."
Calling all HuffPost superfans!
Sign up for membership to become a founding member and help shape HuffPost's next chapter
This post was published on the now-closed HuffPost Contributor platform. Contributors control their own work and posted freely to our site. If you need to flag this entry as abusive,
send us an email
.