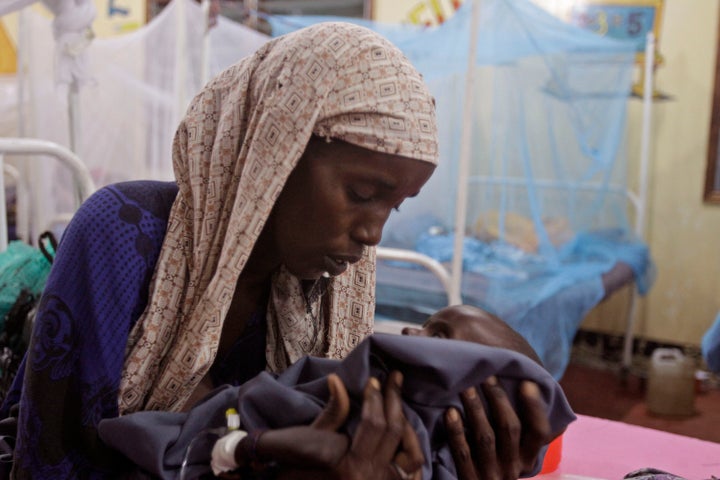 The United Nations has declared a famine in the Horn of Africa, surprising no one who works in the region. As early as August 2010 there were indications that a crisis loomed. Now more than 3.7 million Somalis, or half of the entire population, are in need of aid.
In some areas, more than one in four people are severely malnourished. The UN has reported that an average of 1,300 Somali refugees have arrived in Kenya's Dadaab refugee camp each day since June 19. The camp is the largest in the world, with approximately 400,000 inhabitants and the awful potential to grow ever larger. More than 2000 refugees are also crossing daily into Ethiopia. And serious food shortages may well become facts of life and death in Kenya and Ethiopia as well.
Concerned citizens around the world are asking what can be done. We Americans have historically been at the forefront of responding and must do so this time. Based on the International Rescue Committee's findings programs in Somalia, Ethiopia, and Kenya and on my own travels in the region, I am confident that quick action along the following lines will save lives:
1) Rush more aid to people in need. The U.S. government should move quickly to respond to the UN's appeals and provide substantial additional funds to address the drought - tapping into existing contingency funds and seeking supplemental funding from Congress, if necessary. The media is doing a good if belated job of mobilizing ordinary Americans to supplement official donations with private contributions to organizations like mine.
2)Protect food aid. Ignoring one of the worst droughts in history, the House of Representatives' budget plan would cut next year's food aid budget by one third. To do that is a betrayal of core American values. We can, and should, continue our proud tradition of emergency response to the starving.
3)Fight disease. Emergency medical aid is also needed because disease is the biggest killer during a famine, not starvation. In recent months, for example, we dealt with a measles outbreak. Congested living conditions heighten the risk.
4)Remove legal barriers to providing aid inside Somalia. Private aid agencies have had to leave areas of Southern Somalia where al- Shabaab, an organization identified as a terrorist group, is in control, or risk violating U.S. anti-terrorism provisions. A waiver is needed for relief agencies to return to this drought-stricken area. The UN has exempted humanitarian agencies from sanctions against al-Shabaab; in line with this policy, the Obama Administration should issue such a waiver immediately.
5)Help refugees who have fled Somalia. The International Rescue Committee is one of several organizations providing help to refugees in the enormous Dadaab refugee camps. We are working at reception centers where new arrivals receive food, health screenings, and medical referrals. Young children, pregnant women, and new mothers get fortified food. Our teams are also rushing assistance to other areas in Kenya and Ethiopia affected by the drought to help refugees and host communities. Supporting these programs is imperative.
6)Prevent and respond to violence against women. Violence against women and girls is often associated with war, but natural disasters often bring equally severe risks. As they flee Somalia to safety, women and girls are passing through areas where armed groups and bandits roam -- only to arrive in crowded and potentially dangerous camps. We must ensure that women and girls receive aid and services, safe spaces are created where influxes of refugees occur, and that anyone harmed receives quality, timely care.
7)Don't rob Peter to pay Paul. The drought affects an entire region, and government officials will come under pressure to dedicate its time and focus all of its resources on the drought. But funding should not be reallocated away from others who are hungry, sick and in need elsewhere in the region. Otherwise we will only replicate this crisis in other locations.
Once progress has been made on these seven steps, we should ensure that affected communities and Somali refugees receive the help they need to recover and rebuild. This longer-term development would include educating the children in refugee camps, adding land to existing camps to alleviate overcrowded conditions and asking the government of Kenya and other governments to consider ways to let refugees restart their lives outside of the camps and make contributions to their host countries.
Sadly, this situation also illustrates, once again, the tragic costs of ignoring fragile states like Somalia until a crisis erupts. We know more or less how to respond to a famine. We must become far-sighted enough to prevent such crises so that emergency intervention is not required.George Rupp is president of the International Rescue Committee.
Related
Popular in the Community