Healing happens in so many ways. From arts programs, to yoga, to support groups, many of our grantees this week are providing opportunities for communities to heal the challenging circumstances of their lives. Congratulations to the extraordinary individuals and groups who were awarded grants from The Pollination Project this week.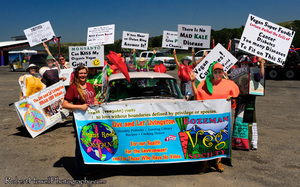 Vegan Pride in Ranch Country, Livingston, Montana. For nearly a decade, Bonnie Goodman has used her unique brand of activism to promote vegan lifestyles in a small ranching town. She joyfully educates residents on the connections between environmental degradation, world hunger, and animal suffering. Her project, Live and Let Livingston, aims to combine her love for vegan gastronomy, educational outreach, and community development and engagement. Bonnie plans to organize vegan potlucks and cooking demos that are open to the public, travel to nearby towns to distribute vegan fliers, provide delicious free vegan food at various local events, and organize a "Veggie Pride" float for the annual Rodeo Parade.
Building Youth-led Businesses in South Africa. Sonwabo Modimoeng is the founder of Faded Black Innovation, a South African nonprofit that addresses problems in South Africa's most impoverished communities. They aim to encourage economic development by fostering youth-led enterprises including their most recent effort, bringing business training and entrepreneurial opportunities to 25 South African youth from Bekkersdal. Over the course of the next year, Faded Black aims establish 10 youth-led businesses.
Clean Cooking and Clean Fuel in Rural Uganda. Teachers' Action on Child Abuse and Health in Uganda is a grassroots nonprofit organization that focuses on the promotion of human rights and public health projects throughout Uganda. Their newest initiative is focused in the rural, underdeveloped Kyarumba sub-county where thousands of residents still rely on wood-burning stoves for warmth and cooking. Through their project, Teachers' Action is providing residents in the village of Nyakabale with solar-energy systems while educating local women on the construction of improved cooking stoves designed to minimize the harmful effects of wood-smoke. The program will provide households with healthier, environmentally sustainable energy solutions, as well as fostering local enterprises and generating income for women.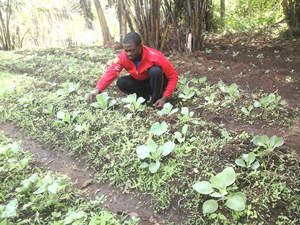 Sustainable Agricultural Development in Cameroon. Kari Jackson Bongnda is an agro-forestry technician and the founder of Sustainable Run for Development (SURUDEV Cameroon), an NGO that aims to promote sustainable development in communities across Cameroon. Kari plans to focus his attentions on some of the most vulnerable community members, providing 30 widows and unemployed youth in the rural village of Bongom, with the knowledge and resources to create their own sustainably-harvested commercial vegetable farms and orchards.
Yoga for Indigenous Women in Oaxaca, Mexico. Margaret Grafstein has spent the better part of a decade working in Oaxaca, Mexico, which exposed Margaret to the extreme stressors and challenges faced by impoverished indigenous women in the area. Margaret is now offering Restorative Alignment yoga classes to the women of La Casa de la Mujer, an organization dedicated to the support of equal human rights for women and children living in violent situations. Through the project, Margaret aims to help indigenous women use the skills and techniques they learn to address the physiological manifestations of everyday life stressors.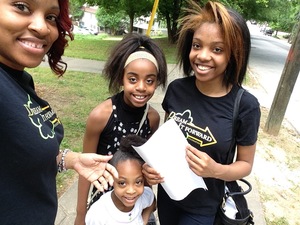 Youth Dream Big in Atlanta, Georgia. Yaminah Childress' DREAM It Forward Foundation offers free mentoring to "at-risk" teens and young adults in and around Atlanta, Georgia. At present, the high-school dropout and teen pregnancy rate in the Atlanta metro area is far higher than the rest of the US. The DREAM Mentoring Program provides youth and single-mothers with mentors trained to promote positive mental and emotional development, literacy, and high self-esteem while strengthening academic performance and guiding them on their path to college.
Youth Personal Narratives in Chicago, Illinois. Dallis Westin is a psychologist specializing in trauma therapy. After years of hearing her young clients' traumatic life stories, Dallis launched the one., a program designed to help disadvantaged and marginalized youth develop meaningful, empathic connections with others through the use of writing and interpersonal dialogue. Dallis will collect and distribute participants' memoirs and also share youth-designed images that will be used for ongoing fundraising for the project.
Sanitary Napkins in Rural Nepal. Putali Nepali empowers girls and women in the rural areas of Nepal where a general lack of affordable and sanitary female hygiene products often results in serious health problems, immobility, and even absence from school or work. Recently, the organization's founders, Anne Kukuczka and Linda Kühne, started offering workshops on menstrual hygiene management and distributing menstrual cups and hygiene kits to women in the Makwanpur district, just south of Kathmandu. Anne, Linda, and one of their regional partners are currently translating an educational comic on puberty and menstruation into Nepali which will be distributed during the summer 2015.
Women with HIV/AIDS in Tucson, Arizona. After being diagnosed with HIV at age 57, Barbara Lock founded PowerSource Tucson, Inc., to provide support and resources to women living with HIV/AIDS in the Tucson area. Currently, PowerSource serves approximately 10% of diagnosed women in Pima County and is the only organization of its kind in the state, a disturbing trend given that 14.2% of those diagnosed with HIV/AIDS in Arizona are women. Through the organization's "The Next Step" project, Barbara plans to offer group training on wellness, self-esteem and First Aid/CPR certification to her clients, as well as providing them with a way to build support networks among their peers.
If these stories inspire you, please take a moment to help us select the winner of our 2015 Visionary Award. It takes 30 seconds, you don't have to sign up for anything to vote, and most importantly, you will read about four inspiring people doing good all over the world.
Popular in the Community