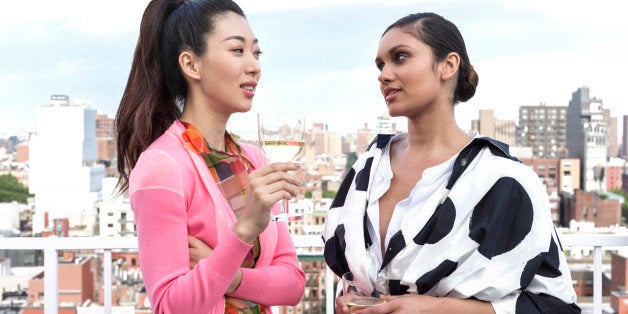 This is go time for women, as we collectively rock politics, medicine, education, the arts, and business with our women-strong wisdom, compassion and collaboration.
But women can't become a truly unstoppable force for good unless we shake off an old shadow that holds us back: how harsh we can be to one another.
Who among us hasn't suffered the sting of a woman's snarky comment or workplace sabotage? Or experienced the ickiness of mean-girl shunning or lie-spreading?
Women heap an avalanche of abuse, discrimination and incivility on one another, from the boardroom to athletic clubs. As I work on a book about this topic, I read about a woman who said the "cool" women in her yoga class often shunned her, made snide comments and even ridiculed her yoga clothes. Big, downward, sad-faced dog.
Come on, women! We deserve better than this. We are better than this.
There's too much progress to be gained right now for women to regress into mean, middle-school girls -- especially as the world's girls watch and model our every move.
"There's a Wonder Woman inside every one of us," as Diane Von Furstenberg has said. Let's unleash her this year--to better support one another. To help our sisters, from Africa to Asia, realize long-overdue healthcare, safe water, jobs, and literacy.
To lean into the toughest conflicts around the Earth. To stop turning against and fighting with each other.
We can't afford to fall back into outdated, destructive ways: when we hold one woman back, we hold all women back. And when we empower and support each other, we all go big. The world is calling for us to go big!
Here are seven steps for unleashing your inner Wonder Woman:
1.Shine a light on the shadows. There isn't a big enough rug in the world under which this secret can be swept. Whether you're a mom's group member or an HR director, begin to end this problem by having a candid and hopefully game-changing conversation about it. Granted, this is as about as fun as having a botched root canal. But, like healing any wound, once this "taboo" topic is aired and out in the open, real change can happen.
2.Live from your own incredible worth. Express your own brilliance -- don't block someone else's. Be an amazing woman. Unleash her now. To do good. To raise the roof. To be kind. To change the world. Be a superstar yourself, and you won't feel the need to tarnish another's star. As Bindu, an Indian actress popular in the 1970s said, "Women who understand how powerful they are do not give into envy over meaningless things; instead they fight to maintain the beautiful bond of the sisterhood. These are the real women who know that we need each other's love and support to survive in this world."
3.Advocate for zero tolerance. Our workplaces, health, and economy are drained by something we've avoided, pretended doesn't exist, or justified. From coffee groups to conference rooms, stop tolerating abusive talk and behavior among women. If you're a manager or leader, enforce anti-bullying policies. Retrain or remove workplace bullies, both men and women. If you're being bullied, document the abuse, report it, and be clear about how you want to be treated. If you witness bullying, don't hide the truth to keep the peace. And if you're a bully, seriously, why? Learn how to exercise real power to have authentic friendships and respectful colleagues, not ones that loathe your presence.
4.Be a Wonder Woman with your wise words. Kudos to Reese Witherspoon, who asked: "Why do we have to tear other woman down to build another woman up?" And to author Elizabeth Gilbert, who recently posted herself on Facebook holding up a note: "DEAR WOMEN - BE KIND TO OTHER WOMEN! LOVE, A WOMAN." Look, of course, we don't have to agree with every woman. But we can stop trash talking about women's appearances, parenting, or successes. Gossiping and snarky talk can be addictive and pass the time in a boring day. But they're destructive. Find a legit feel-good fix. Find new friends, if necessary. Find your integrity.
5.Tune out media that glorify mean-women pile-ons. Let's all stop feeding the media that glorify women being mean to other women. Cheers for Jennifer Lawrence's candor: "When I watch these shows and I watch these women on these television shows pointing to [other] women and judging them and calling them ugly and calling them fat -- where are we from? Why are we here? Why are we doing this to each other? Men were doing it hundreds of years ago, and now we've turned around and we're doing it to each other."
6.Applaud a woman's success. Some women I've interviewed say they're scared to share their successes with other women for fear they'll be bludgeoned with their own victories. That's insane. Don't hold a woman's gifts against her. An anonymous person once said, "Jealously is when you count someone else's blessings instead of your own." If one woman soars, it doesn't mean your wings are clipped, or that there's limited air space. We all came here to fly--fly far!

7.Even Wonder Woman has to rest. These work harder/faster times can shred us, making it all too easy to turn on one another. Slow down, breathe, and nurture yourself, if only for 30 minutes. It's soul-crushingly tough enough to get through some days. Do we have to make it harder by crushing each other's dreams and dignity? When we're more rested, it's easier to give a big thumbs-up to a woman's ideas at work. Or hold the door open for a mom struggling with a stroller. And cheer for a sister on fire with her creation, whether it's a painting or a product.
Actress Lynda Carter, who played the original Wonder Woman, said, "Wonder Woman belongs to us all. She lives inside us. She's the symbol of the extraordinary possibilities that inhabit us, hidden though they may be.
"Perhaps our real challenge in the 21st century is to strive to reach our potential while embracing her values. She sees the good in everyone, convinced they are capable of change, compassion, and generosity. She's kindhearted and hopeful, and she has a great sense of humor."
Can you hear my Wonder Woman cheering for yours?
Support HuffPost
The Stakes Have Never Been Higher
Related
Popular in the Community