Good Afternoon from the AOL BUILD studio! Margot Bingham just sat down with Donna Freydkin to talk about her new ABC TV show The Family and her upcoming role in Barbershop: The Next Cut.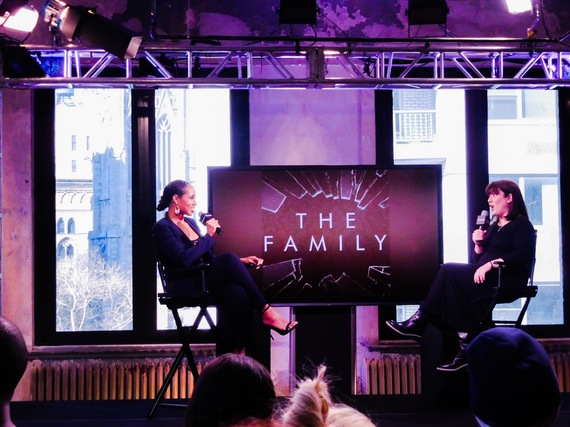 1. The Family has 7 women writers and 2 male writers.
2. She enjoyed seeing Room with Joan Allen, then going to work the next day and talking about Room, with Joan Allen.
3. She loved her Boardwalk Empire character's name. (Daughter Maitland)
4. Her favorite RENT song to perform is "Light My Candle." She was just with Adam Pascal last night, celebrating his birthday. They took a throwback photo next to a candle.
5. Barbershop: The Next Cut was Bingham's first comedy. She was surprised how sore her face and throat were from all the smiling and laughing!
6. Bingham took a Contracts course. She insists fans read everything they sign, even if that makes them feel dumb at the time.
7. She enjoys Hallmark Channel movies.
8. She has auditioned for Book of Mormon multiple times. (ATTENTION: Jordan Roth)
9. She did not appreciate musicals such as Ragtime and Mary Poppins as a child.
10. "Be the best you can be." It is very apparent Margot Bingham has been working very hard for a very long time. Her encouraging words resonated with the live studio audience, including "make sure you are fully equipped with every tool." If you're a dancer, take a singing class, vice versa. Jobs are competitive, and the more skills you can bring to a job, the better you'll prosper.
REAL LIFE. REAL NEWS. REAL VOICES.
Help us tell more of the stories that matter from voices that too often remain unheard.