To discuss a concrete topic and make decisions, you need to see for yourself what's going on. That is why I went to the Balkans -- to see first-hand how thousands and thousands of refugees were making their way towards that longed-for Europe, towards that Europe of freedom, prosperity and peace.
My team and I spent two weeks preparing for the trip. We had only one weekend to check out three different borders. The route began on Friday, in the border between Serbia and Croatia. There, I met with the Red Cross, Save the Children and UNICEF. We talked at the Opatovac Transit Center, a site with a capacity to accommodate 5,000 people, that receives every refugee coming from Serbia who is currently in transit. This week, up to 8,500 people have passed through this transit center each day. The camp was controlled by the police and the military. They are in charge of organizing all the refugees, who usually stay there anywhere between 6 and 48 hours. First, they are registered, then distributed among tents, then given food, and afterwards they are directed to the dozens of coaches that take them to the Tovarnik train station. From there, they depart to Hungary, and specifically to the Beremend border crossing.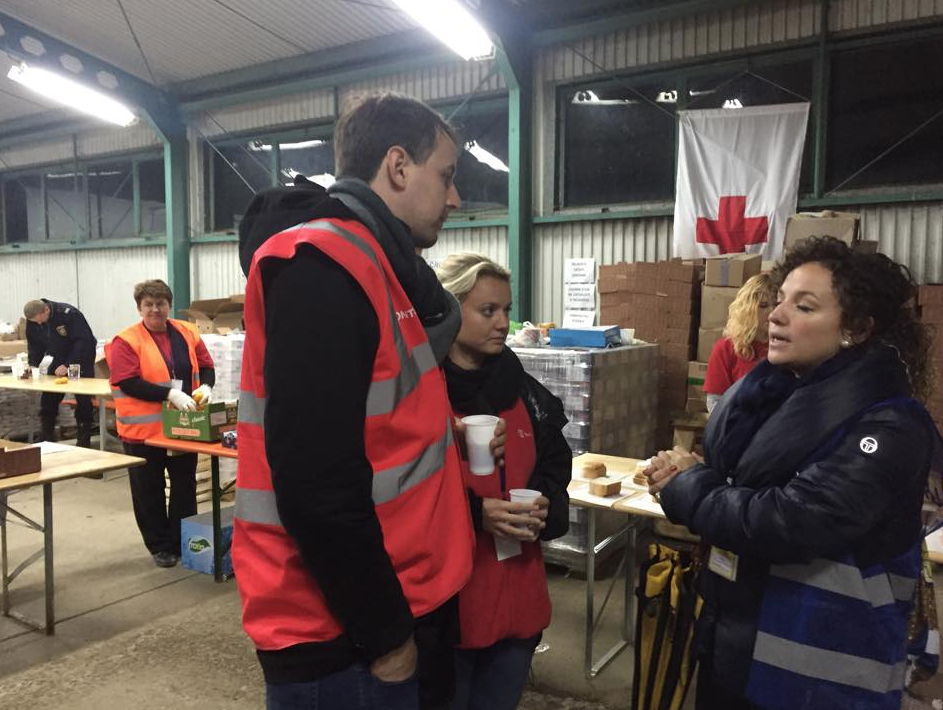 The author visits a Red Cross station on the border between Serbia and Croatia.
Aid workers are mostly women, perhaps because, as they themselves explain, they are more resilient than men. Despite being able to spend just a few moments with some of the refugees, they manage to improve, if only slightly, the refugees' trips. And the children know that. Even if they do not know them, they sense that the people with the vests are good. They know that they will give them hot broth once they reach the camp. They know that they will give them blankets to help them withstand the cold, rain jackets to cope with rain, dry clothes when, despite everything, they remain soaking wet, and comfort and assistance whenever they've lost sight of their parents due to some distraction. They are angels, real angels.
As soon as we got to the camp, NGOs warned us of breaking news: after closing its borders with Serbia in September, Hungary had decided to close its borders with Croatia. The camp was brimming with tension. Refugees were connected with social networks -- a major tool in their journeys -- so they were aware of the news. You could see in their faces the need to escape from camp, the desire to reach the next stage in their journey before the borders closed for good, trapping them in no man's land.
Their worst fears had come true: they were in no man's land, trapped between two borders.
Doctors Without Borders welcomed us in their home. Several of its members were going back home the next day, for their mission was over and the Croatian Ministry of Health was going to manage the refugees' medical services directly. They, like other NGOs, told us about their previous destinations: Haiti, Iraq, Syria, Congo... Now they were dealing with a humanitarian crisis in Europe, what many once thought was an unbelievable occurrence.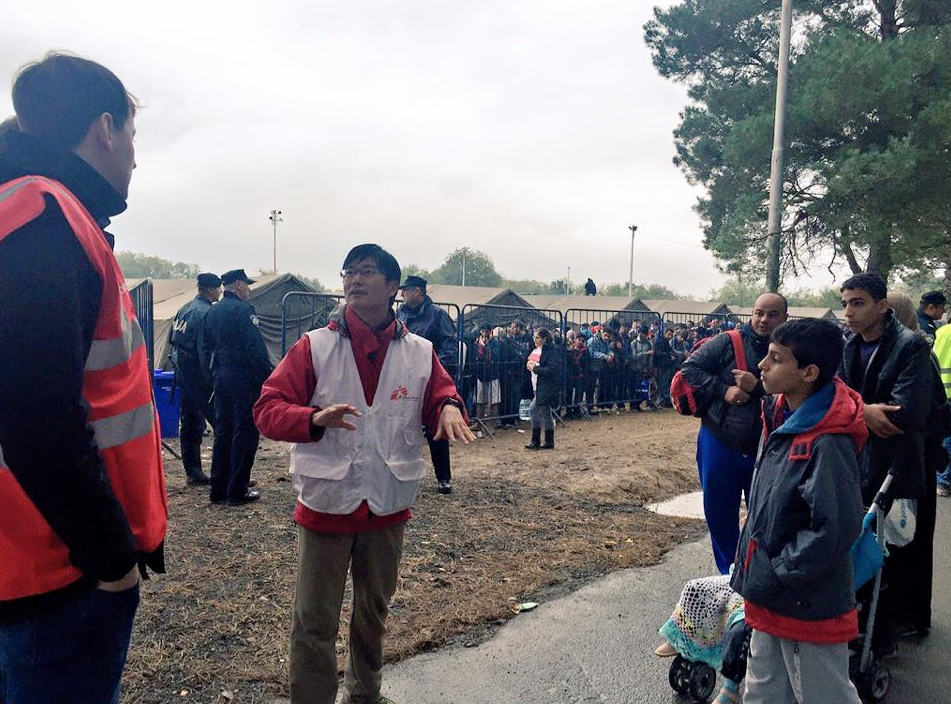 Aid workers work tirelessly to coordinate emergency assistance, including gathering raincoats, blankets and food for refugees.
While we dined, Sat, the coordinator in the area, phoned for emergency kits: raincoats, blankets and food. We were going to need all of it. Everyone went to the cars, which drove us the Bapska border crossing. About 50 buses filled with people were parked in a road. Behind them, there were thousands of people huddled together in army tents. It was raining and it was cold. There was mud everywhere. Refugees had a single blanket, so they had to choose between covering the ground with it or using it to cover themselves. Their worst fears had come true: they were in no man's land, trapped between two borders.
At six in the morning, Croatian authorities managed to restore the new humanitarian corridor, redirecting everyone who was stuck there to the border with Slovenia. The new route was now set.
If I learned one thing from my time there, it was what the job of aid workers was like. The situation may change in minutes and NGOs must work against the clock in coordination with governments. In this case, they had to find out where they were going to lead the refugees, so as to be able to organize medical, legal, translation and humanitarian assistance for all of them.
On Sunday morning, instead of visiting the Croatian border with Hungary, as planned, we went to Bregana, one of the so-called hot zones between Croatia and Slovenia, where on Saturday night a bus with 1,000 refugees crossed the border. We met a team from UNHCR that was preparing for the imminent arrival, in two hours, of another thousand people. Three more border crossings in Slovenia were opened on Sunday morning. The Slovenian government, meanwhile said that their country, which had a population of just two million people, only had the capacity to receive 2,000 refugees per day. In Opatovac alone, there were 5,000 refugees. Today, there are thousands more in Serbia, in the border with Bapska. They are still there, piling up in no man's land.
The European Council, which met last week, wasn't even able to establish a permanent mechanism for refugee allocation quotas. It just approved the distribution of 120,000 refugees, when the reality is that, every week, between 40,000 and 50,000 arrive in Europe. It is a problem that Europe needs to manage. But Member States are turning their heads in breach of international law. If necessary, Europe ought to impose sanctions to ensure the rights of refugees and to guarantee that Member States fulfill their legal obligations.
The fate of the refugees once they have reached their destinations in Europe is still an open question.
This post first appeared on HuffPost Spain and and has been translated into English and edited for clarity.
Images provided with permission by PSC.
REAL LIFE. REAL NEWS. REAL VOICES.
Help us tell more of the stories that matter from voices that too often remain unheard.