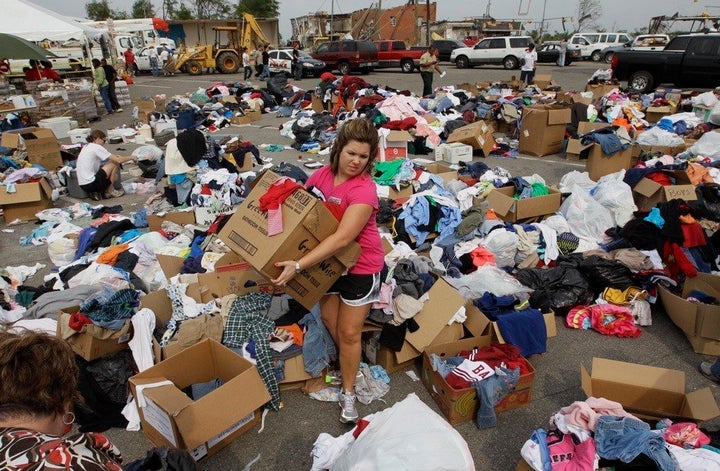 Devastating storms ripped through the southern United States last week, leaving more than 340 people dead and communities crippled in its wake.
Dozens of tornadoes swept across Alabama, Tennessee, Virginia, Mississippi, Georgia and Kentucky.
The hardest hit areas are in Alabama. President Obama visited the state on April 29 to assess the damage and offer support.
Now, in neighboring Mississippi and Louisiana, residents are bracing for massive flooding that will put the region's levee system to the test.
Across the country, Americans are asking how to help Southerners in need. Here at HuffPost Impact, we're assembling a list of information on how to take action, which we will keep updated as the crisis unfolds.
The American Red Cross has opened dozens of emergency shelters for families affected by the severe storms. You can donate online or by calling 1-800-RED-CROSS. To quickly contribute $10, you can text "REDCROSS" to 90999.
Feeding America recommends that people make financial contributions to local food banks, which will use the money to hand out food supplies to survivors. You can use the locator on the organization's website to find food banks in disaster-affected communities.
The Salvation Army has deployed mobile feeding units to tornado-affected communities to provide meals to people in need. You can designate your online donation go to "April 2011 Tornado Outbreak" relief. Funds can also be given over the phone by calling 1-800-SAL-ARMY or texting "GIVE" to 80888 (for a $10 donation).
Governor of Alabama Robert Bentley's office is accepting donations for church and community relief efforts in the wake of the massive storms. Supporters can contribute by credit card or check.
In Mississippi, Governor Haley Barbour has established the Mississippi Disaster Recovery Fund to help locals affected by last week's storms -- and who could be impacted by possible flooding in upcoming weeks. You can donate online or give $10 by texting "MS" to 27722.
Samaritan's Purse is sending teams of volunteers to hard-hit areas in Alabama to offer assistance. Supporters can donate online to help the organization provide aid.
Related
Popular in the Community