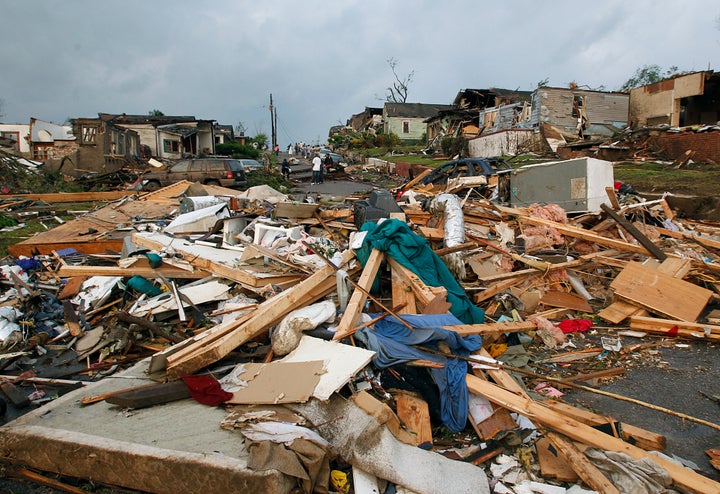 April 28, 2011 12:47:21 AM
BIRMINGHAM, Ala (Reuters) - Powerful storms cut power and knocked out nuclear units as they tore across the southern United States this week, killing at least 25 people, emergency officials said Wednesday.
Governors in Alabama, Arkansas and Tennessee each declared a state of emergency as a result of the heavy winds, rains and tornadoes whose damage could strain state budgets.
Floods were a big concern throughout the storm-hit area, where rain compounded with melted snow to cause rising rivers and saturated soils.
Several states suffered power outages as well as property and infrastructure damage that could prove costly to repair.
The storms caused three nuclear reactors in Alabama to shut and knocked out 11 high-voltage power lines, the Tennessee Valley Authority and regulators said.
All three units at TVA's 3,274-megawatt Browns Ferry nuclear plant in Alabama tripped after losing outside power, a spokesman for the U.S. Nuclear Regulatory Commission said.
Early information indicated the units shut normally and the plant's diesel generators started up to supply power for its safety system, an NRC spokesman said.
In Alabama, strong winds snapped trees across power lines, roads and buildings early on Wednesday, leaving about 245,000 households and businesses without power.
Six people died in the storms that caused most damage as they ripped through overnight, Alabama officials said. In a Birmingham neighborhood, a family was briefly trapped inside their home by fallen trees.
"As I was grabbing my daughter and running to the closet, trees hit the house," said Lisa Hey, who estimated 90 percent of the trees in her neighborhood had fallen over.
In Arkansas, the storms have killed 11 people, according to the Department of Emergency Management. Local officials reported road closures and the partial collapse of a highway.
There were also deaths in Mississippi, Louisiana and Tennessee.
Much of northern Texas, including areas recently charred by wildfires, was also pounded by tornadoes and severe thunderstorms Tuesday night that damaged many homes.
"Numerous homes have been damaged or destroyed," said Lieutenant Chuck Allen, emergency management coordinator in Van Zandt County, located about halfway between Dallas and Tyler.
This week's storms have added to the violent weather that has pummeled much of the U.S. South this month. Two weeks ago, at least 47 people died as storms tore a wide path from Oklahoma to North Carolina. (Additional reporting by Suzi Parker, Jim Forsyth, Leigh Coleman and Tim Ghianni; Writing by Colleen Jenkins; Editing by Laura MacInnis)