Lulu, a member of the UK's only resident orca population, the West Coast Community, was found dead last year on the Isle of Tiree, Scotland.
The issue of persistent organic pollutants, such as the polychlorinated biphenyls that were found in Lulu's body, have rightly captured everyone's attention. With such large quantities of poison in her body, Lulu's health had likely been affected, a factor that is suspected to have contributed to her death. Still, it is important to remember that Lulu's actual cause of death came from another form of pollution entirely.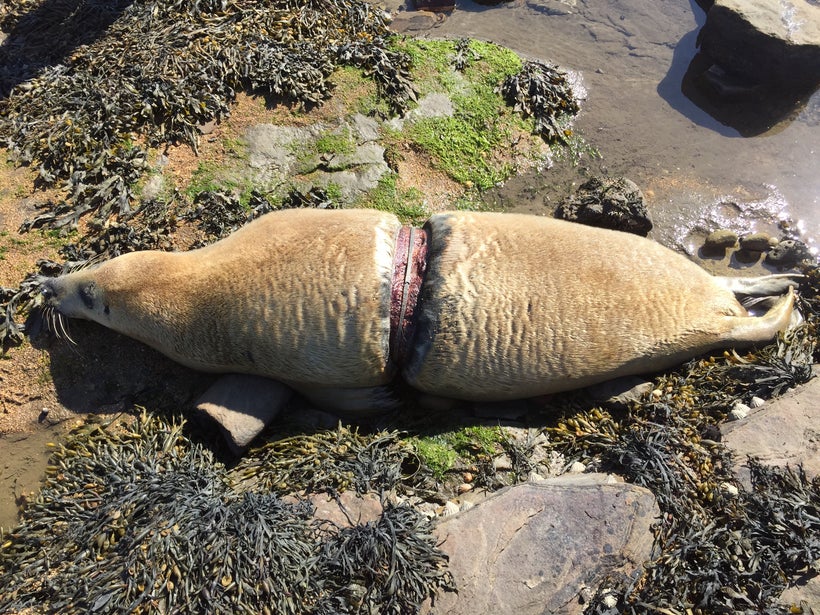 However, as with Lulu, sometimes the damage proves fatal, which was the case for BDMLR's most recent call-out: A young grey seal found entangled in North East England.
"I received a text from BDMLR on Friday the 5th of May at 0952am, asking if anyone was available to assess a large seal at St. Mary's Lighthouse," Richard Ilderton, the North East Area Rescue Coordinator said. "I was there within twenty minutes and found the seal lying on its stomach, with a very obvious band of exposed flesh caused by a thick strip of embedded plastic." It is thought that the seal swam through the plastic packing loop as a small pup, becoming constricted as it grew.
It was quickly apparent to Ilderton that the young male had just died: "After speaking with staff on the island, it seems that I had missed this seal by a matter of minutes." Ilderton admitted to being both sad and angry after seeing another otherwise "healthy animal's life cut short by individuals from our species who are unable to manage their rubbish."
Since he started volunteering for BDMLR in 2003, Ilderton has attended a number of seals who have had fishing line or netting wrapped around them, some resulting in serious injuries.
"One of the first was near Low Newton in Northumberland, with a large amount of material around its neck, cutting into the skin and starting to slice through the blubber," Ilderton recounted. Unlike the seal on Friday, this pup was disentangled, given treatment and later released back into the sea.
As well as freeing a number of entangled seals, Ilderton has also been called out to a maternally dependent sei whale, which stranded in Druridge Bay in 2012. This baby is an example of another threat that plastic poses to marine life. When its stomach was checked, it was found to contain sections of plastic guttering, a small jockey wheel and other plastic debris.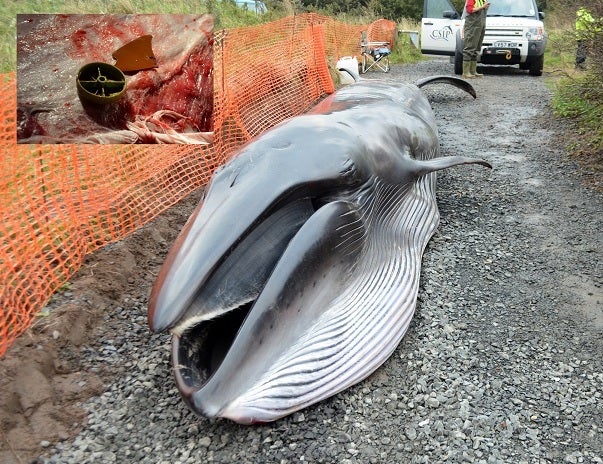 Speaking of the seal from Friday, Ilderton stated, "This is the first time in this area that we haven't managed to treat and free an entangled seal that has been reported to us. Had this seal been spotted sooner, we would have had a very good chance of getting to it and saving its life."
Despite this tragic ending, BDMLR staff are pleased to see that people are being more mindful about proper litter disposal. Based at BDMLR's headquarters, Julia Cable is a Rescue Coordinator for the whole of the UK. Speaking with people living near and visiting coastal areas on a daily basis has left her feeling encouraged: "For all of the harm that is being caused, it is great to see so many people getting involved in beach cleans. We all want to enjoy our beaches and the shoreline, so let's make it a safer place for marine life too."
Calling all HuffPost superfans!
Sign up for membership to become a founding member and help shape HuffPost's next chapter
This post was published on the now-closed HuffPost Contributor platform. Contributors control their own work and posted freely to our site. If you need to flag this entry as abusive,
send us an email
.