Another goat head was found in a New York park. Yes, we said another.
On Monday morning in New York City's Prospect Park, David Rabig was meandering along a wooded trail when his Boston terrier, Leo, sniffed out the still-preserved head, DNAinfo reported.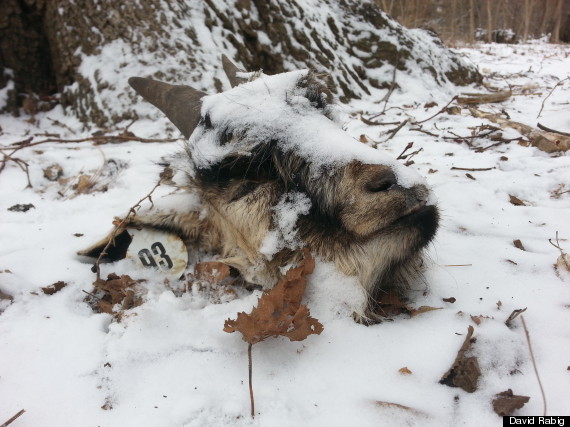 "At first I thought it was a frozen squirrel or kitten. Then I saw the tag and horns and realized what it was," Rabig told the publication. "I would describe my reaction as unsettled."
Rabig alerted a park worker, and said the worker seemed "genuinely scared" and told Rabig not to touch the head.
In a photo taken by Rabig, the goat's head can be seen in freshly fallen snow. A tag on its ear bares the number "93."
The eerie image marks the second time a goat head has been found in the park. Four years ago, the Brooklyn Paper reported on a goat head also found by a man and his dog, just two days after the carcass had been discovered elsewhere in the park.
Decapitated goats have popped up in various locations over the years, and are generally assumed to be part of Santeria rituals—animal sacrifice often commemorates "life events" like birth, marriage and death. While it is constitutional for practitioners of Santeria to sacrifice animals, the law requires remains be properly discarded, which does not mean flinging them on the ground for discovery by area children chasing soccer balls or couples posing for wedding photos.
An unnamed employee at the park told DNAinfo that along with the goat heads, dead animals including chickens and dogs have been dumped in the area.
"I remember back in the 80s we had to get a dog out of the lake," the employee said. "They just dumped the head. We never found a body."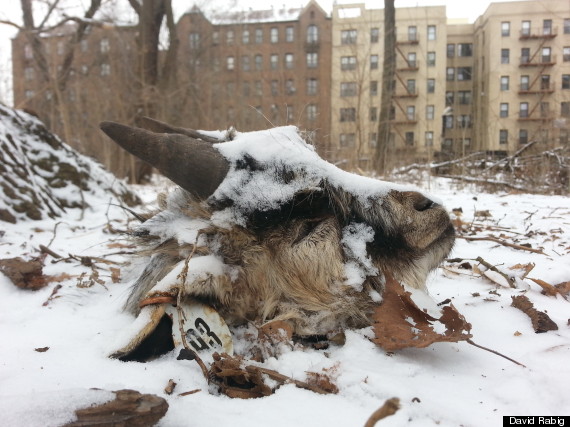 Calling all HuffPost superfans!
Sign up for membership to become a founding member and help shape HuffPost's next chapter
BEFORE YOU GO
PHOTO GALLERY
Animals In The News