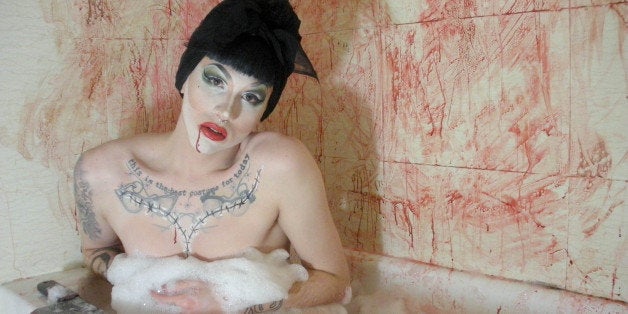 This is the twenty-first installment in an ongoing series that explores drag culture and the nightlife scene in Brooklyn, N.Y. Over the past several years, following the large-scale exodus of artists across the East River and into northern Brooklyn, those engaged in drag culture in this outer borough have created a new, queer world entirely their own. Accompanied by a larger movement to understand drag culture outside of the pageant circuit, many individuals engaged in the drag community in this borough approach drag culture through a nontraditional lens of "alternative" drag or performance art, enabled largely by the malleable and queer nature of this part of New York. Visit HuffPost Gay Voices regularly to learn not only about the individuals involved in Brooklyn's drag community, but more about the culture of the community itself.
The Huffington Post: How did you get your start in the drag world?
Severely Mame: I had no interest in drag before I moved to the city, but I was a character. When I got here I met Horrorchata who introduced me to a bunch of great people and I ended up at a Bushwig planning meeting for the first year. Babes Trust was going through the list of performers and said they needed more and told me I was doing it. I told him I'd never performed before and he told me to get it together because my first show was booked.
How would you characterize the kind of drag that you do?
New York City's Pinup Ghoul, Favorite Dead Girl, Most Wicked Witch. All in all, I'm just a creep.
Describe the drag scene and community in Brooklyn -- how is it different from drag culture elsewhere?
There are so many venues and parties in every neighborhood of Brooklyn -- everyone has the chance to try it out. I feel like people's default answer is that we're different and anything goes here but I really don't believe that is Brooklyn specific -- there's ugly drag queens everywhere. Have you seen the Internet? Things like 'Tumblr's Drag Race' happen and that's full of interesting girls that could fit into this idea of Brooklyn drag and live all over the world. I know I couldn't get away with spitting blood all over my audience everywhere, but I also don't think I can get away with that anywhere but my home away from home Don Pedro (where you can catch my weekly horror show every Wednesday).
How do you think Internet culture and platforms, such as Tumblr, have affected the evolving nature of drag culture?
Our characters and personalities have become accessible everywhere -- we have the ability to have a fan base to encourage and motivate us that isn't only the people coming to our shows! Between my Tumblr and Instagram I have a few thousand strangers keeping up with what I do and helping me build Severely Mame into a person that is known beyond just the city I perform in. Not only does it inspire the performers, but it gives future performers and drag queens a place to learn HOW to do it.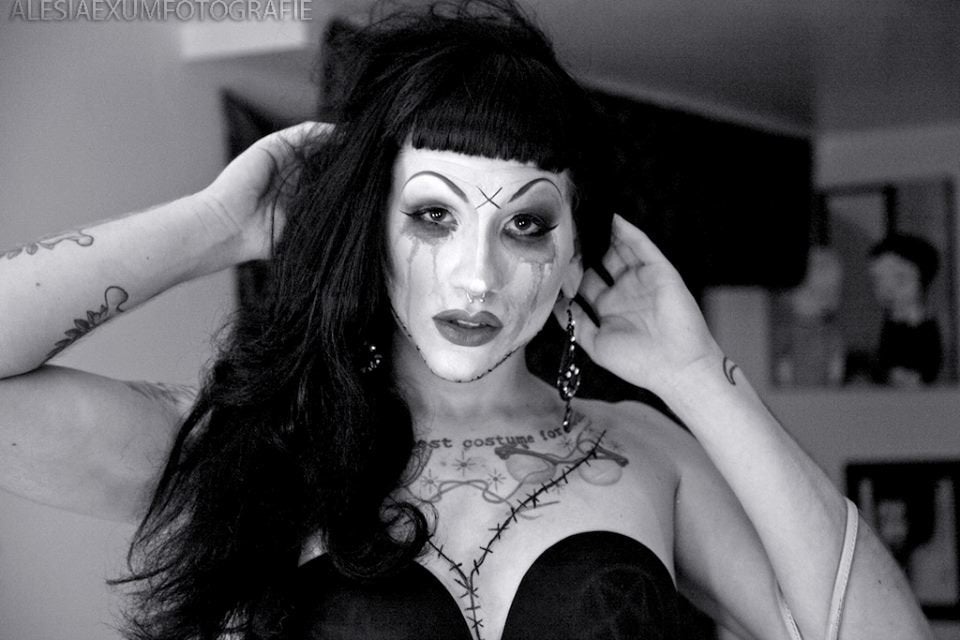 Severely Mame
"...things like 'Tumblr's Drag Race' happen and that's full of interesting girls that could fit into this idea of Brooklyn drag and live all over the world?" -- Why do you feel like so many of the artists and performers fitting a certain aesthetic congregate and have built this Queer New World in Brooklyn?
We are a bunch of creative types all pursuing our dreams in New York, and doing that doesn't always leave you with much money to live off of, which has brought us to Brooklyn. Here we try as hard as we can with the little that we have to do it with. It makes us push our creativity to make something out of nothing, which has now created an aesthetic of its own that has almost become a brand at this point. We are all just doing what we want and trying to engage and entertain our audience.
What does it mean to you to be a drag performer? How do you experience or understand this identity?
It means I get to be the glamour ghoul every little dead boy wants to be growing up. I get all the creative freedom I could ever want. It has given me the means of meeting people I consider idols and even now consider them my friends. I'm constantly inspirited and can act on it while wearing the prettiest (or sluttiest, or bloodiest, or most rhinestoned) dress in the room.
How do you go about planning a look?
If I'm doing a show with a theme I come up with something that is Severely Mame brand but is still fitting to the theme. Severely Mame brand usually has a small waist, because I can tight-lace down to 22 inches (on a good day) or is leggy, and when in doubt put on a big hat or have a reveal under your clothes. And when you're REALLY in doubt, have both. I just wear things I love and make me feel like prettiest dead girl the world has ever seen. I have a lot of freedom to do that here in Brooklyn.
Where does your name Severely Mame come from?
My two biggest dragspirations are Rosalind Russell as Auntie Mame, and Maila Nurmi as Vampira. After I had no say in being booked for Bushwig my friend and costume maker Holden Bucy and I were trying to figure out what I was going to go as because at that point I was just being called "Holden Daughter" at parties. So from there we used my dragspirations to get Severely Mame, playing off Auntie Mame and seriously wounding a person.
Where can you be found throughout the week?
Every Monday I can be found at Don Pedro in Brooklyn for Macy Rodman's show BathSalts, along with our talk show, Salty Talk, earlier in the night. Wednesdays are a horror show at Don Pedro for my party Scream Queen. We show a horror movie at 10:00 and have a whole vaudeville spookshow at Midnight! You can also catch me booking your hair appointments at Mudhoney Hair Salon every Friday and Saturday!
Any parting words?
Unpleasant dreams.
Missed the previously featured drag performers and installments in this series? Check out the slideshow below.
Before You Go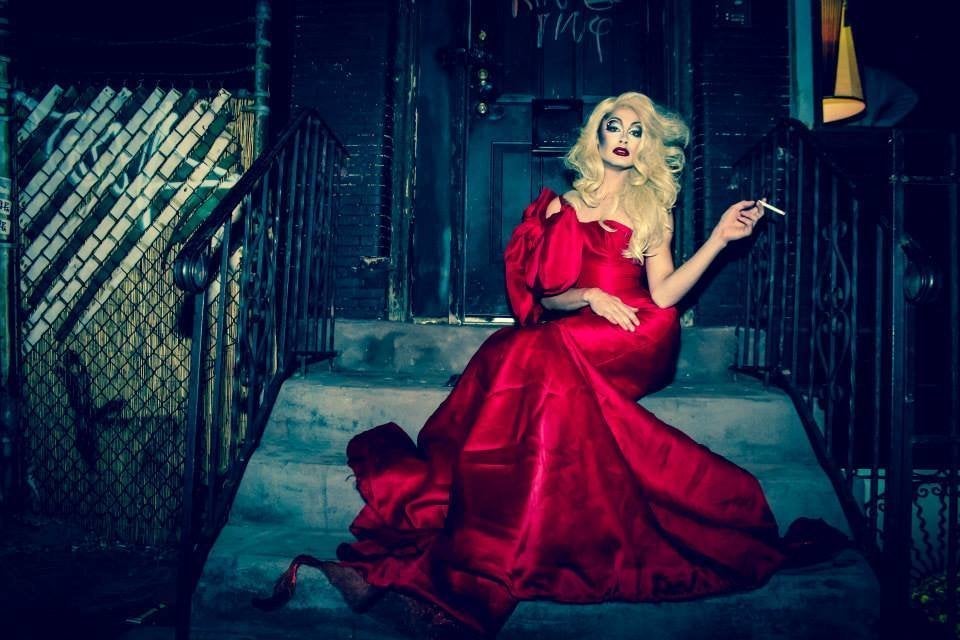 Queer New World: Brooklyn Drag Culture
Popular in the Community