Updating the flamenco scene in Sevilla for my Spain guidebook, I had the occasion to pop into concerts in five different venues in town. Sevilla is the best city in which to experience flamenco. While the concerts are designed for tourists, they are real and riveting, and a great value. Here's my latest report on the much-changed flamenco concert scene in Sevilla:
In Sevilla, you basically have three flamenco options: serious -- yet still touristy -- flamenco concerts, where the singing and dancing take center stage; even more touristy shows that have a bar and/or food (scurrying waiters can distract from the performers); and -- least touristy -- casual bars late at night, where you can catch impromptu or semi-impromptu musicians at play.
Serious Flamenco Concerts
While it's hard to choose among these three nightly, one-hour Flamenco concerts, I'd say enjoying one is a must during your Sevilla visit. To the novice viewer, each company offers equal quality. They cost about the same, and each venue is small, intimate, and air-conditioned. For most, they are preferable to the "shows" listed later; compared to those, these options are half the cost, half the length, half the seats, and earlier in the evening. (While you can hear flamenco for free in various bars around town -- also described later -- that scene ignites very late.) My recommended concerts are careful to give you a good overview of the art form, covering all the flamenco bases. At each venue, you can reserve by phone and pay upon arrival, or drop by early to pick up a ticket. While La Casa del Flamenco is the nicest and most central venue, the other two have exhibits that can add to the experience.
Casa de la Memoria is a strangely wide venue (just two rows deep), where everyone gets a close-up view and room to stretch out (€16, nightly at 19:30 and 21:00, no drinks, no children under 6, 80 seats, Calle Cuna 6, tel. 954-560-670, www.casadelamemoria.es, flamencomemoria@gmail.com, run by Rosanna). Their exhibit is one easy, well-described floor, with lots of photos and a few artifacts (€3, or free with concert ticket -- but only open 10:00-18:00).
The Flamenco Dance Museum, while the most congested venue (with 115 tightly packed seats), has a bar and allows drinks, and you can visit the museum immediately before the show. It's festival seating. The doors open at 18:00, allowing you to grab the seat of your choice and spend an hour touring the museum, and enjoy a drink before the show (€20, nightly at 19:00; €24 combo-ticket includes the museum and a show; 10 percent discount off museum, show, or combo-ticket with this book; Manuel Rojas Marcos 3, about 3 blocks east of Plaza Nueva, tel. 954-340-311, www.flamencomuseum.com).
La Casa del Flamenco is in a delightful arcaded courtyard right in the Barrio Santa Cruz (€18, nightly at 21:00 April-Sept, 19:30 Oct-March, no drinks, no kids under 6, 60 spacious seats, the reception at the adjacent hotel serves as the box office, tel. 954-500-595, Ximénez de Enciso 33).
Razzle-Dazzle Flamenco Shows
These packaged shows can be a bit sterile -- and an audience of tourists doesn't help -- but I find both Los Gallos and El Arenal entertaining and riveting. While El Arenal may have a slight edge on talent and feels slicker, Los Gallos has a cozier setting, with cushy rather than hard chairs -- and it's cheaper.
Los Gallos presents nightly two-hour shows at 20:15 and 22:30 (€35 ticket includes a drink, €3/person discount with this book in 2014 -- but limited to two admissions, arrive 30 minutes early for best seats, noisy bar but no food served, Plaza de la Santa Cruz 11, tel. 954-216-981, www.tablaolosgallos.com, owners José and Blanca promise goose bumps).
Tablao El Arenal has arguably more professional performers and a classier setting for its show -- but dinner customers get the preferred seating, and waiters are working throughout the performance (€38 ticket includes a drink, €60 includes tapas, €72 includes dinner, 1.5-hour shows at 20:00 and 22:00, near bullring at Calle Rodó 7, tel. 954-216-492, www.tablaoelarenal.com).
El Patio Sevillano is more of a variety show, with flamenco as well as other forms of song and dance. While hotels may recommend this, they're just working for kickbacks. I like the others much better.
Impromptu Flamenco in Bars
Spirited flamenco singing still erupts spontaneously in bars throughout the old town after midnight -- but you need to know where to look. Ask a local for the latest.
La Carbonería Bar, the sangria equivalent of a beer garden, is a few blocks north of the Barrio Santa Cruz. It's a sprawling place with a variety of rooms leading to a big, open, tented area filled with young locals, casual guitar strummers, and nearly nightly flamenco music from about 22:30 to 24:00. Located just a few blocks from most of my recommended hotels, this is worth finding if you're not quite ready to end the day (no cover, €2.50 sangria, daily 20:00-3:00 in the morning; near Plaza Santa María -- find Hotel Fernando III, the side alley Céspedes dead-ends at Levies, head left to Levies 18, unsigned door; tel. 954-214-460).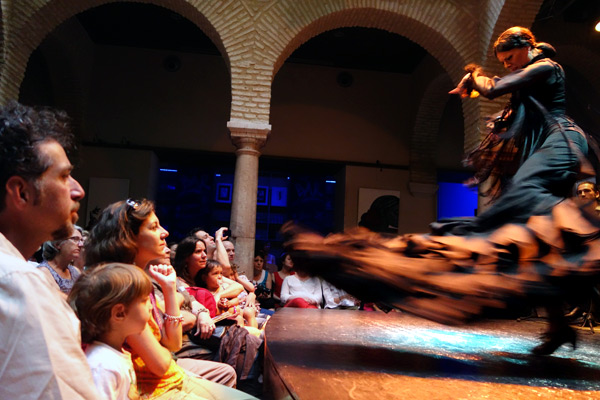 Sitting in the front row of an intimate concert venue with a powerful and intense performance going on, I found myself watching the little children (also in the front row). It helped me experience the dancer -- towering, in black, with a demonic expression on her contorted face, long fingernails making her outstretched arms seem even longer and more able to take me into her grasp -- from the perspective of the toddlers in the audience. Terrifying.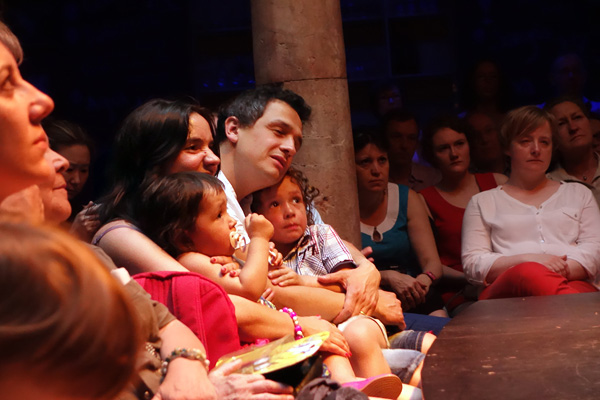 Parents bringing their children to a flamenco concert do more comforting than actually focusing on the music and dance. These children were terrified by the performance.