Singer-songwriter Sevyn Streeter was scheduled to sing the national anthem at the Philadelphia 76ers season opener on Wednesday. She never did, she said, because the team didn't approve of her shirt, which read "We Matter."
"I'm at the 76ers game to sing the national anthem, and the organization is telling me that I can't because I'm wearing a 'We Matter' jersey," she said in a video posted to her Twitter page.
Streeter, who has written songs for artists including Usher, Ariana Grande and Alicia Keys, later said that she was only told her shirt was unacceptable a few minutes before she was set to sing. A source told Fox News' Lauren Dawn Johnson that the Sixers offered alternative outfits, which Streeter refused, since she was never "given any kind of dress code," she said.
"I was angry, extremely, extremely angry, and disappointed and honestly brought to tears by all of it. It broke my heart,'' she told the Associated Press. "Honestly, I was very excited about being able to perform the national anthem. I was really looking forward to that."
Streeter said that she believes "we live in the greatest country in the world, but there are issues that we cannot ignore."
"I ... felt it was important to express the ongoing challenges and ongoing injustice we face as a black community within the United States of America," she added.
In a statement provided to USA Today Sports, the 76ers did not deny Streeter's claim, rather saying they hoped to move "from symbolic gestures to action" when it comes to enacting social change:
The Philadelphia 76ers organization encourages meaningful actions to drive social change. We use our games to bring people together, to build trust and to strengthen our communities. As we move from symbolic gestures to action, we will continue to leverage our platform to positively impact our community.
Just as the football field has become an arena for social protest this year, so has the national anthem at NBA games. Earlier this month at a preseason game between the 76ers and Miami Heat in Miami, singer Denasia Lawrence wore a "Black Lives Matter" shirt and knelt during her rendition of the national anthem.
Related
Before You Go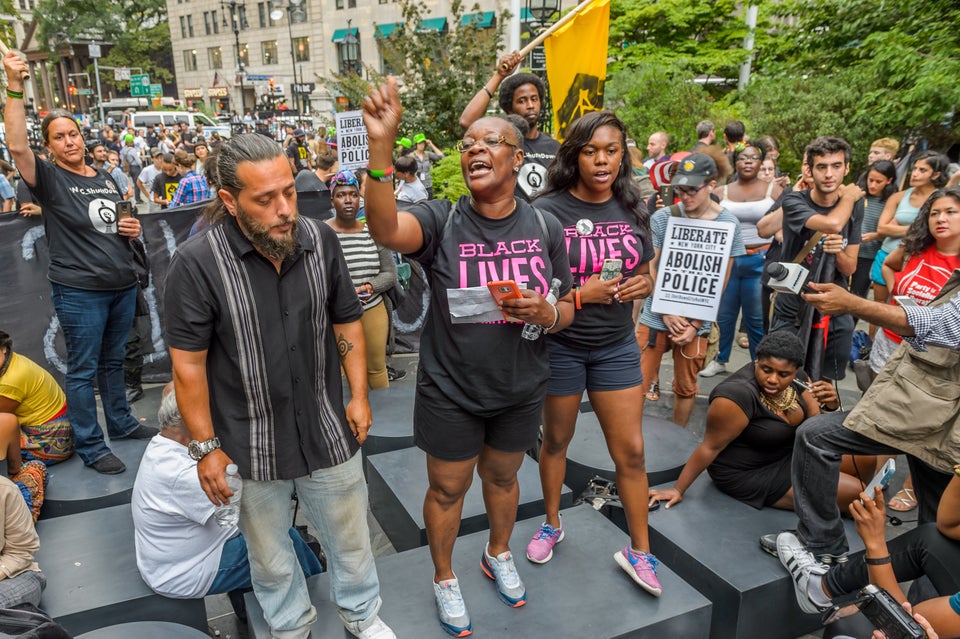 6 Times Black TV Shows Tackled Racial Profiling and Police Brutality
Popular in the Community