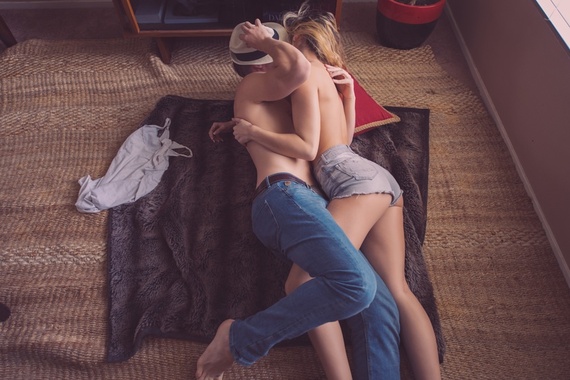 I am going to come out and say that if my husband had it his way, we would be having sex at least five times a week. But that is just crazy if you ask me. We have two small kids and have hectic crazy lives. By the time the kids are asleep often times the last thing I want to do is have sex.
So how do we meet in the middle? Here are a few ideas to help your marriage out.
1. Take care of you
I get it, taking care of you does not seem like it will lead to more sex or even more drive. But as we get older and push out a few kids our bodies change drastically. Exercising, eating nourishing, nutritious foods, getting enough sleep (LOL) helps us feel good about ourselves. And feeling good and confident in our bodies leads to more energy and energy often leads to sex.
2. Think outside the "sex in the bedroom" box
Try locking yourselves in the bathroom for a quicky in the morning while the kids destroy their rooms trying to get dressed. Sneak away at a party and have sex in your car. Get down in the kitchen after the kids are asleep. Get creative and see what happens.
3. Plan playful date nights
Each month, try alternating the planning of date nights. Try to be as playful as possible when it's your turn to plan. Try live music, bowling, rock climbing... have fun!
4. Listen and pay attention to your desires
We all have desires. Some are more hidden than others. Getting clear on your desires and needs can lead to more intimacy with your partner. When you have some alone time, take a few moments and ask yourself what you want in the bedroom. It is something most women are too embarrassed to do, but give it a shot. You might be pleasantly surprised.
5. Be okay with saying no
We as women can feel SO guilty when we turn our partners down. Do your best to get over it, but pay attention to patterns. If you find yourself saying no more often than saying yes, it might be time to do some reflecting.

Andi Wickman is a mentor, certified life coach, certified holistic coach, hand holder, lifter-upper of moms who want to live a more energetic, HOT life. She helps mamas feel more confident in their lives, bodies and relationships so they can be more present, caring parents and humans. (And so they can really enjoy the heck out of life for a change!)