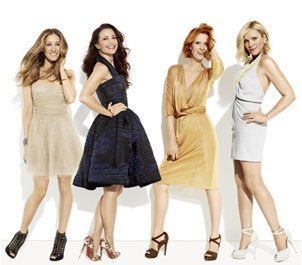 Sarah Jessica Parker covers the June Marie Claire, and inside she and her 'Sex and the City 2' costars pose for a photo shoot and talk about their much-discussed relationship with each other.
"When you're on set, you're working 90-hour weeks, you're never home, you're exhausted," SJP told the magazine. "There are times when all of us have been sensitive, and sometimes feelings get hurt. But I don't have any regrets about how I've treated people."
Kim Cattrall said the drama between the women has been overplayed and "the chemistry among the four of us is very strong."
"Because the press has to put women in these boxes, rather than show them as the movie portrays them: working together and being powerful," she said. "Things just have to be explosive for no other reason than for people's imaginations."
Kristin Davis agrees that stories of infighting have exaggerated.
"There was a very strange piece in one of the tabloids that said Kim and I would eat in the restaurant of our hotel and not sit together, which cracks me up," she said. "When I would get back from the set, I would go to the gym and get room service. I'm not a put-on-decent-clothes-and-go-to-the-hotel-restaurant person, but Kim is. The story was that we don't like each other. Ridiculous!"
Cynthia Nixon admits there has been some trouble between the costars but nothing serious.
"It hasn't always been smooth sailing," she said. "But the idea that we're somehow adversarial is ludicrous."
Calling all HuffPost superfans!
Sign up for membership to become a founding member and help shape HuffPost's next chapter