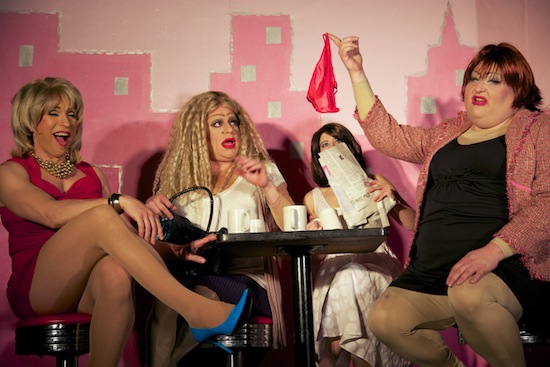 (Drollinger, Heklina, Carr and Bear, Photo By Circus Boy)
Remember when everyone thought Sex and the City was the hottest thing on cable television? People described it as racy, hilarious, and daring. As the years have gone by and I see this show, I realize there is a lot of judgment in Sex and the City; this show was slut shaming, sex shaming and not really all that open minded at all.
Sex and the City, in case you've been living in a tunnel without cable or Hulu, was a show based in New York City about four single women. Carrie Bradshaw, played by Sarah Jessica Parker, Samantha Jones, played by Kim Cattrall, Charlotte York played by Kristin Davis, and Miranda Hobbes played by Cynthia Nixon. Bradshaw's character wrote a column on dating in New York and what presents as a fast, feminist and sex-loving bunch. In reality, it is four insecure women, with only one character, Jones, feeling really comfortable with her sexuality and feeling good about herself doing it.
So, while I carry no nostalgia for this show, other than the couture clothes and exquisite shoes these women wore, it means I wouldn't mind seeing it reimagined. When I found out Trannyshack was taking on Sex and the City in there own unique way, I knew I needed to see it all unfold. If you are familiar with Trannyshack, then you have been introduced to their particular kind of comedy. They are a physically comedic crew and they truly give lives to the characters that they play, with all of the movement that comes along with them.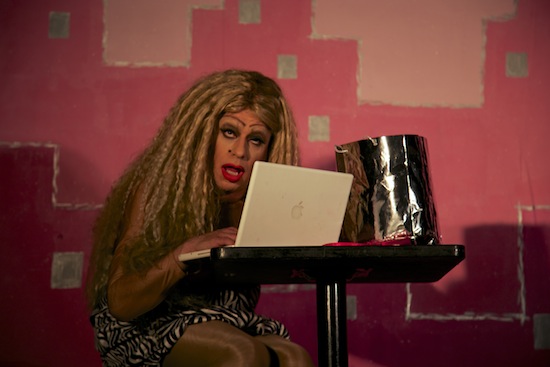 (Heklina Photo by Circus Boy)
Heklina plays Carrie Bradshaw with comic ferocity. Her facial expressions are vapid, she is whiny and self-involved. From the hairstyle that captures Carrie Bradshaw's untamable curls, to the never ending complaining about Mr. Big, Heklina is a delight to watch: "We liked the idea of Sex and the City, because as far as we know, there has been no other drag interpretations of it, and that's kind of shocking because it's so ripe for drag interpretation, with the fashion and with the sex. I find it fun to make fun of the character Carrie Bradshaw, being really neurotic, never happy with anything." says Heklina.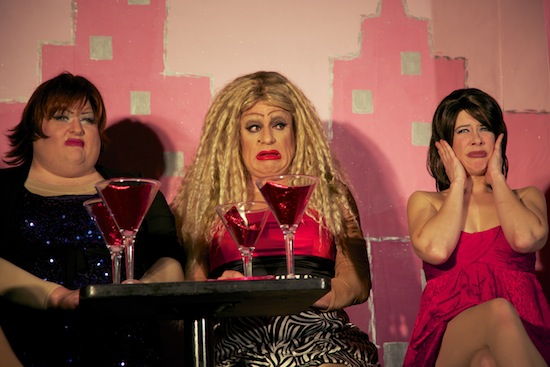 Bear, Heklina and Carr, Photo by Circus Boy
Trixxie Carr is the demure Charlotte York. "I did see the show and I loved it when I did, but I love making fun of it even more" says Carr. And make fun of it they do. Lady Bear plays lawyer Miranda Hobbs, but there was no love lost for Bear. "I was definitely not a fan of the show, so I love to poke fun at it" says Bear. Both Carr and Bear were hilarious and ruthless with their interpretations of Charlotte and Miranda.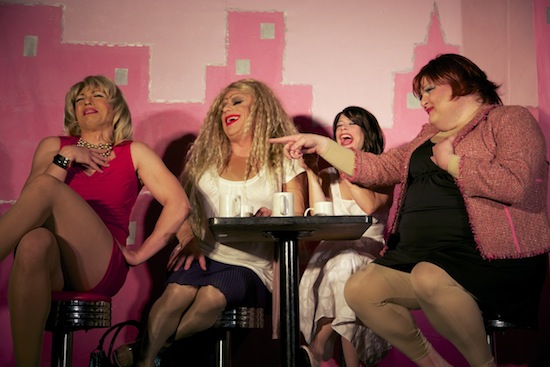 (Bear, Heklina and Carr, Photo by Circus Boy)
Now when it comes Samantha Jones, you need a person who can be confident, but bordering on narcissistic -- sexy, sexually confident and above all else, funny. D'Arcy Drollinger knocks it out of the park as Jones. Her timing, her clothes, expressions and hilarity mixed with all the sex she is simulating on stage made for the best sort of spectacle. "People are so passionate about this show, we straddle the line of mocking the show and embracing the show at the same time" says Drollinger.
One of the things I loved about the play is that the sex scenes are made to be more humorous than dirty. I wont give away how the Trannyshack version has a way of dealing with the sex scenes in a unique and hilarious way, but you find yourself laughing hysterically when you see how they make it work. Sex and the City by Trannyshack, will be running open ended at the Rebel Bar on Market Street. For tickets visit the website.
Calling all HuffPost superfans!
Sign up for membership to become a founding member and help shape HuffPost's next chapter