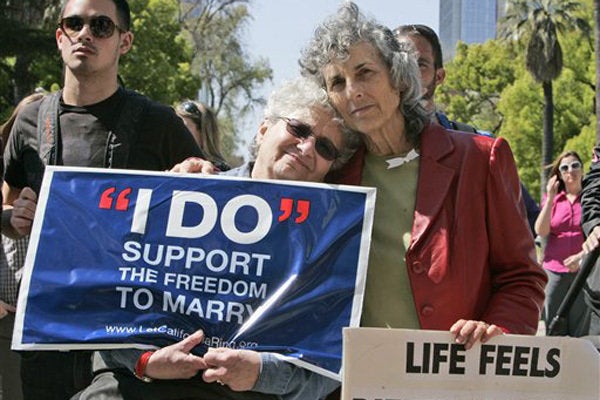 On Friday, the Evangelical Lutheran Church in America voted by a substantial margin to affirm the ministries of gay and lesbian clergy in "committed, lifelong, same-gender relationships." In the words of my colleagues at the ELCA, the vote means "ending the discriminatory two‐tier system of the past and holding all ministers to the same high standard in their relationships."
This action by the ELCA is the latest in what so far has been a stunning year for LGBT equality in the life of the Protestant churches. Earlier this summer, the Episcopal Church approved a host of resolutions affirming the consecration of openly gay and lesbian bishops, supporting transgender civil rights, providing pastoral support for blessing same-sex marriages and unions, and creating new liturgical resources for same-sex ceremonies. In the spring, the Presbyterian Church USA narrowly defeated a measure that would have permitted the ordination of openly gay and lesbian clergy, yet the vote revealed a notable shift in favor of equality.
At the ELCA convention, the vote to approve partnered gay and lesbian clergy followed the adoption of a new social statement, Human Sexuality: Gift and Trust. Significantly, the statement not only upholds the equality and dignity of lesbian and gay persons as individuals, but of lesbian and gay persons in relationships. It comes close to sanctioning same-sex marriage before pulling back. "At this time this church lacks consensus on this matter," the statement reads, but it is clear where Lutheran theology and practice are heading.
All of this is excellent news for same-sex couples, of course, but the emphasis on "committed, lifelong relationships" leaves out the single minister, the divorced minister, the widowed minister -- whether gay, straight, or bisexual -- who must still adhere to a standard of celibacy unless their partner status changes.
I've long believed that the major sexuality problem denominations face is that they are unable to acknowledge that celibacy until marriage doesn't apply to most single adults. There are more than 75 million American adults who are single -- more than at any time in history. We are marrying later, divorcing at high levels, and living longer, so more of us will be widowed. And as a whole, we're having sexual relationships when we aren't in marriages.
The ELCA has joined other denominations in confirming that it wants its clergy coupled for life -- or sexless. But just as the prohibition on gay and lesbian clergy in relationships didn't work (but merely drove people in relationships underground), I'm guessing that a lot of single clergy aren't giving up sex, either. Further, an inability for clergy to live authentically open sexual lives may actually fuel misconduct and inappropriate behavior. It makes sense to require that clergy not engage in sexual relationships with congregants; it does not make sense to ask them to give up adult sexual lives outside of the congregation.
The Religious Institute has long called for a new sexual ethic to replace the traditional "celibacy until marriage, chastity after." This new ethic is free of double standards based on sexual orientation, sex, gender or marital status. It calls for sexual relationships to be consensual, non-exploitative, honest, pleasurable and protected, whether inside or outside of a covenanted relationship. It insists that intimate relationships be grounded in communication and shared values.
And it applies to all adults -- even those of us who are called to ministry.

Related