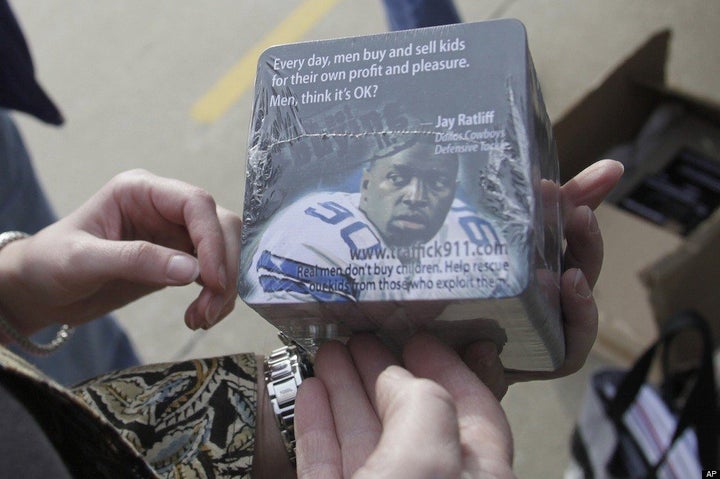 Sunday's Super Bowl seemed to be on everyone's mind, lips, and fingertips for weeks before the game. There were the commercials; there was Brett Keisel's beard; there were not the Jets (reports this Massachusetts native). But there was also a darker -- though hotly debated -- side to the celebration of athletic talent, strategy, and beer: the trafficking of women and young girls to satisfy the demand for paid sex.
Leading up the event, some activists and officials warned that human traffickers, seeing an economic opportunity in the sporting event, were trafficking hundreds or even thousands of women to the area surrounding Cowboys Stadium in Arlington, Texas for the big game. There was a "looming potential explosion of human trafficking around the Super Bowl," according to Texas Attorney General Greg Abbott, Newsweek reported. Abbot told USA Today that the Super Bowl is "commonly known as the single largest human trafficking incident in the United States." Hoping to discourage demand for paid sex, an organization named Traffick911 launched the "I'm Not Buying It Campaign", enlisting stars like Dallas Cowboys' Jay Ratliff to proclaim, "Real men don't buy children. They don't buy sex."
Whether or not events like the Super Bowl trigger an enormous influx of trafficking victims is hard to determine. (Last year, Tampa authorities took in 24 children who had been trafficked to the city for sex work, according to Newsweek.) But we do know one thing for sure: there is human trafficking in Texas. In fact, it happens in every state, in areas rural and urban, within the U.S. and from abroad, according to law professor Bridgette Carr, director of the University of Michigan's Human Trafficking Clinic.
"One of the questions we hear over and over again in our work is, 'does human trafficking happen in my community?'" Carr says. "The answer, almost always, is: Yes it does."
Last week, Carr's Human Trafficking Clinic announced the release of the nation's only comprehensive online database of human trafficking cases, a project that's been in the works for years. "The clinic would receive calls from lawmakers, journalists and citizens from around the country asking about the prevalence of human trafficking or how to frame a specific case," Carr explained. Since there was no good central source, the clinic decided to create it.
The main goal was to maintain a database of all state and federal human trafficking cases, both criminal and civil, within the United States, since 1980. Searching for these cases required creativity, since not all prosecutors use the actual word "trafficking" -- in some cases charging other elements of the larger crime, such as assault or kidnapping. But that in itself can be useful to some of the database's intended users, Carr explained. "We have found prosecutors are sometimes reluctant to move forward on a human trafficking case unless it is the most extreme type of trafficking."
She says she was inspired to create the database in part to highlight alternative, but effective, ways to prosecute human trafficking cases. An example? Charge a pimp who tattoos underage girls with assault if there are good reasons not to bring human trafficking charges. "This way instead of requiring a victim to testify against her pimp" -- which can often result in re-victimization -- "the tattoo itself is the only evidence needed to convict" the pimp of a crime, she explains.
Carr contends that the justice system has long had the tools to prosecute those who traffic human beings -- even before there was a trafficking law under which to prosecute them. "I hope the database helps law enforcement, decision makers, and prosecutors realize this crime, while horrific, is not extremely unique or exotic," she writes. "We have known how to fight the elements of human trafficking for a long time. I want law enforcement to see the trafficking law as an extra tool to combat this crime, not the only tool."
So far, Carr's Human Trafficking Clinic has gathered about 150 cases -- more than a dozen in Texas -- and they're adding new cases each week, according to Jason Burns, a clinical fellow at the clinic. Carr and other experts agree that the database does not show the full extent of the problem. "Although identifying the exact number of trafficking victims in the United States is extremely difficult, any reasonable estimate would likely be in the tens of thousands," she writes in an email response to questions. "Traffickers often target victims from marginalized or vulnerable groups -- for example, undocumented workers or minor children -- who are susceptible to intimidation and who are less likely to seek help from law enforcement. This means that too often trafficking goes unrecognized and unreported."
Ambassador Luis CdeBaca, who leads the U.S. State Department's efforts against human trafficking, applauded the clinic's effort. "The University of Michigan's human trafficking database is a critical advance in the fight against modern slavery," he said, according to the law school's press release. "Whether a practitioner or a policy maker, an advocate or academic -- the work of all modern abolitionists will benefit from this compendium."
Carr hopes the database will also provide a resource to advocates, journalists, and citizens who wonder whether modern-day slaves can be found in their communities. That includes the Dallas area, where the Packers bested the Steelers on Sunday.
Take, for example, the case of a fourteen-year-old runaway who met Stephen Lynn Buggs in a Dallas bus station in November 2005. After Buggs gave the young girl a false identity indicating she was 23, he got her a stripping job and pimped her out on the streets of East Dallas. A couple months later, to punish her for talking to another pimp, Buggs tied her up in a closet after beating her with a statue and a beer bottle. The girl was never taken to a doctor, and instead treated her wounds with ointment and ibuprofen. Telling Buggs she was going to the store, she finally escaped to her mother, who called the police the next day. A Dallas county judge ultimately sentenced Buggs to 900 months in prison for human trafficking.
Or there's the case of Elian Jud Ramos, who in 2006 pleaded guilty to trafficking charges after he smuggled two Guatemalan women through Mexico to Hidalgo County, Texas where he withheld wages for domestic servitude and work in a daycare facility, threatening the women with jail and outing them to immigration enforcement if they complained. One victim worked more than 20 hours a day in Ramos' home. A jury found Ramos guilty of trafficking one of the victims after they escaped through a bedroom window and contacted the police.
Then there's the heartbreaking case of Isela Marquez Campos, who was smuggled from Mexico to be a domestic servant for two Texas brothers, Octavio and Joe Lozoya. The Lozoyas held Campos in a filthy trailer and abused her young child. When the 21-month-old toddler collapsed, no longer breathing, the brothers would not allow Campos to seek medical care. After the baby died, the brothers burned its corpse. Acting on a tip, the FBI rescued Campos in 2000. The brothers were later convicted of conspiracy charges and for harboring an illegal alien with death resulting.
Whatever the numbers, and whether or not the Super Bowl is indeed a sex trafficking magnet, the newly released Michigan database reinforces the fact that human trafficking is a crime that affects very real, often very vulnerable, people. And it's a crime which law enforcement, advocates, and lawmakers confronted long before -- and will confront long after -- Sunday's game.
Related
Popular in the Community