Talk about a hardened criminal.
An English man and woman allegedly trespassed into an apartment last weekend and were caught having sex, a surprised resident said.
The owner of the bedroom, 24-year-old Sean Thorne, happened to be away for the evening, but his housemate Chris Sawyer, 27, was not. Sawyer and four friends who were staying the night awoke to the unmistakable noises coming from Thorney's bedroom. Sawyer announced the inevitable conclusion on Twitter:
Cribb also admitted that it was he who accidentally didn't lock the apartment in the borough of Hackney in the first place.
The men filmed the entire ordeal, resulting in a video that climaxes with the embarrassed -- and drunk -- man and woman exiting the bedroom.
Skeptics are speculating that the whole thing is a hoax, and that the men's failure to call police indicates the sex burglary was just a set-up.
On the other hand, maybe Sawyer, Cribb and their friends just didn't think the couple deserved to have charges pressed against them: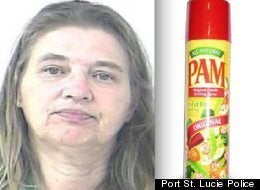 Bad Sex
Popular in the Community