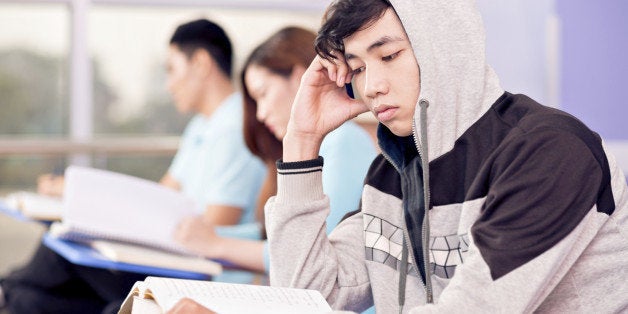 How did you learn about sex and relationships? At home? In school? The playground? From the internet?
For millions of young people across the world, sexuality education - if it happens at all - will be too little, too biological and too late.
There's plenty of evidence in the education sector found that high quality, comprehensive sexuality education (CSE) is a win-win intervention - it builds confidence, develops positive self-esteem, encourages healthy behavior and the type of critical thinking that can last a life-time.
So why is sexuality education for so many as case of too little, too late and too biological?
IPPF's new report 'Everyone's Right to Know - delivering comprehensive sexuality education' shows just how CSE is critical for young people. We already know it's cost effective (and cost-saving in health terms) for governments... but what has been overlooked is the importance of CSE in the lives of the young people themselves.
Everyone's Right to Know shows that CSE must be delivered both in and outside of school, and crucially, it must be broader in focus than just avoiding risk and unintended pregnancies - it should encompass consent, building healthy and respectful relationships, good sexual health and protecting potentially vulnerable people from harm.
Teaching young people to acknowledge and respect other people's personal boundaries can help create a society where no one feels ashamed to willingly engage in, or to reject, sexual activity. Good quality education on consent should strive to support young people to do all these.
Timing is vital. Adolescence is a critical, transformative time in anyone's life, but all the evidence shows that CSE needs to start earlier than that. Many young people are already sexually active by then, and need information and services that meet their sexual and reproductive needs.
We know that there is a lost generation of young people who are deprived of the opportunity to go to school. 124 million aged 6-15 had either never started school or dropped out. In Zambia for example only 35% of young women attend secondary school, and only 38% of young men.
How do we reach the most vulnerable and marginalized young people?
The good news is that non-formal sexuality education, delivered through for example, peer educators and youth clubs, are delivering some of the most innovative and effective programmes.
Peer educators have greater freedom to design session tailored to the reality of young people's lives, developing critical thinking and questioning skills away from the traditional classroom culture. Non-formal settings can spark innovation from which formal educators can learn.
Grass roots organizations like IPPF's member associations know how to translate international guidelines to local settings and to the needs and wants of the young people we work with. To reach the most vulnerable groups, we trained almost half a million peer educators in CSE.
One innovative example is our member in Pakistan which runs a training programme for out of school youth. They use street theatre to tackle specific issues such as early marriage and engaging men and boys as partners in addressing sexual violence. They are successful because the sessions are designed and owned by young people, for young people.
Young people with disabilities are another particularly vulnerable group. There's a common misconception that sexuality should not be an issue for people with learning disabilities. But it is, of course.
Denying CSE to young people with learning difficulties leaves them unnecessarily vulnerable to abuse.
Our member in Macedonia is showing how imaginative CSE - coupled with a parallel programme for parents - can equip people with learning difficulties with the tools they need to defend themselves against abuse, become more independent and distinguish between friendship and sexual relationships.
There has been more investment in school-based CSE globally in recent years, and now we need to reach the increasing numbers of marginalized young people who are not in formal education with the same level of commitment and investment.
The key recommendation from our report is that governments, health providers, educators, civil society organizations and United Nations agencies should design and implement high quality sustainable CSE programmes that go beyond an exclusive focus on health outcomes and rather address the full spectrum of young people's sexual and reproductive lives. We won't meet the health, education and gender-related targets in the Sustainable Development Goals without this groundwork.
Today's is the largest ever generation of young people. We owe it to them to make sure everyone - in school or out of school - can learn the facts about their sexual health and reproductive rights - not only to avoid harm, but to build the foundations of healthy, happy relationships.
Support HuffPost
The Stakes Have Never Been Higher
Related
Popular in the Community