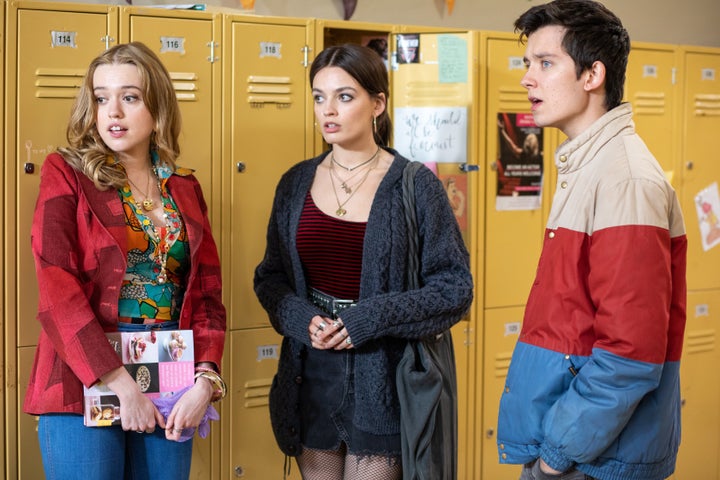 What's up: Netflix's "Sex Education" is a comedy about high schoolers going through puberty. In a vague United Kingdom setting of beautiful Welsh forests and green hills, the teens experience emerging sexual desires while trying to make friends and figure out their place in the world. The main teen protagonist is the son of a sex therapist and shares the knowledge he's learned from his mother with his sex-curious classmates.
The story focuses on the core friendship between the protagonist, Otis, and two other teens. Otis and his gay, Black best friend, Eric, are inseparable. In the first season, these two befriend the "bad girl" Maeve, who turns Otis' sex expertise into an under-the-table sex therapy business.
The season begins with shots of the protagonist's home. A song called "Touch Myself" plays. The first shot is an ajar door to the home office of Dr. Jean Milburn, Ph.D. (the mother of the protagonist), with light shining through the crack. Inside the office is a rack of porn magazines with names such as Knave and Fiesta. There's a cactus that looks like a penis. Transitioning from the plant, the camera cuts to Otis' "morning wood" and the protagonist starts masturbating through his blue boxers. Following this comes multiple scenes of the protagonist masturbating in different spaces.
This culminates with Otis sitting in his mother's car in a parking lot. Far too confident in not getting caught, he masturbates in the broad daylight. When his mother comes over to the window, both momentarily freak out and he ejaculates onto the window. His sex therapist mother responds by calmly saying, "I forgot my wallet." This show certainly doesn't tiptoe around its subject matter.
The main cast includes Gillian Anderson, Asa Butterfield, Ncuti Gatwa and Emma Mackey.
"Sex Education," Season 2 runs eight episodes of roughly 50 minutes.

Sum-up: For much of last year, I ranked the first season of "Sex Education" as one of the best Netflix Original shows of 2019. The combination of highly considered cinematography with the strong characters and an informed take on a tricky subject matter made for a highly unique show. That it was also funny helped, too.
In this second season, I think the novelty has worn off a bit and I'm less overwhelmed by the show's moment-to-moment beauty. Strip the innovation away and this is pretty much just a teen sex comedy.
That said, those who have yet to check out this show will still find much to love. The second season retreads that aforementioned blend of filmmaking skill with accessible humor. Also, the show admirably tackles a wide range of sexuality topics and presents diverse characters learning about themselves.
I personally wish the show didn't stretch for eight more 50-minute episodes and think much more aggressive cuts for length would have been warranted. But that isn't to say the world isn't compelling in any randomly selected snapshot. I'd recommend watching at least one episode before you decide whether this story is for you.
Heads up: As mentioned up top, this show doesn't shy away from sexual content. Literally, one of the first images of the second season is that display of pornographic material. Sex scenes in the show aren't pornographic, but the dialogue continuously focuses on sex. The general radical acceptance of sexual behavior is a wonderful subject matter for a show, but "Sex Education" suffers from the classic "too much of a good thing" problem. When almost every joke centers around sex and every character talks about sex at almost all times, it comes across as overkill and unbelievable. At a certain point, it's hard not to wish the show was also an education in other subjects.
Close-up: The first episode of the second season has a take on that classic teen comedy scene in which a character shows a new student all the different cliques. As with much of the show, the dialogue isn't revolutionary, but the highly considered direction and cinematography elevate the moment into something more interesting. The scene starts with an establishing shot of the ornate, red-brick high school that stretches over a manicured green field. Both characters wear bright colors of interesting patterns. The "seasoned pro" walks the newbie through a library of vibrant colors and explains that "the sober virgins enjoy Tolstoy and saving themselves for marriage." One of the "sober virgins tells his friends, "Then he says, 'Yes Daddy, but you see, I have to buy a horse.'" (A quote from Tolstoy.) The pair moves out of the building to observe stoners lying in a field, but they watch from a zigzagging brick staircase surrounded by shrubs and with a tall clocktower centered behind them. The sequence carries on from there with more rich patterns of clothing textiles and building materials. While the plot often zips along in "Sex Education," each scene almost demands pausing to notice all the details.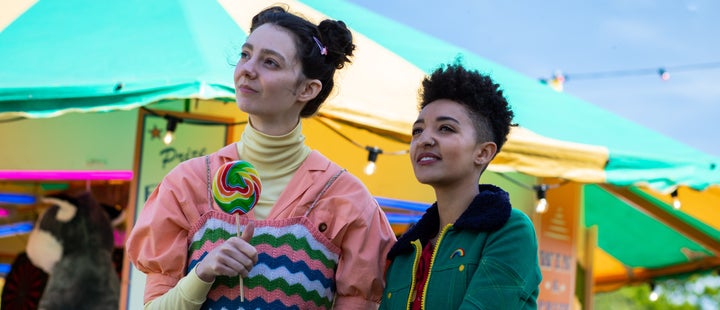 History: Virginia Johnson is considered the "first woman of sex therapy." She and her collaborator (and later husband) William Masters published two bestselling books on sex therapy, "Human Sexual Response" in 1966 and "Human Sexual Inadequacy" in 1970. Their lives became the loose inspiration for the show "Masters of Sex."
Comparable stories: The show blends the overt sexual themes of 1990s and early 2000s comedies such as "American Pie" with John Hughes-style teen characters with "Twin Peaks"-esque prestige television cinematography. Watching compelling characters make semen jokes amid lush scenery is certainly a jarring experience.
The characters and money: The protagonist, Otis, lives in a mansion of sorts with his sex therapist mother. The house overlooks a vast forest and winding river. It would easily make the cut for the Netflix series "The World's Most Extraordinary Homes." This contrasts with the living situation and deep poverty of his friend and potential love interest, Maeve. The first season establishes that Maeve doesn't have parents who can financially support her, so she needs to fend for herself to survive. This season starts with her working a demeaning job at the local mall.
Bonus: Netflix released a 13-minute recap of the will they/won't they relationship between two of the main characters, Otis and Maeve. The recap is far longer than these sorts of "previous season" catchups tend to be. But if you're really interested in watching the second season and don't have time for the first, this would be a good place to start:
"Sex Education," Season 2 trailer:
A Couple Of Netflix News Stories From This Week
1. Netflix earned 24 Oscar nominations this week, a total that's more than any other studio this year. "The Irishman" and "Marriage Story" both received nominations in the Best Picture category.
2. "Mindhunter" might be done, as Netflix released the cast from contract obligations for a third season. Netflix gave a wishy-washy statement about the show's potential end to Deadline:
David is focused on directing his first Netflix film "Mank" and on producing the second season of "Love, Death and Robots." He may revisit "Mindhunter" again in the future, but in the meantime felt it wasn't fair to the actors to hold them from seeking other work while he was exploring new work of his own.
"Betty White: First Lady of Television"
"The Healing Powers of Dude" (Netflix Family)
"Kipo and the Age of Wonderbeasts" (Netflix Family)
"The Master"
"Big Fat Liar"
"Quien a hierro mata" (Netflix Film)
"Grace and Frankie" (Season 6, Netflix Original)
"NiNoKuni" (Netflix Anime)
"Steve Jobs"
"Ares" (Netflix Original)
"Hip-Hop Evolution" (Season 4, Netflix Original)
"Sex Education" (Season 2, Netflix Original)
"Tiny House Nation" (Volume 2)
"Tyler Perry's A Fall from Grace" (Netflix Film)
"Vivir dos veces" (Netflix Film)
"Wer kann, der kann!" (Netflix Original)