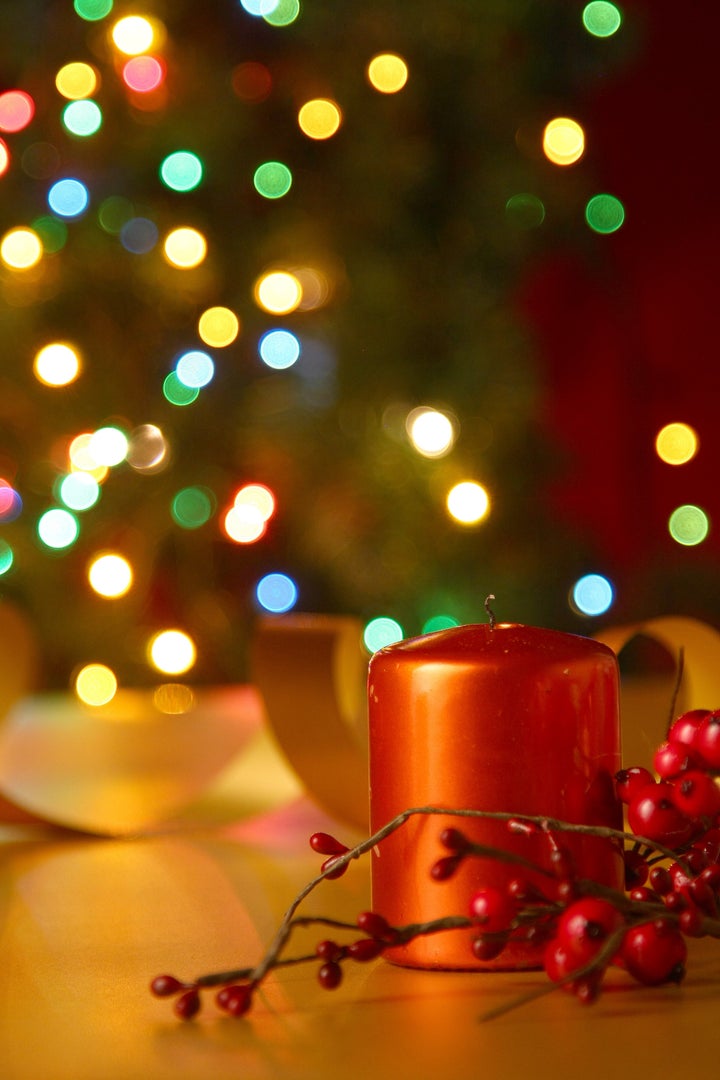 Whatever holidays you celebrate, or don't celebrate, the season running from Thanksgiving through Christmas/Kwanzaa/Hannukah/Festivus and into New Year's Eve and Day can be emotionally and psychologically difficult. The media bombards us with nostalgic, Norman Rockwell style imagery of happy families gathered around the fireplace, drinking hot cocoa topped with mini-marshmallows, singing joyful songs, and feeling nothing but love for one another. And most of us feel pressured to live up to this idealized scenario. Then, when we (and our spouses, partners, children, parents, friends, neighbors, and co-workers) inevitably fall short in our quest for holiday perfection, we experience feelings of guilt, shame, anxiety, remorse, and even outright depression.
Of course, when confronted with uncomfortable emotions it is perfectly natural to seek comfort. We grab a few (or a few dozen!) Christmas cookies, we reach for a holiday cocktail or two, or, if we are so inclined, we leap into the arms of another person. None of these "cures" are bad, per se. A few extra minutes on the Stairmaster will take care of the sweets, a couple of aspirin will cure the hangover, and a little bit of sex never hurt anyone. Unless, of course, it's sex with the wrong person, sex for the wrong reason, or sex that's unsafe.
Seasonal Sexual Sanity Tips
For a wide variety of reasons, many people have a tendency to make bad sexual choices around the holidays. Office holiday parties are notorious for mismatched couples sneaking off to the copy room for a quickie. Equally bad decisions are made at neighborhood and family gatherings, where months of innocent flirtation with a man/woman other than your spouse/partner can easily ignite into actual sex amidst the incendiary mix of stress, booze, and loneliness. And New Year's Eve is probably the biggest night of the year for regrettable sexual encounters. In fact, I'm pretty certain Baby New Year is the patron saint of one-night stands. Unfortunately, these liaisons are hardly without consequence. Office party hookups mean you have to face the other person at work the following Monday, and every workday thereafter. Affairs with your neighbor's or a sibling's spouse can potentially destroy multiple families. As for one-night stands? Did you ever see the movie Knocked Up? Plus, these ill-advised, heat of the moment hookups oftentimes put people at risk for catching and/or transmitting HIV or another STD.
So if you'd prefer not to risk your job, your relationship, your family, or your health, you may want to consider following a few sexual sanity guidelines during this holiday season.
Don't get drunk at the office party (or any other social event). Alcohol is disinhibiting, and over-imbibing greatly increases your risk for making a bad sexual decision.
Don't seek out ex-lovers, ex-spouses, or old hookup partners during the holiday season. These people are in your past for a reason! There is no need to resurrect a bad relationship.
Do not have sex just because you're lonely or otherwise feeling bad about yourself. Grab a cookie instead, or better yet talk about your feelings with a friend, a loved one, or your therapist.
Tips for Great Holiday Sex
From the above, it may sound like I'm anti-sex. Believe me, I'm not. Sex is a wonderful way to build and share emotional intimacy, express love, and truly be with a person you care about. It's also a great way to blow off steam, get some exercise, and have a little fun. There is no reason to avoid sex during the holidays as long as you know what you're getting into, and why.
Holiday hookups and one-night-stands can bring pleasure and excitement to an otherwise stale season. Whether you're looking for potential sex partners on a dating website, a smartphone sex locator app, social media, or at the neighborhood pub, you may want to keep the following suggestions in mind:
Be honest. Don't pretend you're looking for a relationship when all you want is casual sex. And don't pretend you only want casual sex if you're looking for something long-term. If you're dishonest about what you're seeking you're much more likely to hurt either yourself or the other person.
Be safe. And I'm not just talking about condoms here, though you definitely should pack a few (regardless of your gender). If you're meeting a stranger for a sexual encounter, make sure at least one friend or family member knows exactly where you are going, how to reach you, and when you expect to be back. Arrange to check in with that person both before and after your date.
Trust your instincts. It doesn't matter how good looking the other person is, if something feels "off" to you, then something is wrong and you need to get out immediately. Not everyone is as nice or harmless as they appear online or at first glance in-person. If you get into a sex date and start to feel uncomfortable, it is perfectly OK to leave.
If You're Married or in a Committed Relationship:
Holidays provide a great chance to spice things up in the bedroom. You can rejuvenate a flagging sex life, or improve a great one. Consider the following opportunities:
Make a date with your spouse. Most of us spend way too much time focused on material things during the holiday season. To combat this, set aside a few moments for you and your partner. Pick a time and a place for your illicit rendezvous, light some candles, put on a Barry White album, break out the scented bath oils, and remind each other what it means to be in love. Start by massaging your lover's hands. You'd be surprised how intimate (and erotic) that little gesture can be!
Share your fantasies. Write down three things you've always wanted to try but haven't, and ask your spouse to do the same. Don't feel as if you have to engage in your significant other's fantasies if they make you uncomfortable; likewise, don't expect him/her to engage in yours. But share and discuss these fantasies nonetheless. Communicating your innermost secrets and desires is one of the most intimate things you can do. And it's very likely that you and your partner will both be willing to try at least one or two of the items on your lists!
Turn sex into a gift. If you're wondering what to give the man or woman who has everything, consider stuffing his/her stocking with a book of "sex vouchers" offering to do that special thing he or she really likes. Maybe that particular sexual activity is not your favorite thing to do, but you're likely to enjoy it a lot more when it's a gift you're giving because you love the other person. Plus, they might reciprocate with that special thing you really enjoy.
Admittedly, the holidays are busy, even with time off from work or school. We have decorating, shopping, baking, and endless amounts of socializing. Because of this, for many of us a time that is supposed to be about joy, intimacy, and connection with loved ones is actually a period of stress, disappointment, and disconnection. Taking a little time out to express ourselves sexually is a great way to feel "part of" and to recharge our batteries. Whether you are single or in a relationship, the holiday season is a time to pay attention to your sexual needs and behaviors -- not having sex when it is inappropriate or unsafe, and having sex when it builds your self-esteem and intimately connects you to another person.