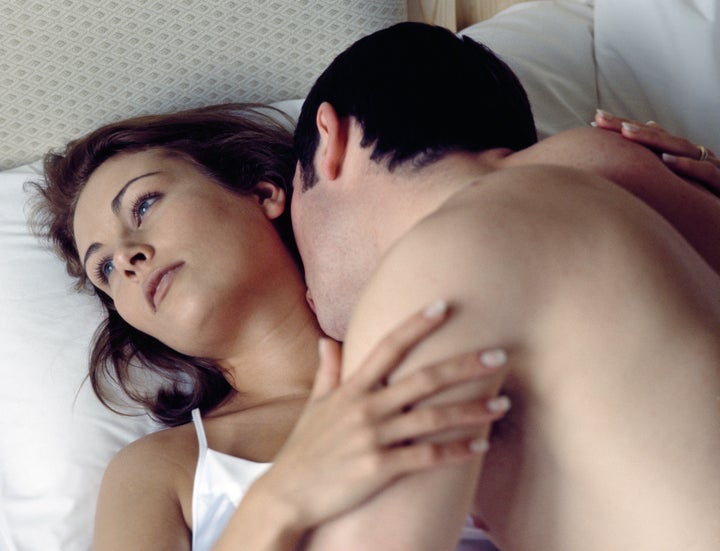 The author of our first sex journal is in her forties, married, works full-time, has two children, and lives in New York City.
Monday
It's been over a month since I've had sex with my husband. I wish I could say that this dry spell is unusual, but it's not. We have two small children and demanding jobs. It's not that we're not attracted to each other -- in theory, we are. We're just so damned tired. Especially me. While cleaning up after dinner tonight we acknowledge the obvious: This is getting ridiculous. We need to just do it. (The way I put it to myself is, "Just get it over with.") We both express our desire but don't act on it. Once the dishes are done he retreats to the office to mess around with Garage Band. I crawl into bed with my iPad relieved that he's not with me. As I fall asleep, I wonder whether he's started watching porn. Not that I care -- I don't. It takes some of the pressure off. On the iPad I come across some pictures of Scarlett Johansson from Vanity Fair. I think about how much I'd love to see her naked. I am wet as I turn off the lights and go to bed.
Tuesday
There are two men at work I like to flirt with. Neither of them is terribly attractive, but they're funny and smart and seem to like flirting with me, and that's enough. I had a meeting with one of them today, and after we talked business I lingered in his office. We made jokes and laughed and bitched about our boss. He looks at me intently whenever we're in a conversation, and I love the attention. I've met his wife several times at work events. She's adorable, and they seem quite happy together. Still, I want to kiss him. He's very tall, and I imagine us working late, having a beer together in his office, and then him pushing me against the wall enveloping me with his large frame, both of us saying "we shouldn't do this" but of course doing it anyway. Would he cheat? Would I? (I have before.) Again, he's not even that attractive, but I'm dying to know if he wants me.
Wednesday
One thing I love about my job is that I have to wear suits, which make me feel extremely sexy and powerful. I spend a lot of money -- too much money -- buying designer ones that are well-cut and tasteful but show off my body (think Julianna Margulies in "The Good Wife"). I also wear heels everyday. After I dropped off my kids this morning, I went to the cafe nearby where all the parents hang out. All the other moms were tousled, in yoga pants, looking sleepy. I stood in line with a hot dad I've seen around. He has sandy blonde hair and some stubble. (My husband is bald.) He was sexily scruffy, wearing nice fitting jeans, and carrying a New York Times. I was holding the New York Post, and he remarked on the headline. He smiled. I smiled back. He asked me what I did, then said, "No wonder I never see you at drop off." (Note: If a mom had said this to me, I would have felt enraged and guilty.) I ask him what he does: documentary filmmaker. His office is near the school. "See you soon," he says casually before he takes a seat and opens the paper. On the subway ride to the office I think about that stubble, what it would feel like on my legs and face. Maybe one day we'll go back to his office and fuck on his desk.
Thursday
This morning, as I watched my husband walking around naked post-shower, I took a moment to appreciate his body. He works out almost every day and does not look his age -- at least not from the neck down. He has beautifully sculpted legs and arms and a killer ass. There's a bit of a spare tire, but nothing compared to other men his age. I should want him more. My friends have commented about his great shape. At drinks one night one friend even revealed she had a crush on him, which I took it as a compliment. I can't imagine ever wanting him as much as I did when we first met. I love him, but I'm not hot for him.
Friday
This morning we made a "date" to have sex tonight. Usually having to schedule dates depresses my husband, but he's so hard up he couldn't care less. We agreed to get the kids in bed earlier than usual and then open a bottle of wine. All day long I tried to get excited about the date. On the subway home I closed my eyes and tried to conjure Scarlett Johansson, the coffee shop guy, Mark Ruffalo. I bought a good bottle of red wine on the way home and opened it as soon as I walked in the door. Wine is tricky: none and I can't get aroused, too much and I fall asleep. Just right for me is about a glass and a half -- enough to make me feel swirly and warm and imaginative. Enough to stoke my fantasies. If I don't fantasize during sex with the husband, I don't come.
Saturday
We had sex and it was fine. I pulled out the vibrator, which always helps. My husband lavished me with compliments about my body (another reason I'm lucky), and as soon as it was over said, "We can't wait this long again." This morning I was in Robo Mom mode -- soccer practice, grocery store, birthday party, clean the house, run to the pharmacy. I have no time for anything during the week to do this stuff. My husband knows that but is acting wounded. He says: "I hate the way we can be intimate one moment, and then you can just shut it off. While you're running around today can't you just stop to touch me -- or reference last night? I feel like the moment ends as soon as the sex is over. There is never any lingering desire." He's right, of course, but the fact that he mentions this at all makes me angry. I apologize, lamely, and tell him that it's hard for me to think about sex when I'm sorting laundry.
Sunday
Woke up later than usual with my husband's body wrapped around mine. It felt nice. He didn't try to have sex with me -- which has happened before when I thought we were only snuggling. I decide I'm no longer pissed at him. At around midday I check my email. There's an URGENT message from my boss asking me if I can fly to the Midwest tomorrow to meet with a client. I notice that my work crush is also on the email. I get a tingly thinking about us in a hotel in a strange city and wonder if I have the guts to make a move. That night, with my husband down the hall in the office, I start to pack. I slide a black silk teddy and a travel size vibrator into the pocket of my suitcase.
Interested in submitting your own sex journal? For a week, keep a diary of your sexual thoughts, desires and deeds -- dates and times, with whom (no names or initials) or with yourself, the circumstances, what was great, what wasn't, and most importantly, how you felt about it. When you've got seven days recorded, please submit to women@huffingtonpost.com. If we decide to use your journal, we'll notify you via email. Confidentiality guaranteed, but we would like to publish your age and your city for context.
Popular in the Community