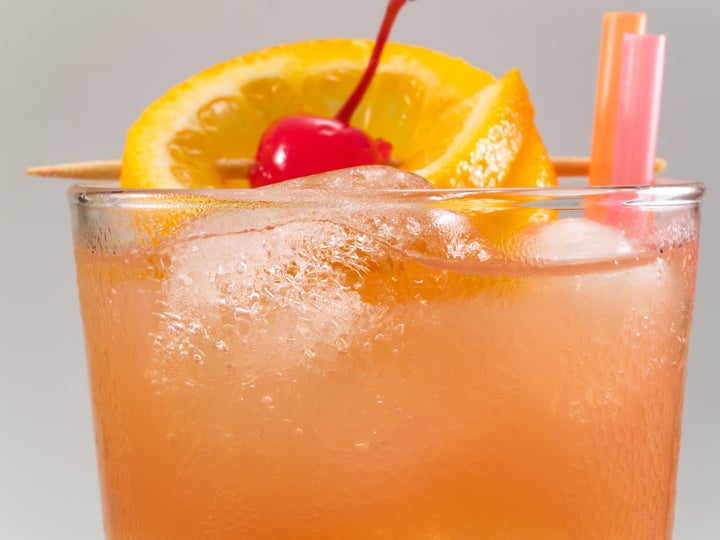 Made with cranberry juice, orange juice, peach schnapps and vodka, it's not only easy to drink but it's also easy to make. There are no fancy techniques or ingredients required. The only real problem with this cocktail is the name.
If we're being totally honestly, it's a pretty lame name. Douchey is the word that keeps coming to mind. How in the world does such a great cocktail get such a bad name, you wonder? In Florida, that's how.
According to bartender lore, and the website sexonthebeach.com, the cocktail was invented by a bartender named Ted who was working at Confetti's Bar. Inspired by a promotion from a peach schnapps company to sell the most of this spirit, he invented a cocktail featuring it.
And he named it Sex on the Beach because he assumed "sex" and "the beach" were the two main reasons why spring breakers ― big bar clientele in Florida ― visited the state.
But as with most cocktail origin stories, there are other theories about the drink's creation. Mental Floss found a recipe for the cocktail in a 1982 American Bartenders School book, which predates the above story by five years. And they theorize that the cocktail was probably invented when a bartender combined a Fuzzy Navel with a Cape Codder.
Either way, the drink is perfect for anyone with a sweet tooth, and you can make it yourself at home. Use the recipe below from Liquor.com to make your own Sex on the Beach, and feel free to give it a new name. Cheers!
Sex on the Beach
1 1/2 ounces vodka
1/2 ounce peach schnapps
1 1/2 ounces cranberry juice
1 1/2 ounces orange juice
Ice
Add all the ingredients in a shaker. Shake, strain and pour into a highball glass. Garnish with an orange slice and cherry if you're feeling fancy.